Does a wobbly Roaring '20s stock market have you rethinking your assets as a bit more risky? Before hoarding all those Benjamins under a mattress, you may be wise to purchase Cardano (CCC:ADA-USD).
Today, let's look at Cardano both off and on the price chart and why the top tier digital asset offers a solid-looking opportunity for diversification in investors' portfolios.
As the saying popularized by CNBC's Jim Cramer teases, there's always a bull market somewhere. And it's true, though some like Cardano are bulls dressed in bears' clothing. But that's to investors' advantage right now.
ADA and the Bear Crypto Market
While Wall Street's large-cap, blue-chip ATM may finally be coming to terms with its historically-inflated metrics, Cardano has shed as much as 55% from its early September peak valuation.
That's right — a real bear market and real "Roar!"
The severity of Cardano's bear market, were it to occur in Microsoft (NASDAQ:MSFT), Home Depot (NYSE:HD) or another top tier stock, would have ambulance-chasing lawyers filing class action assault and battery suits faster than you could charge a Tesla (NASDAQ:TSLA).
Not that ADA coin is alone in its misery, of course. Popular and well-traded cryptos — regardless of market cap, token prowess or meme-like status — have taken it on the chin and are uniformly in bear market territory.
Bitcoin (CCC:BTC-USD)? Check. Ethereum (CCC:ETH-USD)? Ditto. Shiba Inu (CCC:SHIB-USD)? A well-deserved "bow wow." You get the point.
The Outlook for Cardano
But the other point is not all cryptos are alike. And much like the stock market, some digital assets have a lot more working in their favor than others — so we're told, at least.
To be fair, and for most of us simply trading cryptos like Cardano, it's too soon to declare the market's long-term winners or those ultimately doomed for pink sheet-like obscurity. That's not a knock, but compared to investing in the stock market with its imperfect information, there is a significant leap of faith being taken.
Still, and according to those in the know, there's a difference between tokens you can use to buy items of real value, like a pizza, and a purely speculative non-fungible token (NFT). Cardano appears to be an early frontrunner for decentralized finance (DeFi) market share, putting it closer to the former category.
This fall's Alonzo smart contract upgrades gave Cardano a reputation as an "Ethereum killer." Now, with a new metaverse application called Pavia and today's launch of its decentralized exchange SundaeSwap, there's a lot to optimistically consume with ADA.
Cardano Weekly Price Chart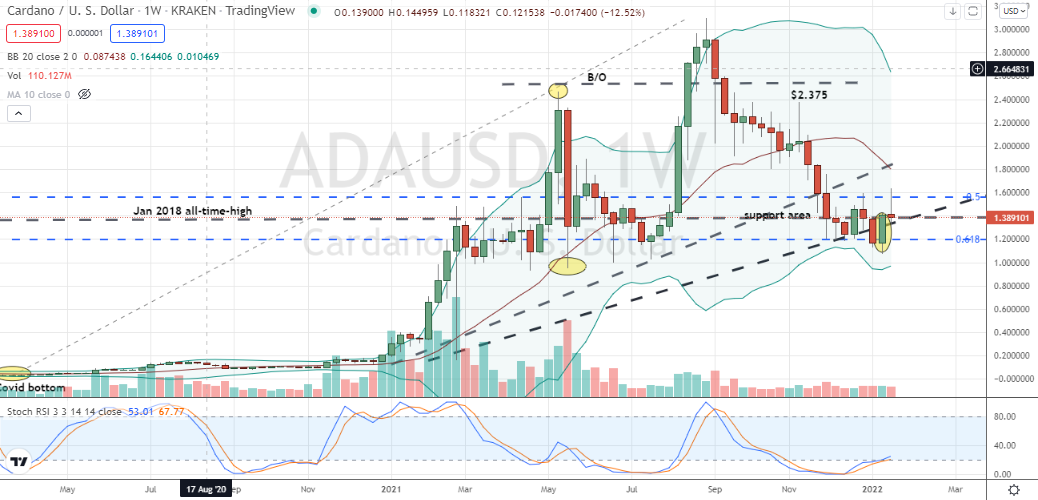 Source: Charts by TradingView
I'm still waiting to digest news of a confirmed pizza transaction before sinking my teeth into another crypto. But it has a $45 billion valuation making it the fifth-largest crypto by market cap. Cardano is about as serious as they come.
Sure, ADA isn't in the same league as Bitcoin's $819 billion or Apple's (NASDAQ:AAPL) $2.76 trillion valuations. But Cardano does compare to formidable risk assets like China's Nio (NYSE:NIO), Zoom (NASDAQ:ZM) or Humana (NYSE:HUM). Today, it has also turned the corner on a bear market.
This week, the top crypto has confirmed an engulfing bottoming candle formed around a band of key price. It has Fibonacci support from roughly $1.20 to $1.55. A buy right now also has the backing of a nicely-aligned stochastics reversing out of oversold territory.
The bottom line is that I can't promise Cardano investors a rose garden — or a pizza, for that matter. Promisingly, though, a purchase could always turn into a more storied investment. It could be like buying AAPL or HD stock in the single digits as each began to build their own impressive empires.
On the date of publication, Chris Tyler holds (either directly or indirectly) positions in Grayscale Bitcoin and Ethereum Trusts (GBTC and ETHE). The opinions expressed in this article are those of the writer, subject to the InvestorPlace.com Publishing Guidelines.
Chris Tyler is a former floor-based, derivatives market maker on the American and Pacific exchanges. For additional market insights and related musings, follow Chris on Twitter @Options_CAT and StockTwits.