The Dow Jones Industrials does this, the Dow does that. But when it comes to three Dow stocks and uninspiring earnings reports, the action is looking more doggish and worth staying at arm's length from or risk getting bit.
On Tuesday, the blue-chip Dow Jones Industrials rallied about 1.25% on the back of easing tensions between Russia and Ukraine.
Tech heavyweight Apple (NASDAQ:AAPL), along with American Express (NYSE:AXP) and Boeing (NYSE:BA) were among those constituents leading the charge higher with outsized stock performance on the day.
The next day? The venerable benchmark was quick to give back more than half those gains. Oh what a relief it is?
Daily price theatrics aside, some Dow investors are in it to win it with a strategy of buying the Dogs of the Dow or those stocks sporting the index's largest dividend payouts.
Respectfully, it's proven a successful investing scheme over the years that's bested the returns of a simple buy and hold program in the Dow Jones.
Dutifully though and as this decade's Roaring '20s bull market redux attests, this is no ordinary time for Dow stocks. And today some of the index's top dogs, following bearish earnings reactions, are more inclined to bite than love their bullish owners.
Doggish Dow Stocks to Avoid: Merck (MRK)
The first of our Dow stocks to avoid are shares of Merck and its 3.60% yield.
Shares of the pharmaceutical giant fell more than 3.5% following early February's earnings report.
Earnings and revenues topped Street views, but weak guidance for 2022 took center stage with investors.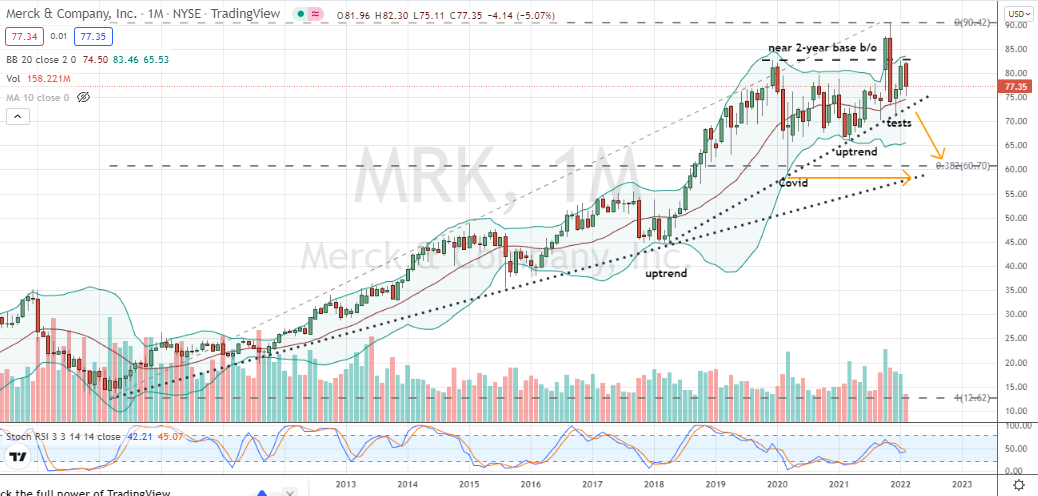 Source:
Charts by TradingView
Right now this Dow stock is up close to 1% on the year and defying the index's decline of nearly 4.5%. It's far from all good though on the MRK stock chart though.
Technically and as the monthly view shows, shares challenged uptrend support in the fourth quarter after failing to make good on a near two-year long corrective breakout.
Today and with MRK producing an earnings-driven bearish reversal at its former pattern high, the chance for shares of this Dow stock to break below initial uptrend support is raised.
If January's candlestick low of $75.35 is broken a second time, I'd forecast the $2.76 in income Dog investors are looking forward too, may feel like little comfort.
Should that occur a bearish move towards longer-term uptrend, Covid and Fibonacci support near $61 and a dividend of around 4.50% could be in the offing.
Intel (INTC)
The next of our Dow stocks to avoid is Intel and its 3.00% annual dividend.
Shares of the embattled chip giant saw investors running for the exits in the immediate aftermath of January's earnings release.
What's more, the drop of more than 7% is a headscratcher based on its top and bottom-line beat and management's upbeat guidance. Oh I know, it was gross margins that got under investors' skins!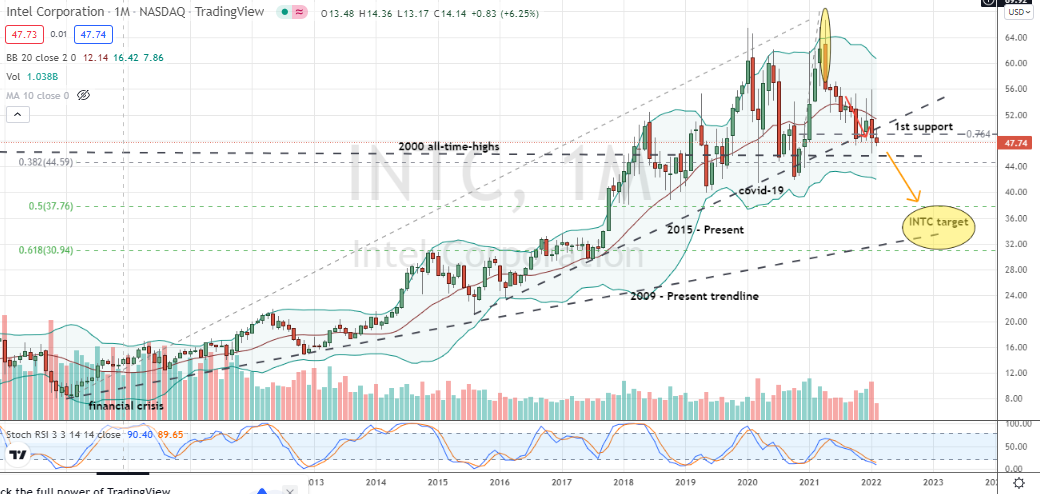 Source:
Charts by TradingView
One thing is for sure, the reaction couldn't be labeled profit-taking based on INTC stock's mostly bearish Roaring '20s price action of the past couple years.
But make no mistake and mysteries aside, with a bearish engulfing and trendline busting monthly candlestick in hand, this Dow stock is poised for even doggedly weaker price action.
If January's low, which found support at Intel's 2000 all-time-high, is violated all bets aren't off the table. Just don't be caught long shares!
Ultimately and as the detailed INTC chart shows, a bear cycle capable of challenging longer-term Fibonacci and uptrend support near $31 – $37.75 and dividend stream of around 4.00% looks plausible in this already doggish Dow stock.
Doggish Dow Stocks to Avoid: 3M Company (MMM)
The last of our Dow stocks to not get too worked up over just yet are shares of 3M Company and its annualized payout of about 3.75%.
Similar to INTC, 3M is another Dog of the Dow which delivered a seemingly strong earnings in late January.
It also found investors willing to give a decided technical advantage to MMM stock bears.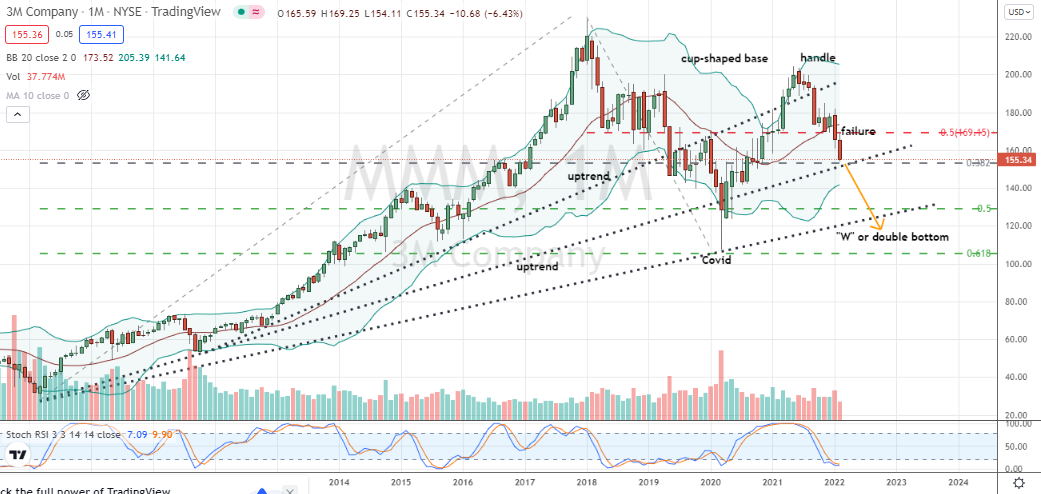 Source:
Charts by TradingView
Weakness in shares following the report resulted in this Dow stock falling back beneath the 50% retracement level of its nearly five-year long corrective cup-shaped base.
That's a big deal in a bad sort of way.
Further, with the price action coming after a failed handle consolidation, all bets that had been on the table related to the bullish base, were quickly and clearly shown the door.
Today and with some additional pressure in February, MMM stock is in a testing position of an uptrend and 38% retracement level dating back to the financial crisis.
It could be bullish, but this isn't the Dow stock's first introduction to either technical support. And further inspection of the price chart hints at a much larger bear market as possible.
One possibility that could reasonably play out is a "W" or double bottom variation which challenges MMM's Covid bottom.
Bottom-line, if you happen to be bullish on this Dow stock, the only way you're going to breathe easier during that kind of scenario isn't a N95 mask—you'd better suit up with a hedged stock collar or simply avoid MMM stock like the plague!
On the date of publication, Chris Tyler did not have (either directly or indirectly) any positions in the securities mentioned in this article. The opinions expressed in this article are those of the writer, subject to the InvestorPlace.com Publishing Guidelines.
Chris Tyler is a former floor-based, derivatives market maker on the American and Pacific exchanges. For additional market insights and related musings, follow Chris on Twitter @Options_CAT and StockTwits.