It's been a crazy week of ups and downs for Wall Street. And that includes many of the market's most-shorted stocks.
But conditions are quickly looking up for bulls after a fearful and sizable market correction. And one smart-looking way to play the game is in highly-shorted stocks whose prospects both off and on the price charts ready for action.
After a worried start to the workweek, easing anxieties over Russia and relief for the Fed's "nimble" Goldilocks-style policy change are forcefully challenging this year's broader market correction.
Inside Friday's session, investors were bidding up the major averages for a fourth straight session while sending clear weekly chart indications a bear has overstayed its welcome.
Today, and in the spirit of an improved and bullish Roaring '20s taking hold of Wall Street, let's explore three of the market's most-shorted stocks offering attractive value for future quarterly confessionals, as well as longer-term price charts made for buying.
Most-Shorted Stocks to Buy: Block (SQ)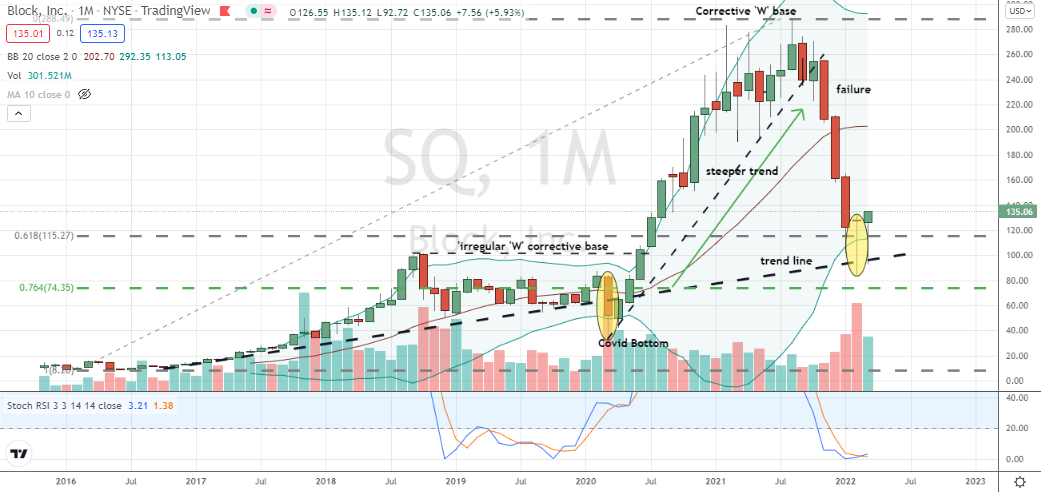 Source: Charts by TradingView
The first of our most-shorted stocks to buy is Block. And the pick may face some criticism by investors other than SQ's bears.
Block currently has about 9% of its float shorted. Technically, the percentage falls just under the 10% threshold many use as a benchmark of heavily shorted stocks.
So, why care you ask?
SQ stock's short interest certainly isn't in the big leagues of Arcimoto (NASDAQ:FUV) or Shift Technologies (NASDAQ:SFT) with ratios hoovering near 39% and among the market's most-shorted stocks.
Then again, this is Square or umm, the company now named Block that we're talking about.
And chances are, unlike FUV or SFT, you know exactly who I'm referring too given SQ's massive $76 billion fintech presence.
Also, SQ stock's days-to-cover ratio is slightly more respectable as the metric approaches two trading days.
Back to today's agenda though, this most-shorted stock is also profitable.
What's more, Block sports a sales multiple of just under 3 while offering double-digit revenue increases in an uncontested growth market.
Lastly and right now, the monthly price chart reflects an actionable buy.
Shares have just confirmed a very bullish-looking doji-hammer formation off key trend and Fibonacci support complete with an oversold stochastic buy signal following a massive 71% bear market.
Overstock (OSTK)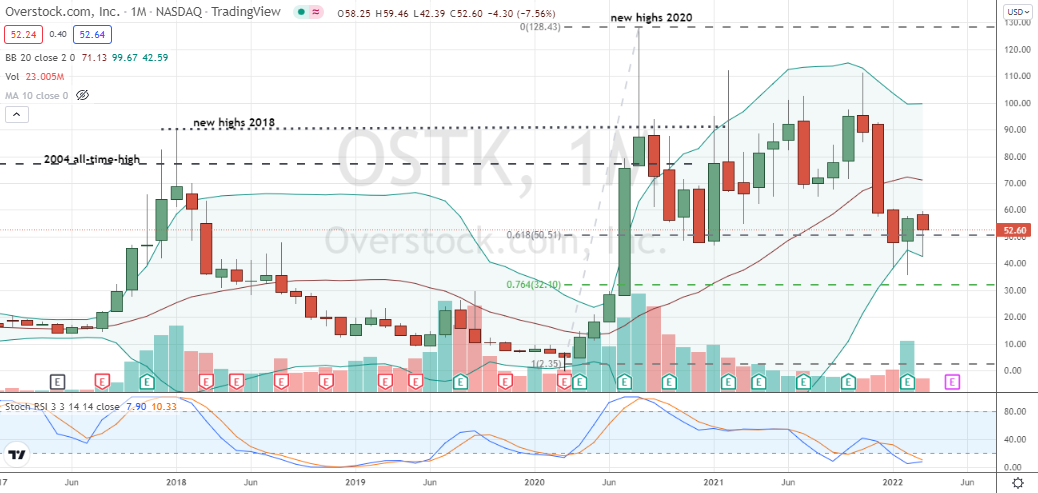 Source: Charts by TradingView
The next of our most-shorted stocks offering a real deal to investors is Overstock.
OSTK shares were a classic short at the turn of the century and even this past decade when an eccentric CEO and founder was at the helm of OSTK stock. But that chapter is closed.
And today's bearish short interest of about 20% has it all wrong.
The discount home and life goods e-tailer is profitable, trades for a below-the-market forward P/E of 15 and less than one times sales with a ratio of 0.70.
Sure, bears are free to point at a Covid-related boom for business, but Overstock still managed to deliver stronger-than-forecast profits last month.
Further, with a possible ace in the hole with this most-shorted stock's tZERO crypto investment by InterContinental Exchange (NYSE:ICE), there's a lot to like in OSTK stock.
Finally, the monthly chart is confirming that OSTK investors have something to look forward too.
An oversold bullish hammer that's testing Fibonacci and Bollinger band support has been confirmed this month as a bottoming pattern.
Wait to shop this drop and buy this most-shorted stock if shares can recross the hammer's signal price paired with a bullish stochastics crossover.
Most-Shorted Stocks to Buy: Livent (LTHM)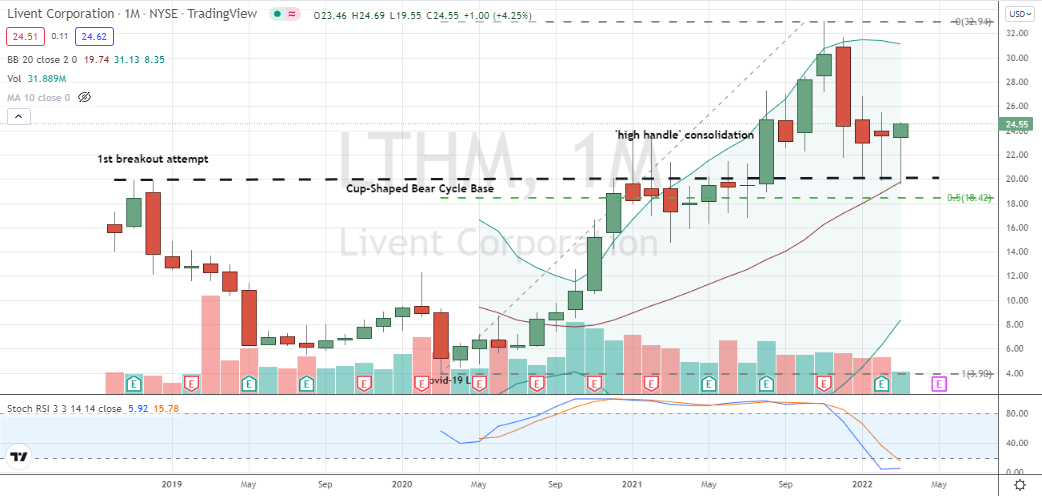 Source: Charts by TradingView
The last of our most-shorted stocks with other bullish bells and whistles making this a stock a certain buy is Livent Corp.
LTHM stock maintains short interest of about 18% and a very attractive days-to-cover ratio approaching eight trading sessions for bears to exit in full.
A sales ratio of 10x LTHM's stock price isn't price matching Costco's (NASDAQ:COST) multiple of about 1. But while it may seem steep, it misses the point by a country mile.
Think along the lines of Tesla (NASDAQ:TSLA) or Apple (NASDAQ:AAPL) and then you're closer to what matters most.
This most-shorted stock is a growth narrative.
Livent produces and distributes lithium compounds and it's in the sweet spot of an increasingly needy world reliant on the metal for high-tech and low-tech applications we can't live without.
And LTHM stock is profitable too with a forward P/E of 39.
Last but not least, this most-shorted stock has pulled back into a three-month long testing pattern of a bullish cup-shaped base that propelled shares to new highs in 2021.
A monthly hammer and stochastics haven't yet confirmed a purchase in this most-shorted stock. But with April on the calendar in two weeks, LTHM should be put on investors' buy watchlists today.
On the date of publication, Chris Tyler did not have (either directly or indirectly) any positions in the securities mentioned in this article. The opinions expressed in this article are those of the writer, subject to the InvestorPlace.com Publishing Guidelines.