As an energy source, green hydrogen has two crucial advantages over competing substances. First, unlike fossil fuels, it does not emit carbon into the atmosphere. Secondly, unlike solar and wind, it can be turned into liquid form, enabling it to store energy, be always available, and be used to power forms of transportation. Also noteworthy is that, unlike batteries, green hydrogen is not extremely bulky and does not use huge amounts of electricity, while any large vehicles using it can quickly be refueled.
Taken together, these qualities will give green hydrogen important roles in this Green Era. Specifically, it will store energy, provide a reliable backup to wind and solar, and power large vehicles, including trucks, boats, and planes.
With all of that said, here are three top hydrogen stocks that will benefit tremendously from the huge roles that Green Hydrogen will play in the Green Era.
Plug Power (PLUG)
In a note to investors on July 6, Citi (NYSE:C) wrote that Plug Power (NASDAQ:PLUG) is well-positioned to become a top player in the global green hydrogen market. I've long believed the firm was destined to play such a role.
The bank also noted that Plug's early forays into the space give it a leg up on its competitors and leave it "well positioned to benefit from growing demand for green H2 in hard-to-abate sectors." Additionally, PLUG has already convinced several huge companies: Walmart (NYSE:WMT), Amazon (NASDAQ:AMZN), Home Depot (NYSE:HD), and General Motors (NYSE:GM) to buy its green hydrogen. Finally, PLUG is discussing purchasing its fuel with multiple other major firms. The bank placed a "buy" rating on the stock.
Also bullish about PLUG recently was investment bank Northland Capital. The firm upgraded the stock to "outperform" and placed a $22 price target on the name, Northland contended that PLUG is "now on a clear path to cash flow generation, and [its] momentum is picking up with every incremental deal announcement."
Air Products & Chemicals (APD)
In his recent article about the top hydrogen stocks, another InvestorPlace columnist, Ian Cooper, reported that Air Products & Chemicals (NYSE:APD) "owns and operates more than 100 hydrogen plants around the world." That huge infrastructure should leave the company very well-positioned to become a leading supplier of green hydrogen during the Green Era.
Indeed, according to the company, it's investing a vast $7 billion in what it calls "the world's largest green hydrogen project." In a joint venture with two firms in Saudi Arabia, APD plans to provide " 650 tons per day of hydrogen by electrolysis." The fuel will be used to "power trucks and buses around the world by 2025," Air Products explained.
The 23.8 forward price-earnings ratio of APD stock does not come close to reflecting the huge amount of money that the company will make from becoming a green hydrogen powerhouse.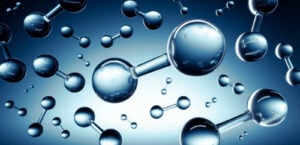 Linde (LIN)
Linde (NYSE:LIN) is becoming a major supplier of electrolyzers that are used to produce green hydrogen, as it plans to open a huge green energy plant near Nigra Falls in 2025. Additionally, the company announced in April that it would provide green hydrogen for Dow's (NYSE:DOW) plastics plant.
Moreover, Linde's status as the world's "largest industrial gas company" will leave it well-positioned to become a green hydrogen powerhouse. Indeed, due to that position, the firm likely has plenty of potential partners and a large sales team that will enable it to build up its electrolyzer and green hydrogen businesses quickly.
Additionally, due to its prior successes, the company has nearly $5 billion of cash that it can use to build up its green hydrogen infrastructure in the future.
On the date of publication, Larry Ramer owned shares of PLUG. The opinions expressed in this article are those of the writer, subject to the InvestorPlace.com Publishing Guidelines.