Dividend Reality Shares Divcon Leaders Dividend ETF (LEAD)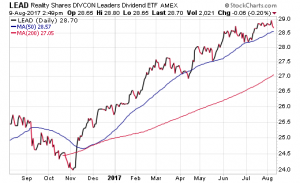 Click to Enlarge Reality Shares is an independent exchange-traded fund sponsor that is doing some interesting things in the dividend growth space. One of their flagship products is Reality Shares Divcon Leaders Dividend ETF (BATS:LEAD), which uses a rules-based methodology to seek out large-cap stocks with a high probability of increasing their dividends in the next 12-months.
The fund company uses a scoring system known as divcon to systematically rank dividend increases and stock fundamentals to seek out these income growers. The LEAD portfolio is constituted of 50 stocks with an average dividend growth rate of 17.8%, according to recent fact sheet metrics.
Top holdings in this fund are often much different than traditional dividend growth ETFs that screen based a single historical data point. For example, Nvidia Corporation (NASDAQ:NVDA), Southwest Airlines Co (NYSE:LUV) and Visa Inc (NYSE:V) are all ranked in the top five of the LEAD portfolio.
LEAD charges an expense ratio of 0.43% and has $14 million in total assets since debuting in early 2016. This fund is certainly one with some potential as a more dynamic approach that can be used with strategic opportunity in mind.
David Fabian is Managing Partner and Chief Operations Officer of FMD Capital Management. To get more investor insights from FMD Capital, visit their blog. Click here to download their latest special report, The Strategic Approach to Income Investing. Learn More: Why I love ETFs, And You Should Too