U.S. equities pushed higher on Monday as investors responded to merger excitement, headlined by the $109 billion tie-up between AT&T Inc. (NYSE:T) and Time Warner Inc (NYSE:TWX). Overall, $125 billion worth of deals were announced.
In the end, the Dow Jones Industrial Average gained 0.4%, the S&P 500 Index gained 0.5%, the Nasdaq Composite inched up 1% and the Russell 2000 ended 0.7% higher. Treasury bonds were weaker, the dollar was mostly higher, gold lost 0.3%, and crude oil fell 0.7% on growing doubts over the OPEC supply freeze deal. The pressure on government bonds boosted the ProShares Ultra-Short Treasury Bond (NYSEARCA:TBT) to a gain of 7.1% for Edge subscribers.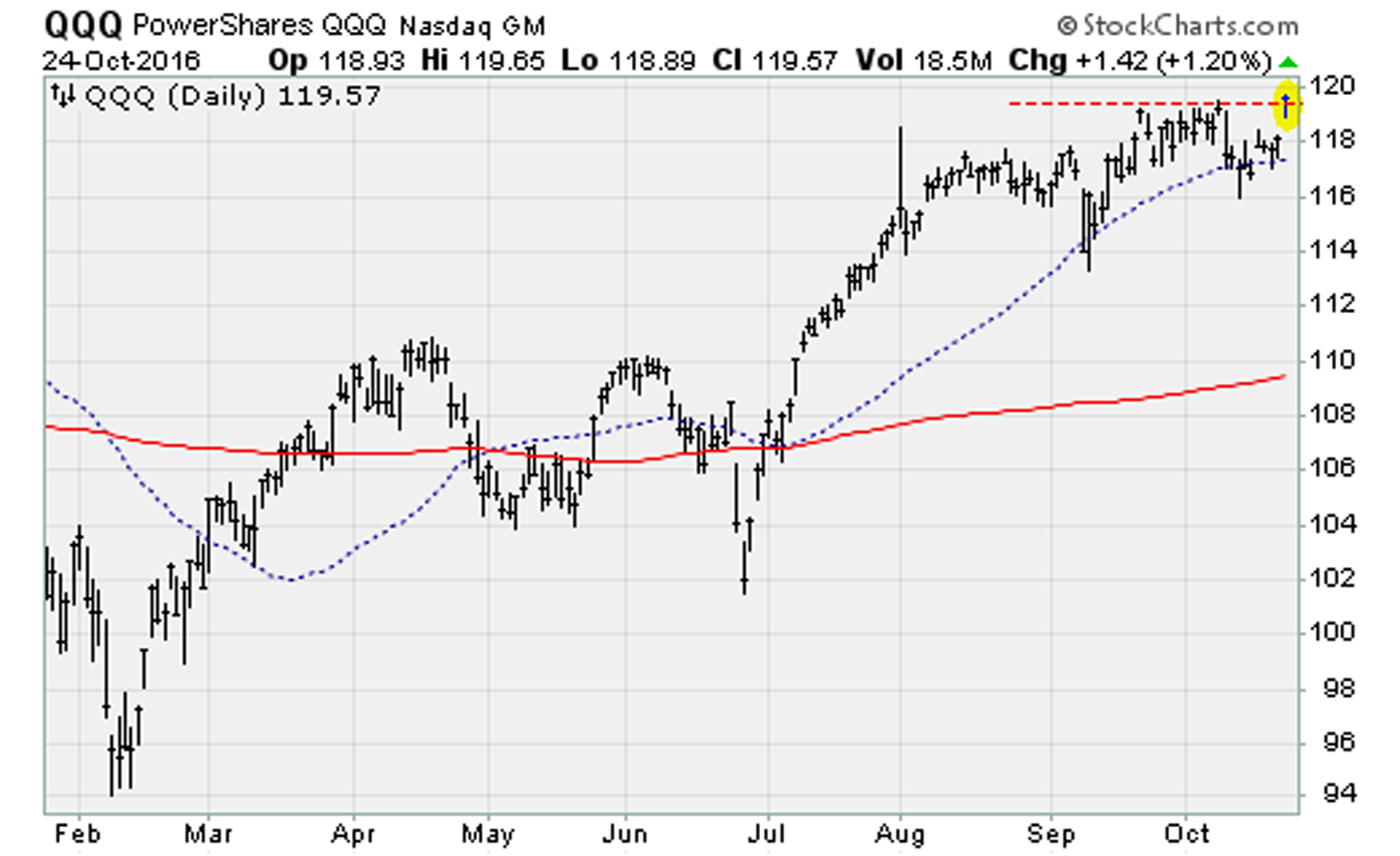 Technology stocks led the way with a 1.2% gain with telecom the laggards, down 0.8%. Alphabet Inc (NASDAQ:GOOG, NASDAQ:GOOGL) rose 1.4% to carry the Nasdaq 100 to a new record high.
T-Mobile US Inc (NASDAQ:TMUS) gained 9.5% on a Q3 earnings beat with postpaid net subscriber additions ahead of estimates. TrueCar Inc (NASDAQ:TRUE) gained 6.3% on an upgrade from analysts at B. Riley on new management while CarMax, Inc (NYSE:KMX) gained 2.9% on optimism on a shift to used vehicles by analysts at Deutsche Bank.
Inovio Pharmaceuticals Inc (NASDAQ:INO) lost 16.4% on the announcement the FDA had placed a clinical hold on its phase three trial of VGX-3100, a DNA immunotherapy to treat HPV cancers.
AT&T's half-cash/half-share offer values Time Warner at $108.7 billion and is the largest single deal of the year. Management believes the deal will be accretive to earnings and free cash flow in the first year, building on the momentum of its recent DirecTV acquisition. Regulatory scrutiny will surely follow.
Other deals announced include a $6.4 billion buyout of B/E Aerospace Inc (NASDAQ:BEAV) by Rockwell Collins, Inc. (NYSE:COL), a 25% stake purchase by HNA in Hilton Worldwide Holdings Inc (NYSE:HLT), a $4 billion purchase of Scottrade by TD Ameritrade Holding Corp. (NASDAQ:AMTD) and a $2.7 billion deal by China Oceanwide to acquire Genworth Financial Inc (NYSE:GNW). BEAV surged 16.4% on the news, AMTD fell 4.4% and TWX fell 3.1%.
On the economic front, the October flash PMI was better than expected rising to its highest level in a year. Readings out of the Eurozone and Japan were solid as well.

For now, as shown above, the technical outlook remains unchanged with breadth drifting lower, trading volatility melting, and stocks in a holding pattern more or less until Election Day.
Anthony Mirhaydari is founder of the Edge and Edge Pro investment advisory newsletters. A two-week and four-week free trial offer has been extended to InvestorPlace readers.
More From InvestorPlace