We've all known that Apple Inc. (NASDAQ:AAPL) would eventually make a push into content. It already has, although admittedly, it's been a toe-dip at best. AAPL stock is down slightly thanks to the broader market pullback Thursday. But let's not overlook the new deal it just announced.
A new drama series featuring Reese Witherspoon and Jennifer Aniston is in the works. While we don't know the terms of the programming deal, costs could run in excess of $10 million per episode. For a company like Apple, that's less than a drop in the bucket — this company generated $10.7 billion in net income last quarter alone. Reportedly, Apple beat out Netflix, Inc. (NASDAQ:NFLX) and CBS Corporation's (NYSE:CBS) Showtime for the "highly sought after show."
Streaming Wars Are Heating Up
We've seen a big shift in retail thanks to e-commerce, led by Amazon.com, Inc. (NASDAQ:AMZN). Well that very shift is happening in content consumption, too. It shows why AT&T Inc. (NYSE:T) wants Time Warner Inc (NYSE:TWX) for its content and HBO assets. It shows why Walt Disney Co (NYSE:DIS) may be trying to buy Twenty-First Century Fox Inc (NASDAQ:FOX).
AT&T already owns DirecTV, which is feeling cord-cutting pressure. Disney wants to bulk up its content and studio offerings. After all, content is king.
But my question has always been, what happens to these guys — and Netflix, which is spending as much as $8 billion on content next year — when Apple gets involved? What happens when Facebook Inc (NASDAQ:FB) gets involved with its Watch platform?
To an extent, we've seen it with Amazon, but there haven't been any repercussions. But I ask about FB and AAPL simply because of their size. For example, if they wanted to control live sports content, they could. Movies, TV and originals, too. Maybe they'll be content with just being the distribution platform — iPads, iPhones and Facebook's Watch. But if its content they want, it could have big implications for content and distribution companies.
I don't know how long it will take to see this shift or even if it will ultimately happen. But in my eyes, Apple just took its first real step toward joining the content game. Should it get more involved, it will raise plenty of questions. It obviously has a huge ecosystem to leverage, be it mobile devices or at-home devices like Apple TV. With almost a billion iTunes users, it also has the customer preference and credit card data it needs.
Widespread Implications
I think this is why Netflix is spending so much on content. It's producing its own shows and movies because others with far deeper pockets are looming. Even if FB or AAPL don't meaningfully get into the game, others like HBO and Disney are looking to their own solutions. Alphabet Inc (NASDAQ:GOOGL) also has a pretty solid $35/month offering for YouTubeTV. But it's unclear if YouTubeTV is a threat or a complement to Netflix at this point. It is clear, though, that everyone is chasing Netflix right now.
For Apple, it's got the money and user base to leverage content. It makes sense to go after it. The question is, will it? Apple isn't big on commitments. At least in my view. As its market cap barrels toward $900 billion, its largest acquisition hovers somewhere near $3 billion for Beats.
Will it make a more aggressive push into content or settle for its current position as a (mostly) hardware maker?
Trading AAPL Stock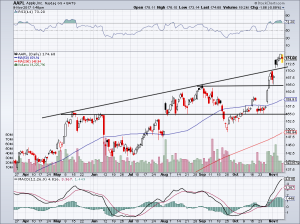 Click to Enlarge
There's no telling what Apple will do. The highly secretive tech giant flies under the radar as much as a $900 billion company in the U.S. can. With its iPhone X and iPhone 8 releases, there's been plenty of demand for both the device and AAPL stock. No matter the iPhone mix, average selling prices should be headed higher. Demand should remain elevated for quite some time, too.
That will (hopefully) keep buyers interested in the shares. After pushing through trend-line resistance, AAPL stock price is consolidating nicely in the mid-$170s. With that, it would be quite bullish for Apple stock to hold support above $170 — previous trend-line resistance.
The breakdown in junk bonds could prelude sideways to lower action in the overall market. If that's the case, AAPL stock price could come in. Look for support at $170, $165 and $155. With a rising 200-day moving average to boot, let's not be too bearish on Apple stock.
Bret Kenwell is the manager and author of Future Blue Chips and is on Twitter @BretKenwell. As of this writing, Bret Kenwell held a long position in DIS.