Stocks were mixed on Wednesday, despite the solid earnings results from Apple Inc. (NASDAQ:AAPL). That was, until the Federal Reserve announced it would not raise interest rates this month. With the market moving higher (for now) on that news, let's see what top stock trades have developed.
Top Stock Trades for Tomorrow #1: Apple Stock
Of course we have to talk Apple right off the bat. The company beat on earnings and revenue expectations, announced a $100 billion buyback and saw incredible strength in its services business.
The stock's 5% rally should come as little surprise. Amid that rally, AAPL cleanly pushed through $175. Before the report, we said new investors who are bullish on the name should consider buying some stock and then ponder adding some more after the results are out.
Over $175 and bulls are in control. The ball's in their court and it's up to them to take AAPL to its previous highs — and possibly new ones. Below $175 and it's back to the chopping action.
Top Stock Trades for Tomorrow #2: Snap Stock
We didn't like Snap Inc (NYSE:SNAP) ahead of earnings and after that dreadful report, we certainly don't like it now.

SNAP was actually clinging to trend-line support and had staged a huge collapse from its previous earnings report in February. That had some bulls hopefully that the worst was already priced in. Unfortunately, it wasn't.
Now below its prior lows, SNAP stock is officially in no man's land. The only technical reason on the chart to go long would be on a close over $11.50. But you won't count me among the bulls; Snap is a troubled name until it sorts out its problems.
Top Stock Trades for Tomorrow #3: Gilead Stock
Like Snap, Gilead Sciences, Inc. (NASDAQ:GILD) stock did not have a great reaction to its quarterly results. Gilead's drop has to make those who hold shares of Celgene Corporation (NASDAQ:CELG) — like me — a bit nervous for its Friday earnings report.

The fall below $70 was a bad development for GILD stock and puts a retest of the $60 to $62 lows back on the table. Let's see how shares trade from here before making a move.
Top Stock Trades for Tomorrow #4: Starbucks Stock
The decline in Starbucks Corporation (NASDAQ:SBUX) shouldn't surprise anyone. It's true that earnings, sales and same-store sales beat expectations and that management implemented a further 100 million share buyback plan. But we told you not to believe in a pre-earnings rally from SBUX.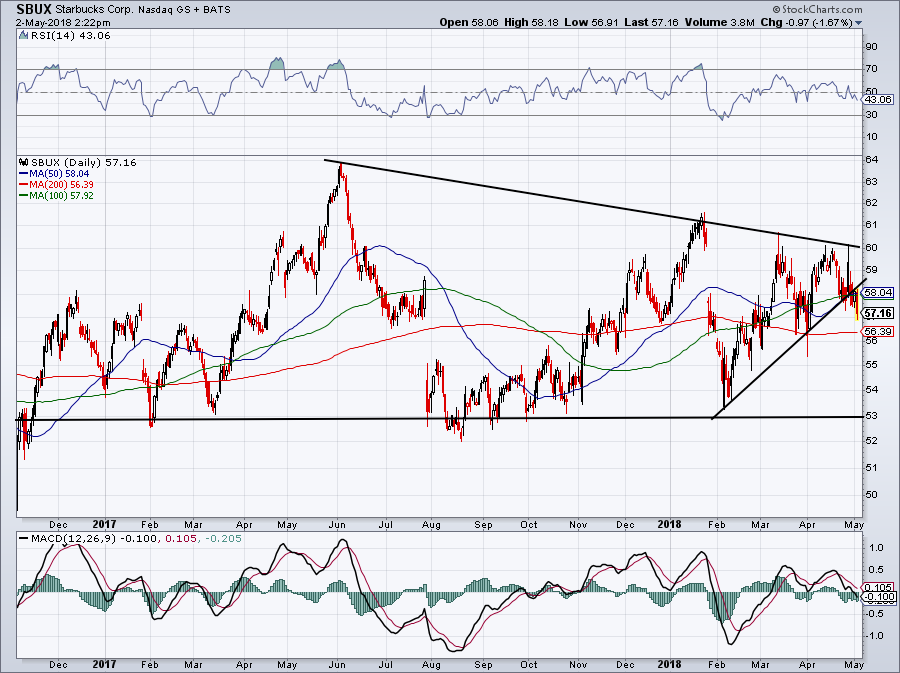 Now below that somewhat sharp uptrend, SBUX could have some issues. Long-term bulls can sleep fine so long as shares stay above the 200-day moving average. However, below that mark — around $56.50 — and things get dicey. Should that happen, a decline to $55 and possibly the recent lows around $53 is in the cards. Back above the 50-day and 100-day would be more encouraging.
Top Stock Trades for Tomorrow #5: MasterCard Stock
If making money was boring, MasterCard Inc (NYSE:MA) would be one of the biggest offenders of all time. Shares jumped to new all-time highs Wednesday after the company beat on earnings and revenue estimates while providing better-than-expected guidance.

There's a reason I have liked MA and Visa Inc (NYSE:V) forever. Here are 6 other long-term winners.
I would generally say that, over its previous highs, bulls can stay long. But I would say that as long as MA holds above $180, short-term bulls can stick with it. For the long-term bulls, I would nibble any weakness into $180 and down through trend-line support, which hovers between the 50-day and 100-day moving averages. One day MA will go into a consolidation phase, but it doesn't look like now's that time. This one has a date with $200.
Bears, just leave this one alone.
Bret Kenwell is the manager and author of Future Blue Chips and is on Twitter @BretKenwell. As of this writing, Bret Kenwell held a position in AAPL, SBUX, V and CELG.