The market's rally finally hit a snag, as many individual stocks took it on the chin Thursday. Tech stocks were hit the hardest, so let's start there with our top stock trades for Friday.
Top Stock Trades for Tomorrow #1: Nasdaq ETF (QQQ)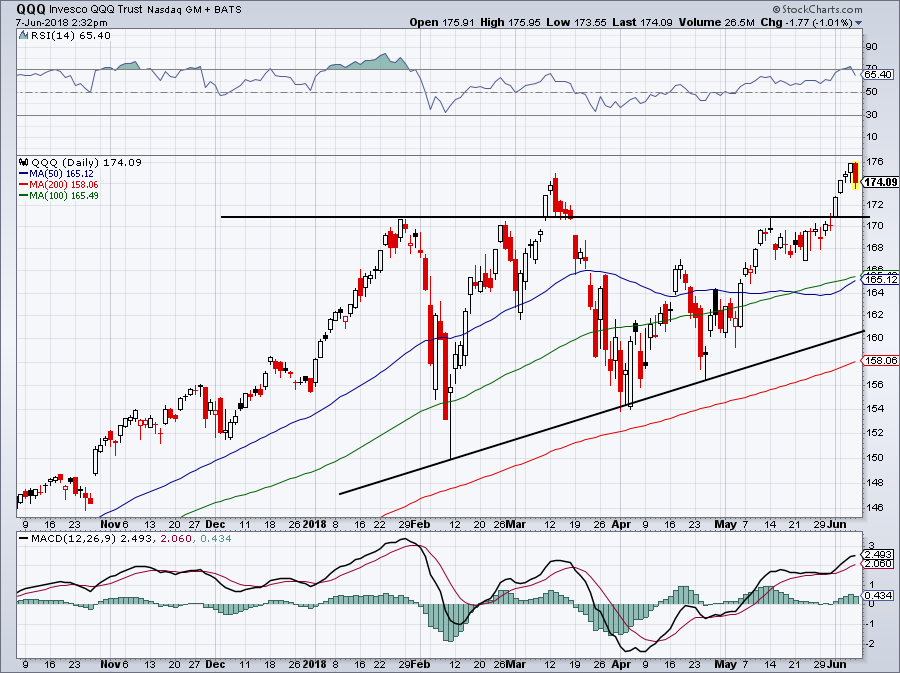 The PowerShares QQQ Trust, Series 1 (ETF) (NASDAQ:QQQ) was the market leader throughout May and in the first few sessions of June. With Amazon.com, Inc. (NASDAQ:AMZN), Facebook Inc (NASDAQ:FB), Alphabet Inc (NASDAQ:GOOG, NASDAQ:GOOGL), Microsoft Corporation (NASDAQ:MSFT) and Apple Inc. (NASDAQ:AAPL) all surging and with many hitting new all-time highs, it's no wonder the QQQ did well.
On Thursday though it fell almost 1% with cloud stocks notably underperforming.
Investors can speculate about where QQQ will go from here. What I want to see though is how it handles the $170 to $171 level. If that mark can hold, my guess is that the QQQ can rebound.
Top Stock Trades for Tomorrow #2: Five Below (FIVE)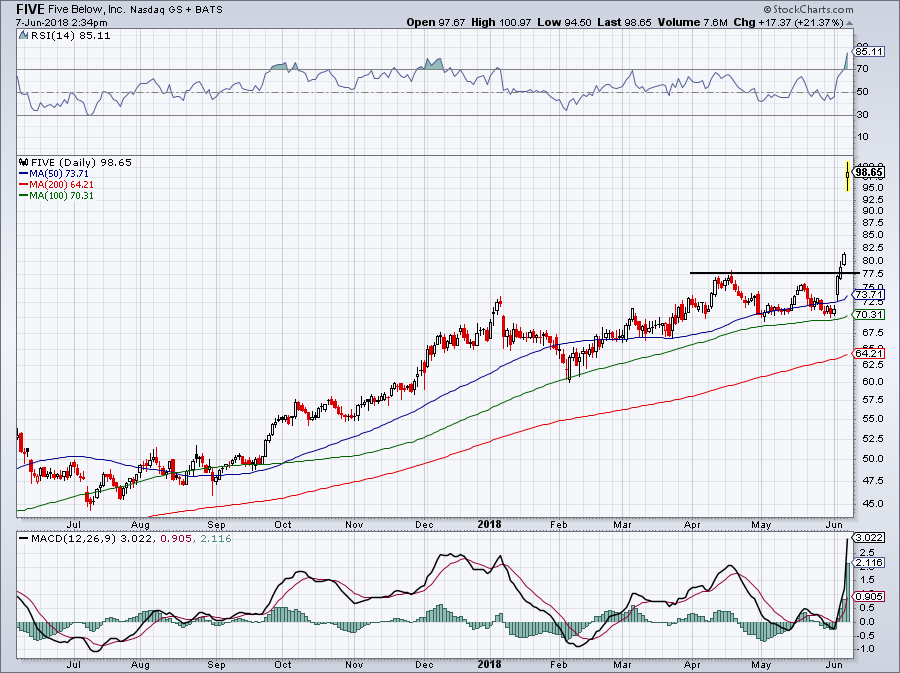 Resistance at $75.50? Oh Puh-lease!
Five Below Inc (NASDAQ:FIVE) made a mockery of the bears by exploding through resistance and running up to $100. And no, that isn't a typo.
Now up 91% over the past year and 40% over the past week, please don't bother trying to chase it. Earnings and revenue were good and so was guidance. But if you missed this move, don't look to get in now — at least, right now. Dip-buyers can look for the first Fib retracement near $91, but let's give FIVE more time before formulating a plan.
Bears, also be careful trying to short strength.
Top Stock Trades for Tomorrow #3: J.M. Smucker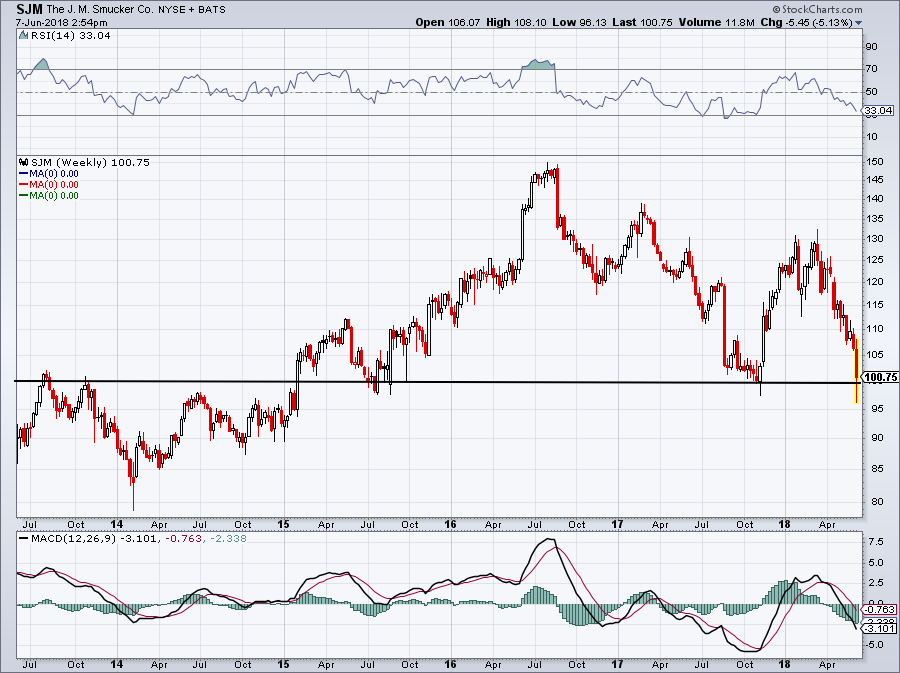 J M Smucker Co (NYSE:SJM) missed big on earnings and came up short on sales. Investors are lucky the market didn't let the stock's initial selloff into the mid-$90s last, instead letting SJM rally back to $100.
We've cautioned investors over and over about SJM and its destiny with $100. Now, here we are. It's got a 3% yield, low valuation and stubbornly low growth. But on the charts, it's got a solid risk/reward.
Investors who want to take a shot at SJM can do so near current levels. Conservative bulls can bail on a break below $100, while those willing to give SJM a longer leash can use Thursday's low as their stop-loss. SJM has been sick but $100 has been significant for five years.
Top Stock Trades for Tomorrow #4: Alibaba (BABA)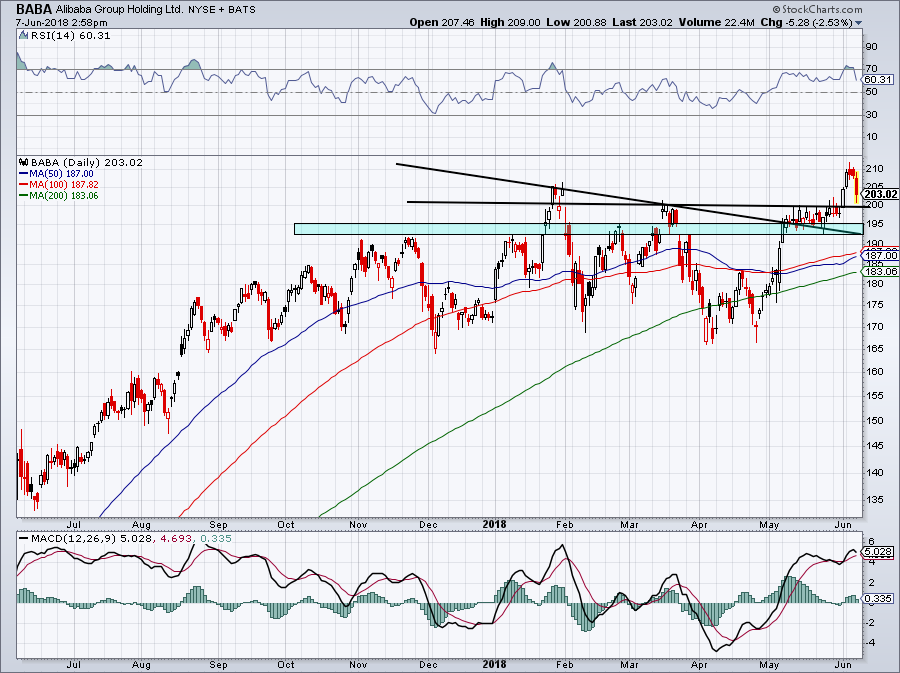 Alibaba Holding Group Ltd (NYSE:BABA) has been doing well lately, but not even it could sidestep the bears on Thursday.
Shares fell almost 3% on the day and now have bulls wondering where support could come into play. My first look would be $200. Should it fail, finding support down the penny could be difficult. However, I suspect that the $192 to $195 area should help prop up BABA.
Top Stock Trades for Tomorrow #5: Adobe (ADBE)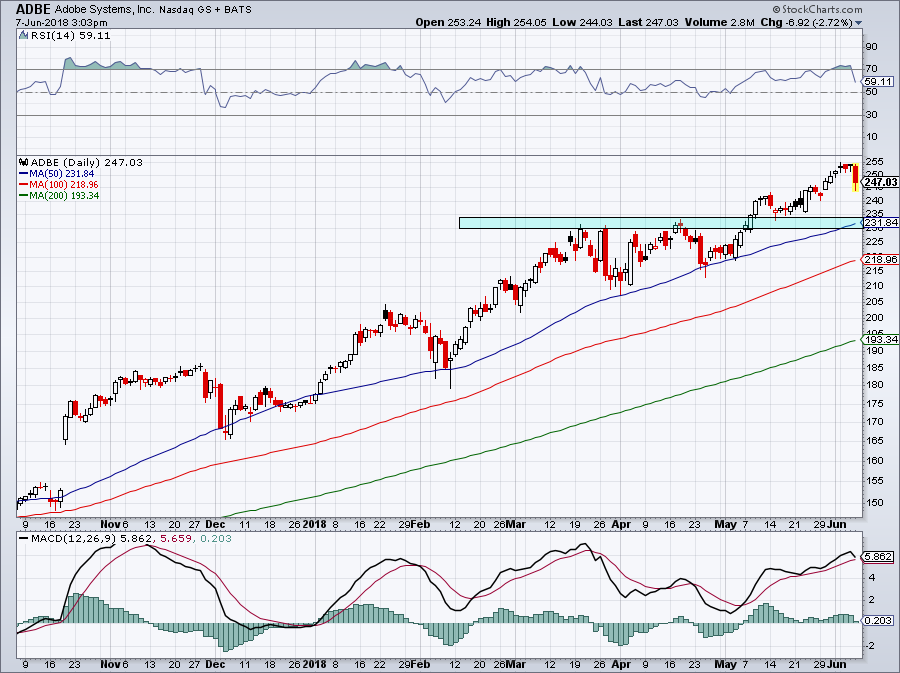 As I said at the top, cloud stocks were weak on Thursday and Adobe Systems Incorporated (NASDAQ:ADBE) is no exception.
I don't know that we'll get back down to the $230 to $235 level, as it will require a pullback of at least 5%. But if it does, bulls would be wise to hop on board. Further, the 50-day moving average has been a key dip-buying level — just look at the past eight months of trading.
Maybe tech recovers tomorrow. I don't really know and neither does anyone else. But know what you want to pounce on and at what price. Just be ready, even if it doesn't come to fruition. It never hurts to be prepared.
Just remember the five P's of success: Proper Planning Prevents Poor Performance. No where is that more true than in the stock market.
Bret Kenwell is the manager and author of Future Blue Chips and is on Twitter @BretKenwell. As of this writing, Bret Kenwell held a long position in AAPL.