Is Walmart Inc (NYSE:WMT) the top retail stock to buy? Given that WMT stock is down 14.5% this year, the answer seems like a resounding "no." However, some are wondering if now is the time to load up on the company.
I don't know that I would necessarily classify WMT stock as a "back up the truck" kind of name. But it certainly has a few qualities for investors to be excited about. As Amazon.com, Inc. (NASDAQ:AMZN) and other online retailers continue to gain market share at the expense of traditional retail, others like Macy's Inc (NYSE:M), Kroger Co (NYSE:KR), Target Corporation (NYSE:TGT) and WMT are fighting back.
They're investing heavily in omni-channel efforts and even making large acquisitions to fight the market share loss that Amazon is inflecting on the entire sector. For Walmart's part, it acquired Jet.com almost two years ago for $3 billion and made a massive $16 billion deal for Flipkart. There are other smaller deals too, like Shoes.com, Moosejaw and Parcel. But the point is all the same: Walmart isn't going to stand by idly and watch Amazon sweep them up.
Fundamentals of WMT Stock
If I'm investing in retail, I prefer a name that's a bit more defensible, like Home Depot Inc (NYSE:HD). However, with Walmart being the country's largest retailer, it has some leverage of its own.
Current estimates call for earnings of $4.82 this year, up 9% from the year before. In 2019, analysts expect growth of just 3.5%. On the sales front, estimates call for growth of 3% growth this year and next.
Is it stellar growth? No, not really. But it's not horrible given that WMT is in a sort of rebuild mode, as it gears up for the next several decades of commerce. Its price-to-earnings ratio of 17.5 is decent, although far from a big bargain.
The truth about WMT stock is that its valuation isn't a steal and its growth is just okay. But its business is strong and will still be churning out billions per quarter next year, the year after that and 10 years from now. So if you're looking for dependability, WMT shouldn't be ignored.
WMT Stock Dividend Dependability
Speaking of dependability, look no further than the dividend from WMT stock. Shares now yield roughly 2.5%, but that's not the only attractive thing about WMT stock and its dividend.
The company has not only paid, but it's actually raised, its dividend for 44 consecutive years. That's longer than companies like Clorox Co (NYSE:CLX), AT&T Inc (NYSE:T) — which may approach a "screaming buy" level soon — and Chevron Corporation (NYSE:CVX). It's also weathered recessions, high inflation and several asset bubbles.
With over four decades of dividend increases, income-oriented investors can sleep well at night knowing their quarterly payouts are very secure. For that matter, they can bank on annual increases as well. For many investors, that kind of dependable income is worth a premium.
Trading WMT Stock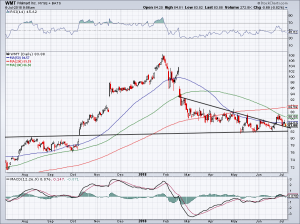 Click to Enlarge
WMT stock obviously doesn't have the best-looking chart. However, it's got a solid risk/reward ratio at the moment.
As we enter the back half of 2018, retail stocks generally start rallying, as the companies enter their busy seasons. However, retail stocks have already been doing well this year, so it will be interesting to see to if they add to the recent gains or give some of them back over the next six months.
In any event, WMT stock fell from a high near $108 in January to a low of $82 in May. That low has been tested several times, while, in June, Walmart broke out over short-term downtrend resistance. Of course, the 100-day moving average then acted as resistance shortly after, but it's progress nonetheless.
I wouldn't put much faith in this downtrend resistance line acting as support. Instead, buyers of WMT stock will want to watch that $82 level. If it gives way, short-term investors or conservative bulls may want to exit their long position. WMT stock isn't for everyone and its growth isn't great, but income-oriented investors may find comfort in owning this blue-chip retail giant.
Bret Kenwell is the manager and author of Future Blue Chips and is on Twitter @BretKenwell. As of this writing, Bret Kenwell did not hold a position in any of the aforementioned securities.