We're three-quarters of the way through 2018 (already!?) and we've seen some great performances in the equities market. The best? Well, cannabis stocks are leading the way while bitcoin and other cryptocurrencies may mark the worst-performing group. However, we're looking for the best stocks to buy going into Q4, and neither group made this list.
Instead, we're looking for companies that operate fantastic businesses and have blue-chip charts to back them up.
It's becoming more and more important to blend fundamental and technical analysis in today's market. Ignoring fundamentals can get us in trouble even with a good-looking chart. Similarly, an ugly chart may keep us out of a stock that has incredible fundamentals and a solid valuation to boot.
With that in mind, let's take a look at 10 stocks to buy for the fourth quarter based on the charts.
Apple (AAPL)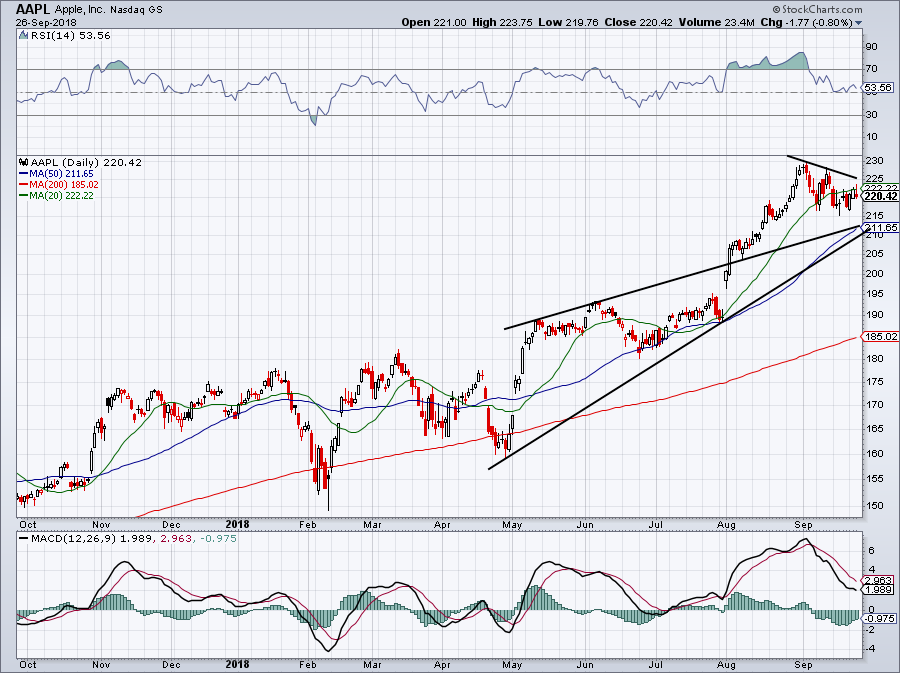 Apple (NASDAQ:AAPL) has been a little gassed lately, thanks to its massive push from $190 at the end of July to $230 by the end of August. I love Apple and have owned it for a long time, but a 21% one-month rally is too much, too fast — particularly with the iPhone event in September.
Apple is sure to sell plenty of new iPhones, Apple Watches and more during the holidays. Given its $1 trillion market cap, I don't think anyone's doubting that.
But a look at the charts still says it needs to digest that massive rally. That's clear in Apple's inability to get back above its 20-day moving average. Should it close above this mark, perhaps it is in the clear. But continual chop in this area likely puts it on a path to retest its 50-day moving average.
Should that fail, the backside of prior channel resistance (black line) should give it a bounce. Apple has been a well-oiled machine, buying back tens of billions of dollars worth of its stock each quarter. Don't bet against it — this is clearly one of the best stocks to buy on dips instead.
Amazon (AMZN)

Are we favoring those in the trillion-dollar club? Well, they didn't get there by having poor-performing stocks. Amazon (NASDAQ:AMZN) hit the milestone just after Apple, but while it couldn't hold that level, its overall performance has been much better this year. Amazon stock is up more than 110% over the past 12 months and almost 70% so far this year. That's insane given its market cap.
In any regard, shares are losing some of their "oomph," but it's not something that Amazon can't get back. After all, September is supposed to be a scary, volatility-filled month of trading. We still have to make it through October, but so far so good for Amazon.
In October, we'll hear the company's third-quarter results, which captured Amazon's massive Prime Day results. Then, we'll be heading right into the massive fourth quarter. That doesn't mean AMZN is guaranteed to rally, but just look at last October on the chart above. The move kicked off not only a strong Q4 rally, but a rally that's still going today.
On Monday shares broke below the 50-day moving average, reversed and closed higher. Then on Tuesday Amazon stock climbed above the 20-day and downtrend resistance. A retest of its highs near $2,050 could now be in the cards. We need to see its recent break over resistance hold now.
Salesforce (CRM)

One reason Amazon stock has been so successful has been its cloud business. That's led to strength in other stocks too, like Salesforce (NASDAQ:CRM). Many have spent years disliking CRM because of its valuation. But the truth is, it has been one of the best stocks to buy due to its strong uptrend.
With just days to go in the third quarter, Salesforce is hosting its Dreamforce conference in San Francisco and had its investor day meeting on Sept. 26. Will it be enough to cause a breakout?
We don't know yet. If it does, it will need to propel shares over the $158-ish mark and kickstart a grind higher into November earnings. Otherwise, it could fuel a quick pullback to either the 20-day or 60-day moving average. Bulls may want to buy, provided that support holds up.
Until the trend breaks, CRM remains a buy-on-dips kind of stock.
Adobe (ADBE)

For those who want exposure to a subscription-based revenue company operating in the cloud, but don't like CRM's valuation, consider Adobe (NASDAQ:ADBE). Both stocks have rallied a ton, so a larger pullback will eventually occur. Both will likely be bought when it happens.
While one would consider Adobe to have a "premium" valuation, this name deserves it. Its stock is consistent, management is incredible, growth is strong and its balance sheet is rock solid. All the hallmarks of a blue-chip stock.
Like Salesforce, Adobe has been a trend-trader's best friend. Lately though, we've seen that trend starting to bend just a bit. This isn't a sign to bail on ADBE, but maybe keep it fresh in our mind that this stock has gone from sub-$150 at the start of Q4 2017 to almost $270 presently.
So we may need a larger flush, say down to the 100-day or even the 200-day moving average, on a larger market correction. For now though, we see similar action to Amazon. A test and bounce off 61-day moving average support, up through the 20-day and over short-term downtrend resistance (blue line). If it holds above resistance, that makes it one of our stocks to buy.
Microsoft (MSFT)

Let's do one more name in the cloud with Microsoft (NASDAQ:MSFT). Just as Adobe is cheaper than CRM, Microsoft is cheaper than Adobe. However, that doesn't mean there isn't some concern over Microsoft's valuation, given the fact that it has a slower growth rate than the others. Is it the next to $1 trillion?
Still, MSFT is serious player in the cloud and as a result, perhaps investors are willing to give it a higher valuation. That's as Azure revenue continues to make up a larger portion of overall sales. For now, we bet with the wind at MSFT stock's back.
Like so many others listed above, Microsoft has been on a year-long rally, which really hit overdrive in October 2017. A pullback would make Microsoft more attractive for obvious reasons — even just into that $108 to $110 area — as shares are hovering around all-time highs.
A larger correction to the 100-day would be attractive too, as would a drop to the $102.50 level.
At some point, these stocks have too cool off a bit. It's just a question of when and for how long.
Home Depot (HD)

Let's shift out of tech for a little bit, as these names have dominated the list so far. Instead, let's look at one of our favorite retail names in Home Depot (NYSE:HD).
This company continues to put up monstrous earnings, revenue and same-store sales growth, all without opening hardly any new stores. HD continues to pour money into the customer experience and has made big investments in digital and online shopping to keep Amazon from taking market share.
The resurgence in the housing market and consistent economy is giving consumers the confidence they need to invest in their homes and properties. That bodes well for HD and Lowe's (NYSE:LOW).
The charts have not been as explosive for HD as they have for some of the tech names listed above. The backside of prior channel resistance (blue line) could give the name support near current levels. That may make for a good buy spot for aggressive bulls. However, should we get a correction down to the prior breakout area near $200 to $204, I would consider Home Depot a big-time buy.
Target (TGT)

Another name doing incredibly well in retail is Target (NYSE:TGT). Shares have been on fire, up almost 50% over the past 12 months and 35% so far on the year. That's not something that investors in retail have said in a while.
In any regard, we're in the back half of the year, which typically bodes well for the sector. There's back-to-school shopping, holiday shopping, Black Friday, and other events along the way. Like HD, Target is also the beneficiary of a strong economy.
In fact, Target CEO Brian Cornell had this to say on the company's most recent earnings call: "This is the best consumer environment I've ever seen."
A pullback to the 50-day may be bought by investors, but many may prefer to wait for a retest of the 100-day and the backside of prior resistance (black line). Keep it simple with TGT.
Occidental (OXY)

Crude oil prices have been growing, and that makes the energy sector one to focus on going into Q4. Specifically, Occidental Petroleum (NYSE:OXY) may be one of the ideal stocks to buy.
Shares trade at just 15 times this year's earnings estimates, which are expected to grow more than four-fold from 2017. Analysts expect earnings to grow another 13% in 2019. On the revenue front, they are looking for 28% and 10% growth in 2018 and 2019, respectively.
Further, OXY stock pays out a 3.8% dividend yield and its chart looks solid. Shares have cleared both of the downtrend resistance lines and could now see its stock run to the mid-$80s.
Above resistance means there's plenty of support below and that's the case with OXY as well. Short of a total breakdown, Occidental looks like a great addition to our stocks to buy list going into Q4.
Netflix (NFLX)

Netflix (NASDAQ:NFLX) was on absolute fire in 2018, climbing 120% at one point. Those gains were hammered lowered after the company reported earnings and came up short on subscriber growth.
Investors threw in the towel for a while, but many are starting to forgive the streaming giant for the miss. Should Netflix miss again, its stock will likely be punished once more and perhaps investors won't be as forgiving as they were the first time around.
That said, it makes our list of best stocks to buy for the fourth quarter based on this week's action.
Shares have been putting in a series of higher lows but were struggling to breakout over the $370 area. That is, until Wednesday. Netflix pushed through this mark and now has a chance to fill its gap near $390. A push above that will bring a rally to previous all-time highs into question.
So long as $370 holds up as support on a pullback and as long as uptrend support stays intact, investors can stay long Netflix. Whether they have faith to hold through earnings in October is another question, though.
Roku (ROKU)

After carving out some serious losses earlier this year, Roku (NASDAQ:ROKU) has been on absolute fire. The stock is up more than 40% in 2018 and more than 125% over the past six months.
It's no longer just a hardware story, as Roku is successfully generating software and ad dollars from its platform as well. If you believe in the secular direction of Netflix and streaming, you should believe in Roku, which is in prime positions to benefit from this mega shift in media. Is it the next Amazon?
For now, shares are in a sharp uptrend. That's notable by its quickly rising 20-day moving average, as well as its uptrend line (purple line). More gradual trends can be found at the 50-day moving average and blue uptrend line.
Depending on how aggressive or conservative investors want to be, they can put ROKU on a list of stocks to buy on pullbacks into these zones. It honestly wouldn't surprise me to see Roku at $100 at some point, but keep in mind, the rally is only as strong as Roku's trends. If these break, caution is warranted.
Bret Kenwell is the manager and author of Future Blue Chips and is on Twitter @BretKenwell. As of this writing, Bret Kenwell was long CRM.