With the holiday shopping season quickly approaching, many retail stocks look like they are poised to have a banner fourth quarter. Low unemployment, rising incomes and increased consumer confidence is pointing to this being one of the best holiday seasons in recent memory. As a result, many retail stocks are riding high heading into December — just check out recent numbers from Walmart (NYSE:WMT) and Macy's (NYSE:M).
But not all retail stocks are doing well. In fact, some are still dying a quick and painful death.
Part of the problem is that not all of them have gotten online and omnichannel selling correct and many are still struggling. A poor showing this holiday season could be the final nail in their respective coffins. But which ones aren't going too well?
Luckily, InvestorPlace has you covered. Here are three retail stocks that could have a very Blue Christmas and are worth avoiding.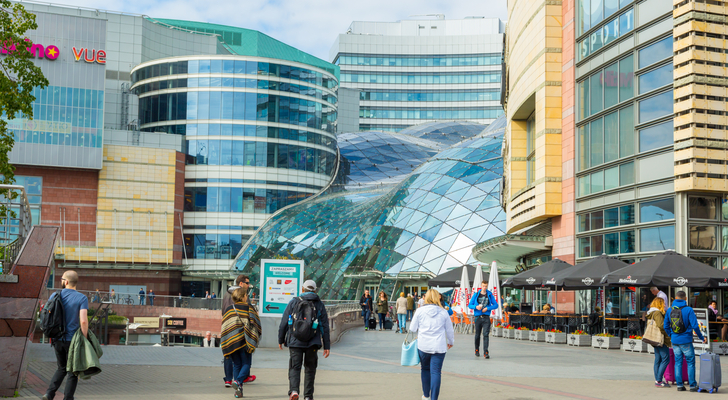 Source: Shutterstock
J. C. Penney (JCP)
It may be a bit unfair to pick on J C Penney (NYSE:JCP), and its demise its pretty much a given at this point. At roughly a $1.30 per share, many investors are buying JCP stock as a "lotto ticket" to bet on its turnaround. But at this point, you're better off buying a Powerball ticket than J. C. Penney.
Like former rival Sears, JCP is one of the last remaining department stores and the truth is, consumers don't have a need for these sorts of stores anymore. Discounters and online shopping have rendered them useless. That fact has shown up in JCP's decline sales over the last few years. Last quarter alone, J. C. Penney saw sales decline to $2.65 billion, with same-store sales plunging 5.4% for the period. This resulted in a loss of over $151 million. To quote analysts at GlobalData, those results were "nothing short of atrocious" given the best consumer environment in a decade.
The worst part is that JCP stock seems to have no real strategy to combat the sales slump. Sears and Bon-Ton's liquations have pushed a ton of similar merchandise onto the market. Meanwhile, better-equipped rivals have gained market share in both toys and appliances- key areas for JCP and its former bankrupt rivals. With no other options, deep discounting is the only way to get through the holiday season. And that won't really help stop the bleeding.
All in all, when it comes to retail stocks, JCP is most likely to be the next to die — and despite its low share price, it's not worth accumulating.

L Brands (LB)
Staying put when consumer tastes are changing is a surefire way to send your company into obscurity. And that's exactly what is happening to L Brands (NYSE:LB). LB is the parent of the Victoria's Secret, Pink, and Bath & Body Works chains, and it has built its business model on "cute & sexy." But younger customers are focusing more of their attention on fit and practicality. The same could be said for its Pink apparel brand aimed at college students. A survey last summer revealed that 68% of consumers like Victoria's Secret less than they used to and 60% said the brand feels "forced" or "fake."
Push-up bras are out, while lower-priced bralettes sold by firms like American Eagle (NYSE:AEO) are in. Incidentally, bralettes' traditional small, medium, large sizing makes them much easier to buy online. As a result, LB's main brands have evaporated market share and sales for the firm continue to plunge.
With no easy fix in sight, LB has recently cut its guidance for the second time this year. For the third quarter, L Brands said it expects to barely break even, well below the analysts' estimates of 10 cents. The firm's only savings grace still remains its Bath & Body Works line for products.
Add in a series of leadership scandals and the recent removal of its CEO at just the wrong time, L Brands is going to have a rough holiday season. No wonder why its stock is stock is down 72% over the last three years and more than 43% year to date.
When it comes to retail stocks, L Brands is one to avoid. There's no turnaround in sight.

Bed Bath & Beyond (BBBY)
I couldn't tell you the last time I was in a Bed Bath & Beyond (NASDAQ:BBBY) store. And neither could a lot of Americans. Foot traffic and sales have declined at Bed Bath & Beyond since the housing bust/recession. The truth is, like JCP, BBBY doesn't serve really have any purpose anymore.
The firm's mixture of sheets, kitchen gadgets and other home goods aren't very exclusive or high-end. This exclusivity/high-end focus has supported rival Williams-Sonoma (NYSE:WSM). Unfortunately for BBBY, its low-to-mid-end products are exactly the same kind found at discounters and at Amazon (NASDAQ:AMZN). No wonder shares of the retailer are now sitting at multiyear lows.
To combat the problem, BBBY has undergone a series of buyouts to boost its presence and stop the bleeding. Brands like the Christmas Tree Shops, Buy Buy Baby, Linen Holdings and One Kings Lane are all now under the BBBY umbrella. The problem is, like its core holdings, none of these brands hold any particular "uniqueness." Same-storetore sales, comps and profits have continued to decline.
At the same time, the firm was know for its fiscal conservativism and was debt free for the longest time. However, management has used debt to fund its dividend and lucrative share buyback program.
With rising debt and continued sales/foot traffic declines, Bed Bath & Beyond investors could see a lump of coal in their stockings this holiday season.
At the time of writing, the author held no position in any of the stocks mentioned.