"Make America Great Again?" It's questionable lip service. And given the political, social and economic uncertainties still plaguing 2020 right now, I'm willing to walk the isle in-between bulls and bears. As such, let's check in with three blue-chip stocks now enlisted as Dow Jones stocks and see what the price charts suggest as the best course of action.
The last presidential debate has come and gone, and it's unlikely to have swayed a polarized voting public. We're now also just 12 days out from Election Day. The outcome remains rife with uncertainty. Unfortunately, there's also a strong chance of more political theater in the cards.
It's a different story on Wall Street, though. A critical vote was decided this past month. That referendum was bullish and is typically great for the market and for investing in Dow Jones stocks. I'm referring to the historically significant and consistently strong follow-through day signal the major indices scored on Sept. 30.
Follow-through days, or FTD's, are incredibly robust. No major market bottom has occurred without one in place. Still, the technically driven event isn't a guarantee of future profits. Just ask investors long DraftKings (NASDAQ:DKNG). The leading sport bettor outfit topped one day after the key market signal. While the broader market has climbed a couple percent in October, DKNG is off nearly 30%. A similar tale can be seen in recent hot-to-trot EV play Workhorse (NASDAQ:WKHS).
To be fair, up-and-coming growth plays aren't alone in defying the market's most recent FTD. Even blue-chips aren't immune to pressure. IBM (NYSE:IBM) and Verizon (NYSE:VZ) are firmly in the red in October. And constituents Visa (NYSE:V), Chevron (NYSE:CVX) or Boeing (NYSE:BA) aren't exactly killing it either. With that in mind, let's visit the price charts of this bellwether's newest recruits.
Dow Jones Stocks to Trade: Amgen (AMGN)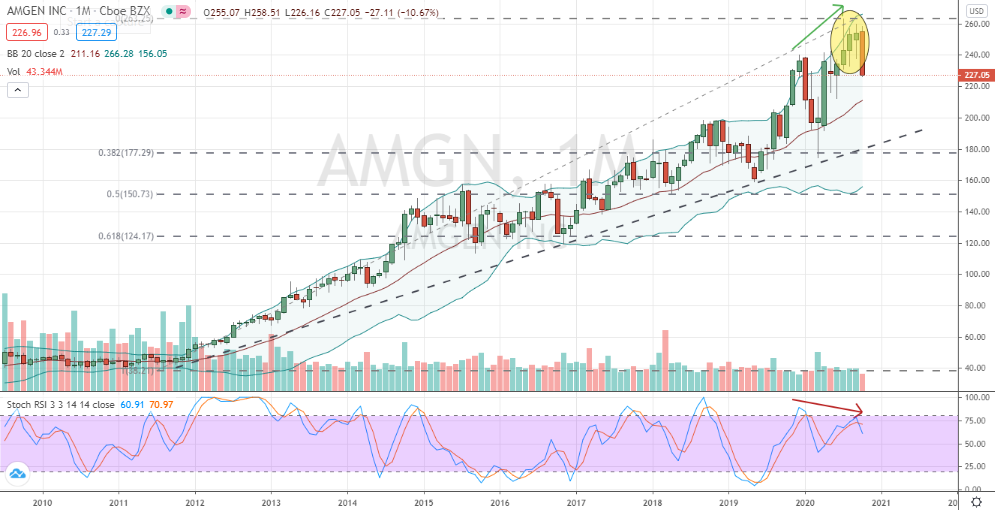 Source: Charts by TradingView
The first of our newly anointed Dow Jones stocks to trade right now is Amgen. The biotech giant's long-term monthly chart reveals a stock that's been in an uptrend since the financial crisis of 2008–2009. But in 2020 shares are showing signs of topping.
Technically, a bearish divergence in AMGN's stochastics as the stock formed a higher-high relative to last December's prior pivot top is a warning. Now, and with shares breaking beneath a three-month-long bearish-leaning consolidation pattern, this Dow Jones stock's welcome mat looks to have disappeared.
I'd recommend short exposure in Amgen using the March $210/$190 bear put spread for protection. This strategy will help bears get through next Wednesday night's earnings event with less financial and mental stress in anticipation of a larger correction towards trend support going into 2021.
Honeywell International (HON)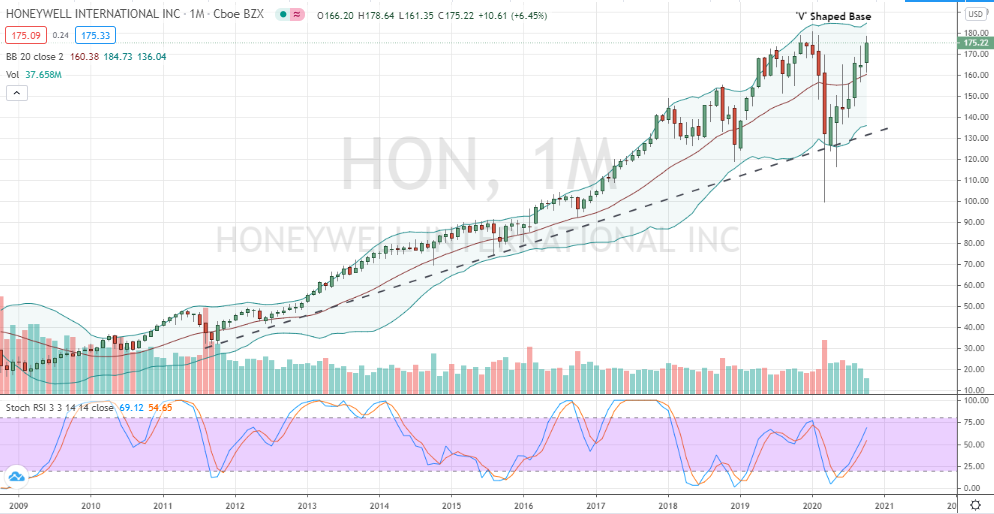 Source: Charts by TradingView
The next of our Dow Jones stocks to trade is Honeywell. Technically, the diversified technology and manufacturing outfit has been a workhorse within the bellwether. And there's little to suggest HON stock can't continue rallying to new highs.
Honeywell's earnings are a week from today. The observation is HON's V-shaped monthly base will see the stock break out to new highs in the report's aftermath. Backing that view, stochastics are trending nicely higher within neutral territory. Also, shares of Honeywell are demonstrating relative strength and positioned less than 3% from the pattern's all-time-high. In total, this is one Dow Jones stock that's making the rights moves.
To take advantage of an earnings catalyst, but also limit downside exposure through the quarterly release and November's political theater, I'm bullish on the shorter-term Nov $180/$185 call vertical.
Salesforce.com (CRM)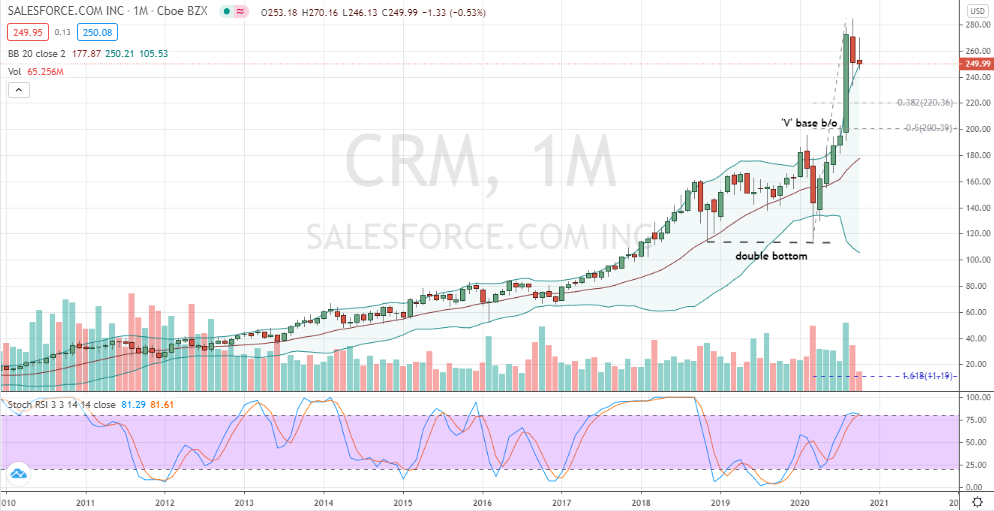 Source: Charts by TradingView
The last of our Dow Jones stocks to trade is business software behemoth Salesforce.com. As with the election, I'm torn when it comes to CRM's price chart and how I'd like to see the stock play out.
On the one hand, a steep and likely unsustainable rally since March's Covid-19 double-bottom is at risk. Shares of Salesforce put together an overbought monthly doji decision candlestick in September. It's the kind of technical evidence which could mark the end of a bullish cycle in CRM and the start of a larger corrective move. Or maybe not?
Alternatively, if 2020 and the past four years have proven anything, it's that anything, including more momentum, is possible. And as a Dow Jones stock that's first and foremost a blue-chip tech stock in a hot space, that shouldn't be ignored.
With a week to go in October for a full monthly candle to form, price action shaping up as an inside consolidation and earnings a full month out, my advice is to wait until November to cast your bullish or bearish ballot in CRM stock.
On the date of publication, Chris Tyler does not hold, directly or indirectly, positions in any securities mentioned in this article.
Chris Tyler is a former floor-based, derivatives market maker on the American and Pacific exchanges. The information offered is based on his professional experience but strictly intended for educational purposes only. Any use of this information is 100% the responsibility of the individual. For additional market insights and related musings, follow Chris on Twitter @Options_CAT and StockTwits.