Go ahead and park some capital into Hertz Global (OTCMKTS:HTZGQ). But if you're looking for a way to proceed smartly in a market made up of stocks, steering clear of a wrecked Hertz investment sounds and looks about right. Let me explain.
All stocks are risk assets. Even top, high-paying Aristocrat dividend blue-chips such as Procter & Gamble (NYSE:PG),Walmart (NYSE:WMT) or Coca-Cola (NYSE:KO) fall under that broad-stroke designation. At times of course, it may not seem that way. Like today.
In Monday's session led by the S&P 500 and Dow Jones industrials, more than a few stocks are hitting new all-time highs on the back of the latest breaking vaccine news from Moderna (NASDAQ:MRNA).
Still, last month's market correction or better yet, March's bear market, are great examples of respecting the risks associated with investing in stocks.
During the worst of Covid-19's punishment on the equity markets, even the largest and most secure companies paying investors good income to stay the course were severely punished. And trillion-dollar plus growth juggernauts like Apple (NASDAQ:AAPL) and Microsoft (NASDAQ:MSFT) suffered substantial valuation haircuts as investors braced for the worst during the jaw-dropping decline.
But Hertz isn't one of those stocks. Or more aptly, shares of HTZGQ shouldn't be confused with AAPL, MSFT, WMT stock and the aforementioned market leaders.
It wasn't always that way. At one point the car rental outfit was going places. In 2013 Hertz witnessed its most successful year as an ongoing business. And in 2014 shares were hitting new highs helped along by its financial prowess and enthusiasm the good times would continue to motor on. It didn't.
Despite Hertz's past success and recognizable brand, the company has gone from a business in decline to a car wreck to be avoided. Bottom-line, Hertz has lost money in five of the last seven fiscal years.
Hertz Goes Downhill
To be fair, Covid-19's impact on air travel didn't help matters, as airports are primary hubs for Hertz's rental business. Even airline giants like Delta (NYSE:DAL) had Warren Buffett famously throwing in the towel while uttering the world has changed.
But for Hertz, the world had already been changing and challenging its market. Think rideshare. Lyft (NASDAQ:LYFT). Uber (NYSE:UBER). And efforts by Hertz to keep up proved too little and too late.
An apologetic message in 2019 by Hertz's CEO that the company had taken its eye off the prize about sums it up. Almost. Today, there's also ballooning losses and massive debt which will leave shareholders with basically no recourse in their inevitable bankruptcy losses.
As well, there's a recent delisting by the NYSE which further warns investors to 'proceed with caution' or better yet, walk away from the 'closed for business' signage already hanging over HTZGQ.
Hertz Stock Daily Price Chart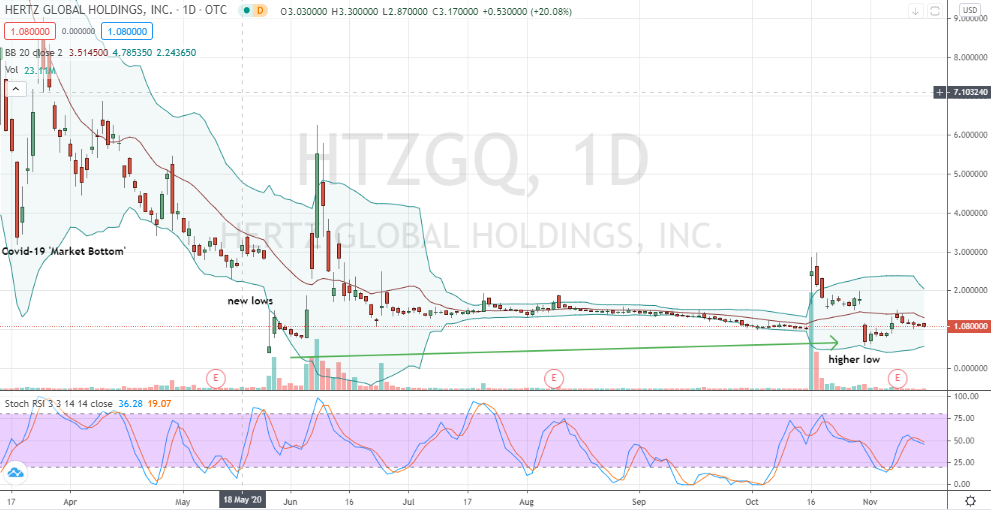 Source:
Charts by TradingView
The fact is all stocks correct. Given that, there's a chance Hertz's nasty bear market could find itself turning the corner, right? Anything is possible, I suppose. More importantly, as a highly-leveraged company where equity investors rights are last in the event last rites are performed, steering clear of this car wreck appreciably makes sense.
Technically and on the Hertz price chart, investors could see things bit more optimistically. It's easy enough to point at a higher-low pattern which has developed. Conservatively, chart work of that nature should be reserved for stocks which have a great deal more going for them off the price chart than Hertz does.
Other than being cheaply-priced for about $1.10 and the possibility for a quick but fleeting burst of upside volatility, Hertz is not the kind of business investors should be parking money into.
On the date of publication, Chris Tyler does not hold, directly or indirectly, positions in any securities mentioned in this article.
Chris Tyler is a former floor-based, derivatives market maker on the American and Pacific exchanges. The information offered is based on his professional experience but strictly intended for educational purposes only. Any use of this information is 100% the responsibility of the individual. For additional market insights and related musings, follow Chris on Twitter @Options_CAT and StockTwits.