In a market which can look more like a video game these days, GameStop (NYSE:GME) is stealing the show. But for investors wanting a piece of the arresting price action, it may be best to collar your GME stock against bears on the run, but fully capable of striking back with a vengeance. Let me explain.
Electric vehicle (EV) stocks are hot. QuantumScape (NYSE:QS). Blink Charging (NASDAQ:BLNK). Workhorse Group (NASDAQ:WKHS). The list goes on and on. And of course Tesla (NASDAQ:TSLA), the market's $800 billion gorilla, continues to motor on.
Let's not forget cryptos or cryptocurrency and blockchain-related plays either.
Led by Bitcoin and Ethereum, the emerging asset class saw massive gains during the back half of last year. But in 2021, something old has become something new and a wildly popular trading vehicle for Wall Street's more aggressive investors. It's shares of GameStop.
The shopping mall throwback and seller of video games such as Take Two Interactive's (NASDAQ:TTWO) GTA series or Electronic Arts (NASDAQ:EA) Madden NFL library and hardware to play like Microsoft's (NASDAQ:MSFT) Xbox or Sony's (NYSE:SNE) PlayStation has seen shares resurrected to kick off the new year.
In Monday's early action shares of GME were up about 60% and sporting a year-to-date take of around 400% for some of the stock's investors. And most all of that has occurred in less than two trading weeks.
Renewed Interest
So, what gives? Why all the sudden and explosive interest in a company which not so long ago was thought to be teetering on the brink of bankruptcy?
It could have something to do with GME stock's short interest. And unequivocally it does. Shares harbor bearish short bets of nearly 1.4x the stock's float. The most recent calculated stock data shows GameStop's shares are in the top spot ahead of Virgin Galactic's (NYSE:SPCE) 81% short interest and AMC Entertainment's (NYSE:AMC) 69%. It's stunning to say the least, but it also takes two to tango.
For every seller there is a buyer. Fingers scorched during GME's melt-up have been pointed at a new breed of day trader, probably still in diapers during GameStop's heyday.
The merry band of marauders are using social media platforms Twitter (NYSE:TWTR), Reddit or maybe even an old-fashioned Yahoo Finance chat room to muscle shares ever farther from a consensus price target of $12.39. At the same time, sophisticated and larger bearish traders typically associated with shorting strategies are getting gamed out of their positions with huge losses in tow. Boo-hoo?
GME Stock Daily Price Chart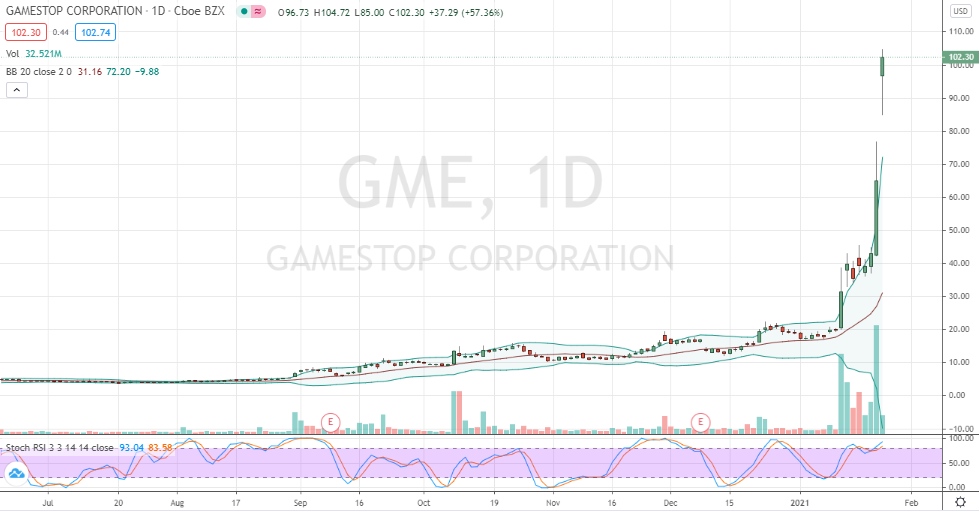 Source:
Charts by TradingView
It's more than a bit true of course that short-covering from bearish bets are fueling GME stock ever higher. But should there be feelings of remorse for pros fully aware of the dangers when shorting this type of combustible situation? No. Besides, isn't the market always right? Or does that argument get swept under the carpet when larger investors aren't able to use it to their benefit?
Fundamentally, GME is expensive. But interestingly and unlike the past couple years where the end for the business looked 100% certain, GameStop has made a bit of a comeback. Sales of around $5.2 billion through October, even after Monday's near 60% jump, aren't far removed from a valuation of $6.35 billion. Moreover, GME is even expected to turn a profit by 2023.
Bottom-line, when it comes to today's stock market, respectfully there's a lot silly and unjustifiable price behavior which looks equally, if not more so, reckless than GME. Having said that, I'd pepper any would-be enthusiasm to buy GME stock and do so as part of a flexible collar strategy.
At the end of the day, maybe tomorrow or certainly sometime very soon, this bullish fully-hedged position is also flexible in its construction to remain well-positioned for even better days ahead, but first require getting past those inevitable and hard-hitting downswings that will feel like "game over" to shorter-term GME bulls.
On the date of publication, Chris Tyler holds, directly or indirectly, positions in listed Bitcoin and Ethereum stocks (GBTC, ETHE and ETCG), but no other securities mentioned in this article.
Chris Tyler is a former floor-based, derivatives market maker on the American and Pacific exchanges. The information offered is based on his professional experience but strictly intended for educational purposes only. Any use of this information is 100% the responsibility of the individual. For additional market insights and related musings, follow Chris on Twitter @Options_CAT and StockTwits.