Autonomous vehicles have been the future for some time. Only now that future seems far closer.
Self-driving cars are in testing worldwide. Companies are developing every aspect of the technology required, whether it's sensors, semiconductors, or entire autonomous systems.
Certainly, there's still a long way to go. 98% or even 99% accuracy isn't good enough; it will be years before self-driving cars can match the safety of their human-controlled counterparts. Regulators will have their say, and generally move slower than do private enterprises. Even consumer preferences are a roadblock: many drivers may struggle to let "the computer" take over. (After all, few people believe they're bad drivers.)
But there is a massive opportunity on the horizon, and investors already are positioning themselves to take advantage. Many plays on autonomous vehicles already have rallied nicely, which does raise some valuation risk. For other companies — think Nvidia (NASDAQ:NVDA), Intel (NASDAQ:INTC) or Alphabet (NASDAQ:GOOGL) — even better success than anticipated might not be enough to change overall results quite enough.
There's likely still money to be made, however, if investors know where to look. These seven stocks look like potential targets:
7 Plays on Autonomous Vehicles: Tesla (TSLA)
There are plenty of reasons for skepticism toward Tesla's potential in autonomous vehicles. CEO Elon Musk has been promising what the company calls "full self driving" for some time now. Four years ago, he said that the company would advance beyond its current "Enhanced Autopilot" in just six months. It hasn't.
Meanwhile, Tesla is going its own way in AVs. Nearly every other company in the space is focusing on lidar (Light Detection and Ranging) technology. Musk has called lidar "a fool's errand."
And, of course, there's the valuation of TSLA stock. With a market capitalization of $760 billion, an awful lot of success in both electric and autonomous vehicles seems like it could be priced in.
But there's a simple retort to these concerns: anyone who has bet against Elon Musk and his company has generally wound up poorer for it. Whatever the argument about what Tesla's full self-driving actually means, the company is a clear leader in ADAS (advanced driver-assistance systems). It's built a significant first-mover advantage in EVs as well, which provides the data needed to continually improve the system. Simply put, it's impossible to leave Tesla off this list.
Luminar (LAZR)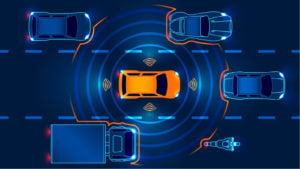 For investors who think Musk might be wrong, and that lidar will be part of the solution for autonomous vehicles, there are a few lidar stocks out there.
Perhaps the most interesting is Luminar. The company is the early leader in the space. Importantly, it's built its technology from the ground up. Components are all in-house. So is the intellectual property.
A number of auto tech stocks at the moment are using a substantial number of third-party components. That strategy not only raises competitive concerns but implies lower long-term profit margins.
Admittedly, LAZR stock isn't cheap. A current price above $37 gives it a market capitalization over $12 billion. But I argued last month that Luminar looked like the most intriguing play in the space, and around the same price that case still holds.
Velodyne Lidar (VLDR)
Relative to Luminar, Velodyne Lidar probably has to play a bit of catch-up. But the market should be big enough for multiple players, and VLDR stock is priced accordingly.
Indeed, while Luminar has a market capitalization of $12.2 billion, Velodyne's valuation sits just below $4 billion.
And it's as if Velodyne has no business of its own. The company actually invented three-dimensional lidar back in 2005. Luminar does seem to be ahead at the moment, but Velodyne can be a real competitor. With VLDR stock trading at such a discount, perhaps that opportunity isn't quite priced in.
General Motors (GM)
The bull case for GM stock in recent years was that the company had a better chance at success than perhaps some investors realized. GM often traded at a discount even to Ford Motor Company (NYSE:F), a car maker that seems at significant risk from the shift to electric and autonomous vehicles.
Yet GM was aggressively positioning itself for the future. Over the past year or so, the good news on that front is becoming apparent. The Ultium battery platform is drawing interest. And GM's autonomous strategy already has paid dividends.
Last month, a group of investors led by Microsoft (NASDAQ:MSFT) invested over $2 billion in GM's Cruise unit. Notably, the investment valued Cruise at more than $30 billion. That's nearly 40% of GM's current market capitalization.
The bull case is playing out. The market to some extent has come to understand GM's newfound potential: GM stock trades at an all-time high. But with the stock still under 10x forward earnings, and a real chance at a pivot to an EV/AV future, there's certainly room for the rally to continue.
NXP Semiconductors (NXPI)
The automotive market has become increasingly important to semiconductor companies. More features — in terms of both safety and 'infotainment' — require more and more complex chips. That trend will only continue as we move through improved ADAS systems into full self-driving cars.
NXP is set to be one of the big winners. Along with Infineon (OTCMKTS:IFNNY), NXP is one of the two largest manufacturers of semiconductors for the automotive industry. That position is why Qualcomm (NASDAQ:QCOM) spent years in an ultimately fruitless attempt to acquire the company.
Admittedly, NXPI stock has run far beyond the $127.50 per share offered by Qualcomm. But the chip sector has been on fire, and NXPI's current price just above $194 a share still is only 21x forward earnings. That seems a quite reasonable multiple to pay for a company set to benefit from what should be a multi-decade trend.
ON Semiconductor (ON)
ON stock is another way to play the AV tailwind for chip developers. It's not as dominant in the market as NXP or Infineon, but its share of total revenue from the industry is substantial (about 30%).
Few companies will benefit from the higher chip content of autonomous vehicles. As an analyst pointed out last year, ON revenue from an ICE (internal combustion engine) is about $50 to $100 per car. For an AV, for which ON provides the chips for image sensors, it could reach $1,800.
Here, too, the market has figured out the story to some extent, as ON stock has doubled just since September. But the valuation hardly looks stretched, with ON at 24.8x forward earnings. Given the tailwind from AVs, and even the possibility of ON becoming a takeover target, the long-term case remains.
Baidu (BIDU)
Of course, it's not just U.S. companies looking to develop self-driving cars. China has been at the forefront of the electric vehicle race, and Baidu is pushing forward in autonomous vehicles.
Like Alphabet, Baidu is using the cash generated from its hugely profitable search business into other sources of growth. But Baidu might have executed the strategy better. While Alphabet's Waymo has made uneven progress, Baidu is putting robotaxis on the ground. This month, the company announced the launch of a robotaxi service in Guangzhou.
BIDU stock has doubled in the past few months, and there are some legacy concerns about search growth. But if Baidu keeps executing in autonomous vehicles, investors will keep looking past those worries.
On the date of publication, Vince Martin did not have (either directly or indirectly) any positions in the securities mentioned in this article.
After spending time at a retail brokerage, Vince Martin has covered the financial industry for close to a decade for InvestorPlace.com and other outlets.