Many electric vehicle (or EV) investors are learning what it feels like to get blindsided. But amid some of today's sharp U-turns and crash-like action, old-school auto stocks are rallying. Moreover and with fuel in the tank to move even higher, a trio of well-placed purchases, where safety and big-time profits aren't optional features, looks appropriate.
Let me explain.
Green energy. Biden. It was supposed to be a one-way street for electric vehicles and this emerging market's infrastructure, right? Not quite. Tesla (NASDAQ:TSLA). Nio (NYSE:NIO). Lordstown Motors (NASDAQ:RIDE). ChargePoint Holdings (NYSE:CHPT). CIIG Merger Corp (NASDAQ:CIIC). Blink Charging (NASDAQ:BLNK).
As the names above and many like them can attest, 2021's reality has been a very different story compared to this past year's relatively easier drive higher. It happens, of course. Risk assets are prone to corrections. And after a siren song of EV SPACs and bountiful 2020 for many auto stocks under the EV umbrella, those odds not only increased, it's today's reality.
But some auto stocks still appear relatively underpriced. I'm referring to those fossil fuel-driven auto giants whose shares have gained the upper hand with Wall Street this year. And perversely enough, the gains have come despite a strong jump in the price of crude and what it takes for consumers to fill up at the pump. Of course, it's also true old dogs can learn new tricks.
Beaten down and discounted old-school auto stocks are gaining ground in the EV market. Moreover, those manufacturers still have their transitional hybrids and classic carbon footprints on the road, which continue to generate lots of excitement and profits. And bottom line, in a group where the top, bottom and squiggly stock lines still appear attractive, it's time for investors to consider the following three auto stocks for your portfolio today.
Auto Stocks to Buy: General Motors (GM)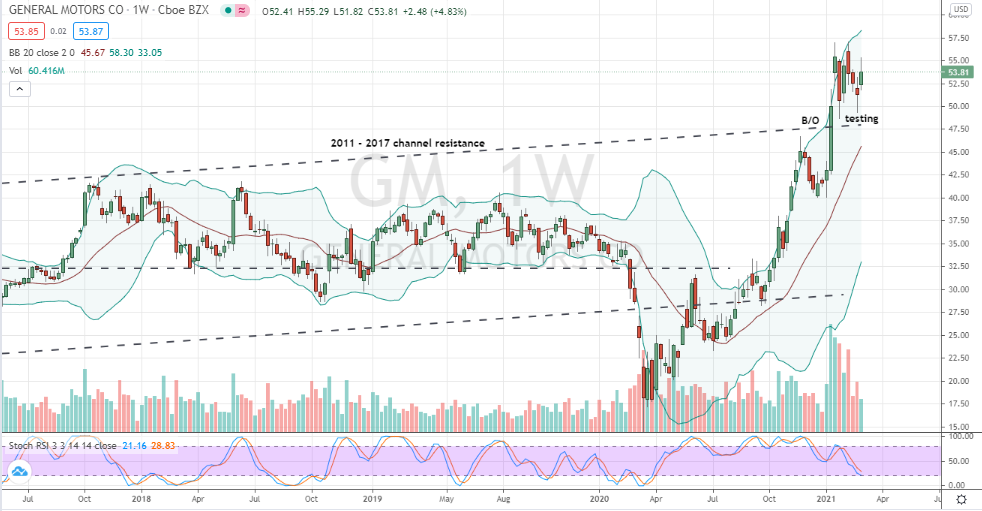 Source: Charts by TradingView
The first of our auto stocks to buy are shares of General Motors. Shares are up almost 29% in 2021. It's impressive. More importantly for today's investors, GM stock remains attractively priced with a forward price multiple of just 10x sales and quarterly sales growth approaching 22%.
On the business front, the automaker is moving ahead with an aggressive lineup of 30 electric vehicles. The company also plans to invest $7 billion in EV's and autonomous vehicles in 2021 and continue to grow that commitment with a spend rate of $27 billion by 2025. Also, GM has pledged to phase out its internal combustion engine (ICE) light vehicles by 2035.
Technically, shares of this auto stock look terrific. GM has just confirmed a weekly hammer candlestick reversal pattern, which successfully challenged prior channel resistance. With shares consolidating inside a a slightly flawed high-level double bottom now seven weeks in duration, the chance for a bullish breakout to new highs enjoys a good deal of support.
Favored Strategy: April $50/$60 Collar
Ford Motor Co. (F)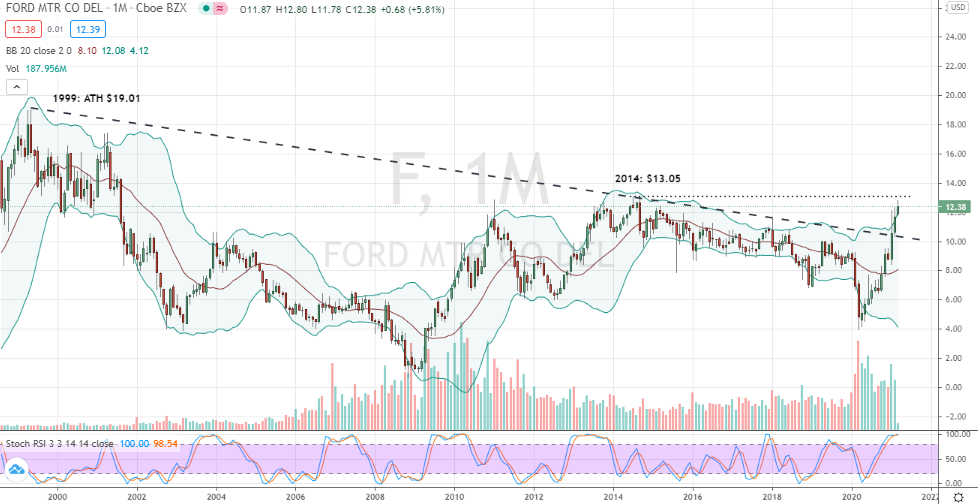 Source: Charts by TradingView
Ford Motor Co. is the next of our auto stocks to buy. The $49 billion market cap Blue Oval has been tearing higher in 2021. It's up nearly 41%. Compared to the S&P 500's 3.25% gain, that makes F shares look like a turbo-charged Mustang. Incidentally, Morgan Stanley was out Wednesday with a note stating Tesla is losing market share to Ford's Mustang Mach-E.
This auto stock has been making other big moves as well, which stand to reignite the iconic Ford brand.
Ford has partnered with Alphabet (NASDAQ:GOOGL) to streamline its operations and in-vehicle technology. The Blue Oval has also committed to ending production in Brazil and allocated a hefty $22 billion toward EV's. Ford's CEO also recently implored the U.S. government to make EV battery production a national priority, which enjoyed the backing of investors.
Want more? There is a strong angle on the F stock price chart to consider as well.
Technically, Ford's rally this year has broken through key long-term angular downtrend resistance dating all the way back to 1999. With the price action also breaking above the stock's lifetime 62% level and shares offering similar value-oriented metrics to GM, it's time to park some capital in this auto stock.
Favored Strategy: "Adaptive" September $10 Put / April $14 Call Diagonal Collar
Honda Motor Co. (HMC)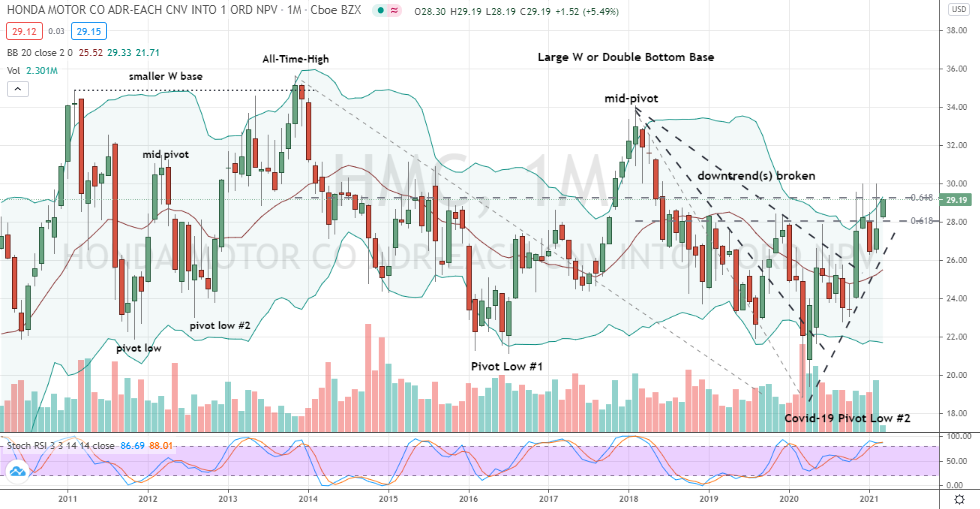 Source: Charts by TradingView
Honda Motor Co. is the last of our auto stocks to buy. This past month the Japanese auto manufacturer crushed earnings views, hiked its dividend, and raised operating profits for fiscal 2021 by nearly 24%. The outfit also revealed a new CEO is coming on board in April to boost its EV strategy, which just got underway this past year.
Under the hood, HMC offers attractive value-driven metrics comparable to GM and F. But with shares merely matching the return of the S&P 500 and sporting a very strongly-built monthly chart, more meaningful price performance from this auto stock looks to be in order.
Technically, over the past decade, HMC has been toiling in a pair of base-on-base "W" or double-bottom patterns. It's bullish.
Today, HMC has formed an uptrend off its Covid-19 low to help confirm a bullish end-game for the years of consolidation work. With shares also clearing downtrend resistance lines and a pair of 62% Fibonacci levels, the chance for improved relative and absolute price strength from this auto stock is expected through 2021. And longer term, a powerful breakout toward $50 over the next 12 to 24 months looks possible.
Favored Strategy: Combo $25/$22.5 Bull Put Spread & $30/$35 Bull Call Spread
On the date of publication, Chris Tyler holds, directly or indirectly, positions in Ford Motor Co. (F), Nio (NIO) and their derivatives, but no other securities mentioned in this article.
Chris Tyler is a former floor-based, derivatives market maker on the American and Pacific exchanges. The information offered is based on his professional experience but strictly intended for educational purposes only. Any use of this information is 100% the responsibility of the individual. For additional market insights and related musings, follow Chris on Twitter @Options_CAT and StockTwits.