The U.S. dollar or greenback. It's a relic of sorts. Bitcoin. It's the 800-pound gorilla. But in a cryptocurrency market made up of more than one coin, Cardano (CCC:ADA-USD) is one to watch in 2021 and beyond.
Let's take a look at what's happening off and on the price chart of ADA, then offer a risk-adjusted determination aligned with those findings.
Let's face it. More than a decade after the first pizza was bought for a single bitcoin, most of us have still yet to make a cryptocurrency transaction. But don't make the mistake of dismissing something you may not use yet. Think of the internet in the mid 1990's. Amazon (NASDAQ:AMZN) who?
Next Step
Now consider today's plastic or digital transactions we take for granted. At one time we wouldn't leave our house without some cash in your pocket. But that's been replaced with a piece of plastic backed by our digital landscape. And with our mobile devices glued to our bodies, Google Pay from Alphabet (NASDAQ:GOOGL) or Apple's (NASDAQ:AAPL) Apple Pay have many people even ditching those cards and further digitizing their footprint. Could the use of ADA be far behind?
Today and similar to those once cutting-edge disruptive technologies, cryptocurrencies or altcoins are fast becoming big business. Involvement from fintech's Square (NYSE:SQ) and PayPal (NASDAQ:PYPL), banking giants JPMorgan Chase (NYSE:JPM) and Goldman Sachs (NYSE:GS) or Tesla (NASDAQ:TSLA) says it all. Companies like those are certainly not buying into this emerging market to save the manatees or for some other social governance reason. They're in it to profit as much as possible. And so should you!
The question is, wouldn't buying the 800-pound gorilla be a safe bet to gain exposure to cryptos? It's certainly worked. It's also true Bitcoin's $900 billion valuation is without rival. As it now stands BTC is only behind fiat currencies USD, EUR, CNY and JPY in terms of money supply despite most of us having never made this sort of transaction. That certainly demands some consideration, right? Still, the thing is some smaller cryptos may already have the upper hand in the crypto market going forward. And among those, ADA-USD is a standout.
What Is Cardano (ADA)?
Created by one of Ethereum's co-founders, Cardano was introduced in 2017. To be quite sure, that's pedigree worth noting as Ethereum is only second to Bitcoin in size. But ADA is attractive for another reason as well. ADA's Cardano is an open-source, proof-of-stake blockchain platform. And it differs from Bitcoin's proof-of-work algorithm in a couple of simple, yet impressive ways we can all appreciate. Cardano ADA is faster and less energy intensive.
The goal of Cardano is to allow "changemakers, innovators and visionaries" to usher in a positive global transformation. And it's the ADA cryptocurrency which ensures owners can participate in the operation of the network. Huh? Apparently, what Cardano offers is beneficial for the greater good. To that end Cardano has already found use in business such as agriculture companies tracking produce from the field to your table and guarding against counterfeit retail goods among other things. Gotcha!
What about that next pizza purchase? I wouldn't hold my breath. Still and in today's market, investors can trade ADA. And for those in it for the long game and based on what the chart is suggesting, maybe those stakeholders can look forward to owning a pizza joint down the road with the proceeds.
Cardano ADA-USD Stock Weekly Price Chart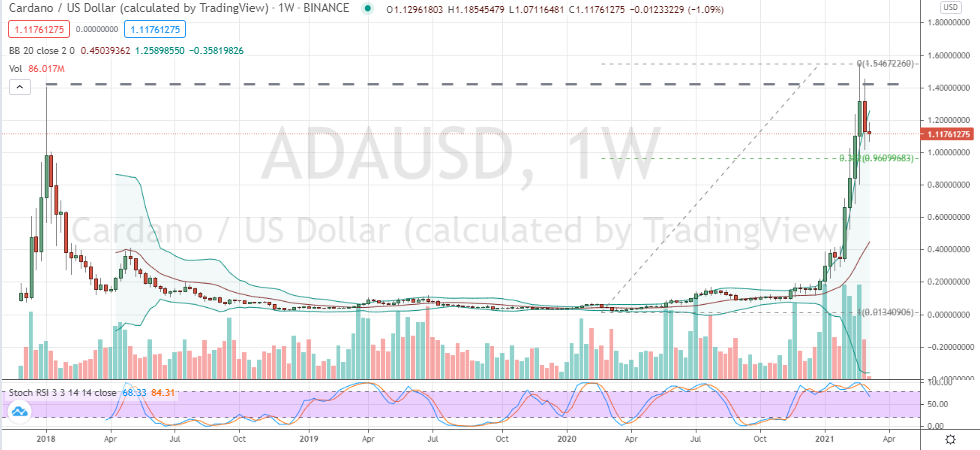 Source:
Charts by TradingView
Currently, ADA coin is the fifth largest cryptocurrency by valuation. And the difference between third and fifth is about the price of approximately a dozen Bitcoins. Moreover, following an explosive rally of about 670% this year at recent highs, a technical correction of 27% offers the opportunity to buy this $36 billion alt coin on attractive price weakness.
The fact is all risk-assets correct. And within the constructs of a secular bull market for the cryptos, periods like this should become productive opportunities. It's not unlike buying a growth stock such as TSLA or AMZN during a correction. Over the years, of course, this type of strategy has provided ginormous returns. As much, the counter-trend decline in ADA over the last couple weeks should be viewed as a positive feature for investors looking to purchase Cardano at a discount backed by technical value.
As shown on the weekly price chart, after narrowly overtaking 2018's all-time-high, the current backing and filling has put ADA back inside its large lifetime base. Bears will invariably warn of a variation double-top pattern now in play. And it could be. There's no guarantees to the contrary. But if we're to believe in the durability of cryptos and an important technology going forward, the possibility of a bullish high-handle corrective formation gains definite credibility.
Ultimately, a second breakout through ADA's 2018 high could reasonably result in the coin trading to $2 or even $2.50 in the coming months based on the size of the pattern.
Bottom Line
Today and prior to a purchase I'd recommend monitoring ADA's stochastics to bullishly realign. It's bearishly positioned in overbought territory. The observation is elevated readings in this type situation can persist, but waiting for momentum to reassert itself with a crossover signal makes sense. As for managing the coin's risk, relying on the pattern low minus a couple pennies of wiggle room is practical advice for keeping the powder dry and still having change to buy pizza with the proceeds, in whatever form that might take.
On the date of publication, Chris Tyler holds, directly or indirectly, positions in Greyscale Bitcoin (GBTC) and Ethereum (ETCG and ETHE), but no other securities mentioned in this article.
Chris Tyler is a former floor-based, derivatives market maker on the American and Pacific exchanges. The information offered is based on his professional experience but strictly intended for educational purposes only. Any use of this information is 100% the responsibility of the individual. For additional market insights and related musings, follow Chris on Twitter @Options_CAT and StockTwits.