It's been an indecisive week for bulls and bears in the major averages. And these days in a more muted rather than well-broadcasted universe, the market's most-shorted stocks haven't proven immune to the inaction. Still and in place where the show is bound to go on, let's look at three of tomorrow's best trade setups in today's stocks with sufficiently heavy short interest.
Heading into Friday's closing bell, bullish and bearish investors have been mostly under wraps. Blue-chips in the Dow Jones are poised to finish the five-day period off marginally by about 0.50%. Similar modest pressure is setting up the S&P 500. Both benchmarks are also forming indecisive doji candles after four-straight weeks of sturdy gains and record-breaking all-time-highs.
Kinda, sorta along the same squiggly price lines found on our trading charts, the market's most-shorted stocks have largely failed to make much headway this week. Differently, the indecisive lethargy follows four weeks of stock declines detached from the broader averages determined rally.
The group's action is best summed up in still extremely popular, but less-heavily shorted stocks. It should come as little surprise I'm referring to GameStop (NYSE:GME), AMC (NYSE:AMC), Koss (NASDAQ:KOSS) and Blackberry (NYSE:BB). Collectively, those names headlined an over-the-top short-squeeze media frenzy earlier this year. Today, conditions in each have cooled dramatically.
The good news and sans NBC's Nightly News covering the story? Some of today's most-shorted stocks will go on to outsized gains without the extreme fanfare of yesterday. And while I can't promise the next Amazon (NASDAQ:AMZN), Netflix (NASDAQ:NFLX) or Tesla (NASDAQ:TSLA), here are three from that universe worth buying as others wait indefinitely to take their cue from Lester Holt or Hoda & Co.
Most-Shorted Stocks to Buy: Carvana (CVNA)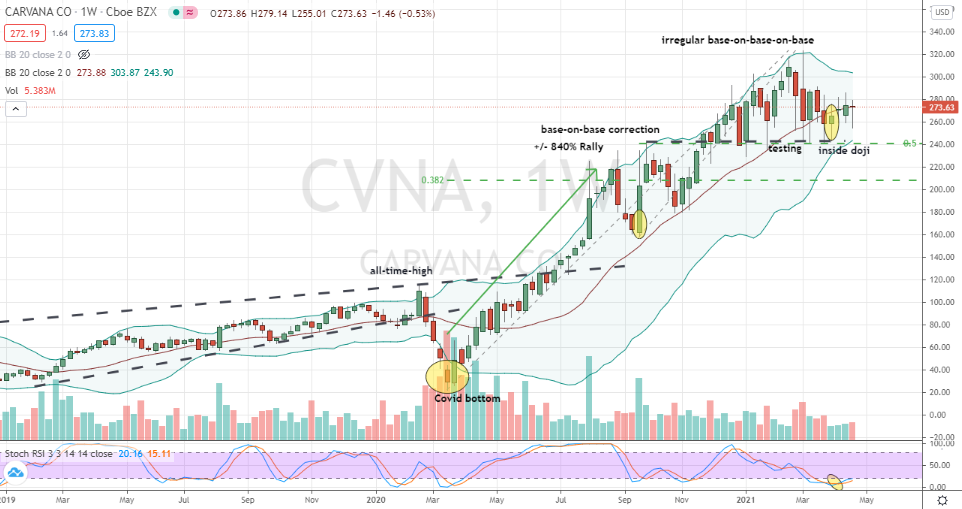 Source: Charts by TradingView
The first of our most-shorted stocks to buy is Carvana. I discussed the disruptive online auto dealer just last week. But with fear of sounding redundant, CVNA stock importantly remains in a buyable position. It's also a leader in a market which could produce the next AMZN, NFLX or TSLA for investors.
Technically, this week's puny trading range and minor 0.70% price pressure has kept Carvana shares within an irregular, bullish base-on-base. Pattern support has been confirmed off a similar formation's highs, as well as the 50% retracement level tied to CVNA's corrective low from September.
Coupled with a bullishly-aligned stochastics that's attempting to move out of oversold territory, the chance to buy this most-shorted stock near its inside doji buy signal remains compelling. I'm still favoring a married put strategy with the intention to collar down the road.
SunPower (SPWR)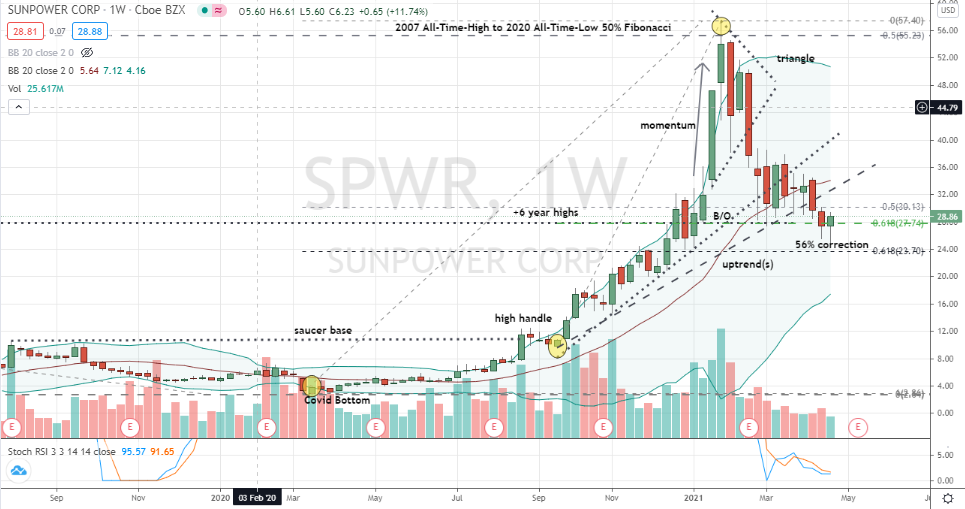 Source: Charts by TradingView
The next of our most-shorted stocks to buy is SunPower. All stocks correct. And quite often those corrections don't play out as constructively as a base-on-base pattern like CVNA's.
More linear-like price drops are fairly normal. And in challenging environments like what alternative energy stocks witnessed in 2021, those declines can offer entries at substantial discounts. Today's SPWR price chart fits in within this scenario.
Technically, the weekly chart is offering investors the opportunity to buy a deeper correction, which appears to be completing in a well-supported weekly hammer pattern. With stochastics oversold and on the cusp of crossing over, along with price follow-through next week, investors should be well-positioned for profits in this most-shorted stock.
Here, I'm favoring a SPWR out-of-the-money bull call spread such as the June $33/$38 combination.
Most-Shorted Stocks to Buy: GameStop (GME)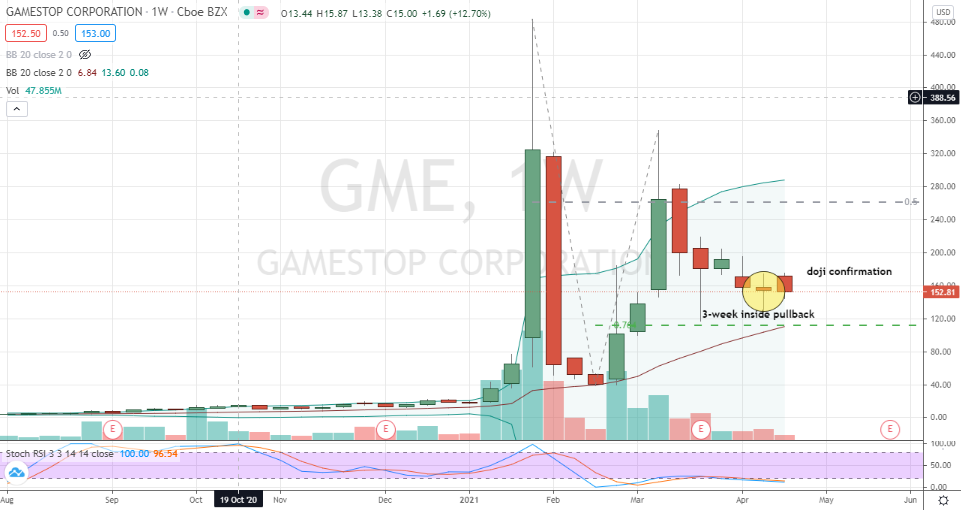 Source: Charts by TradingView
The last of our most-shorted stocks to buy is GameStop. Yeah, GME. Rather than worrying about redundancies, as with CVNA, this is a name to remain focused on without cheerleading from the media. Sorry Lester.
A previously described bullish doji narrowly signaled a bottoming pivot this week. But shares have pulled back inside the candlestick. Rather than be worried by the lack of instant gratification, with stochastics still in position for a nearby bullish crossover, I'm remaining upbeat on this most-shorted stock's prospects.
Technically and should it happen, a second trade-thru of the doji is more likely to trigger alongside secondary confirmation from stochastics. Last time, I smartly outlined that combination as a requirement for buying a May $175/$270 collar. Next week, and if those conditions are met, expect less fanfare but a lot of profit potential for bulls still tuning in to GME stock.
On the date of publication, Chris Tyler does not hold, directly or indirectly, any positions in securities mentioned in this article.
Chris Tyler is a former floor-based, derivatives market maker on the American and Pacific exchanges. The information offered is based on his professional experience but strictly intended for educational purposes only. Any use of this information is 100% the responsibility of the individual. For additional market insights and related musings, follow Chris on Twitter @Options_CAT and StockTwits.