Private Investing: The Least Efficient Market
Have you ever watched a stock candlestick chart and thought, "why can't I know what comes next too?" Companies like Apple (NASDAQ:AAPL) have more than 40 Wall Street analysts tracking their every move; many will predict next quarter's earnings down to the penny. And high-frequency traders — using Level III quotes and complex algorithms — can often divine what other investors are doing long before the market moves. It's a game rigged against any investor without unlimited time and resources.
Fortunately, there are ways for retail investors to escape such competition. Penny stocks, cryptocurrencies and other niche commodities offer alternative paths for smaller investors to dodge the all-seeing eye of Sauron Wall Street. If you want to win at a game — whether it's chess, poker or stocks — it helps to compete against people who barely know how to play.
Today, I'm going to cover a new topic that I haven't before: private investing.
That's because this "Wild West" of finance is a hotbed of massively mispriced Moonshots. Firms like Robinhood (NASDAQ:HOOD) might have earned IPO investors 1.9x their money at its peak. But people who bought in the seed or Series A rounds have gained far more: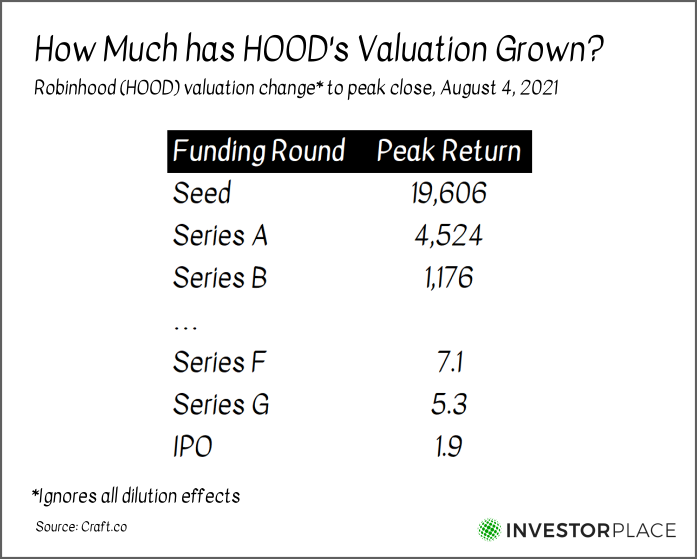 So, who wants to get started?
Private Investing
Private investing has been around nearly as long as finance itself. Small business owners routinely raise money from family and friends to get started. And wealthy investors — whether Renaissance-era bankers in Venice or modern day Silicon Valley angel investors — have provided capital for some of the most cutting-edge companies of their time.
But private investment has also long been a hotbed of market inefficiency. Retiring business owners are often so motivated to sell that deals routinely happen for 2.5-3 times EBITDA. And as every startup founder knows, small companies only seem to get funding when they need it the least.
And that means opportunity.
In 2018, Title III of the JOBS act created Regulation CF, which allowed regular investors to buy crowd-funded companies. And many fast-growing startups are now realizing the power of raising capital from patient retail investors.
The Risks of Private Investing
There are risks, of course.
First off, you could lose everything you put in. My partner put $200 into a board game Kickstarter years ago and still hasn't gotten his t-shirt. And the ease of GoFundMe campaigns has created a cottage industry of scammers looking to profit from unwitting marks.
Secondly, there's dilution. Though you'll technically own the fraction of your investment divided by post-money valuation, future funding rounds can dilute your stake.
Finally, there's illiquidity. Any investor of a limited partnership will know that exits can take years (or decades, in some rare cases). Don't expect to sell out quickly.
But for those looking to get started, it's easier than ever to get involved — no knocking on startup founder doors required. Today, we'll look at SeedInvest, a firm that one of my close personal friends happened to help engineer. And though he's moved onto another company since, the quality of SeedInvest companies continues to surprise and impress me today.
The Top Three Companies on SeedInvest Now
I have three rules for investing in private companies.
Scalable. The firm must create a product, not a service. A DIY law website (product-based) can grow exponentially, whereas a law firm (service-based) generally doubles its revenue by doubling its personnel and costs.
Hypergrowth Industry. The startup must work within a promising industry, or have the potential to up-end an older one. Value investing is better done with publicly traded equities or derivatives.
Experienced Founders. The average age of successful startup founders isn't 25… it's 45. Founding teams need either experienced operators (i.e., Google (NASDAQ:GOOG, NASDAQ:GOOGL)) or experienced advisors (Facebook (NASDAQ:FB), Airbnb (NASDAQ:ABNB)) to make them a compelling investment.
(bonus) Valuation. Ownership share is calculated by investment amount divided by post-money valuation. You're looking for firms with lower post-money valuations relative to their overall potential.
Some firms will slip through the cracks. If my 12-year-old nephew's lawn mowing service becomes the next Virgin Galactic (NYSE:SPCE), I'll only have myself to blame (sorry, Anthony!). But in general, finding the next Moonshot generally involves buying companies that look the part to start.
Helix Power
Helix Power seeks to create energy storage by using flywheels. The firm has already received $2.3 million in grant funding, and now seeks a seed round of $1 million to test a full-scale system by Q1 2022. The minimum investment is $1,000.
Scalable: Yes. The company was already awarded a patent for its flywheel technology, and has a further three patents pending for rotor, hub and cooling systems.
Hypergrowth Industry: Yes. The transition to alternative energy means batteries and alternative energy storage will replace natural gas "peakers" over time.
Experienced Founders: Yes. Founder Matthew Lazarewicz was previously the CTO of Beacon Power and is joined by other engineers and advisors from MIT and elsewhere.
Matcherino
Pardon the strange name — Matcherino is one of the stars when it comes to esports. The company runs a software platform that hosts esports events, and already powers over a thousand tournaments a month. Investment minimums start at $1,000, and its $13 million pre-money valuation offers room for 1,000x growth.
Scalable: Yes. Matcherino offers a platform for esports organizers to manage payouts, engage customers, register players and collect tickets.
Hypergrowth Industry: Yes. The U.S. already has 24 million esports viewers, according to eMarketer. Analysts predict the esports market will grow another 50% by 2024.
Experienced Founders: Yes. Founder Grant Farwell appointed John Maffei as CEO for good reason. The experienced Mr. Maffei ran ServiceMesh before its acquisition by CSC and founded Titan Gaming (now Playsino) before working at Nokia (NYSE:NOK) as a head of predictive analytics sales.
i2Chain
The Colonial Pipeline hack this past spring made painfully obvious a fact technologists have long known: your data isn't safe anymore.
But does it have to be that way?
Enter i2Chain, a company adapting blockchain technology to secure sensitive documents. By storing data on an immutable ledger, i2Chain allows companies to track chain-of-custody and records of every secured file.
There are still some thorny issues to solve: how to prevent the blockchain of a large client from growing exponentially too large, for instance. But any company that makes a breakthrough will have a lasting competitive advantage for years.
Investment minimums start at $5,000, and investors need to be accredited to buy in.
Scalable: Yes. i2Chain is creating a scalable product that will make it look much like other enterprise software firms.
Hypergrowth Industry: Yes. High-profile ransomware attacks have made data breaches far more expensive for companies to ignore. Spending on information security is expected to grow at double digits through 2024.
Experienced Founders: Yes. The founding team has experience at Salesforce (NYSE:CRM), Microsoft (NASDAQ:MSFT), IBM (NYSE:IBM) and others.
The Downside to Private Investing
There is one downside to private investing: there's no one telling you whether something is a bad idea.
Consider Innovega, a company on SeedInvest promising to create smart contact lenses and glasses that deliver high-performance AR/VR experiences.
At first glance, the sales pitch sounds amazing. Researchers have been attempting VR goggles since the 1980s, yet no company has managed to overcome graphical processing limits and motion sickness issues. If you invest in that one company that creates workable VR glasses and contacts, you'll likely retire extraordinarily rich.
Dig deeper however, and the slick Innovega presentation shows some glaring red flags.
The Troubles at Innovega
First, eagle-eyed investors will quickly realize that Innovega doesn't show a working model on its SeedInvest page. Nor does the company share plans on how they will project images onto the contact lenses and glasses. It's a problem that Innovega founder Stephen Willey has been working on since 1993 when he started MicroVision (NASDAQ:MVIS).
Not much seems to have changed since. Innovega has pushed back product launches for almost a decade now — today, they're still without a minimally-viable VR headset.
Of course, Innovega could be the Moonshot you've been waiting for. I'm a fan of second chances, and Mr. Willey might deserve one as much as any other founder. But the lack of a working prototype should concern any investor. It isn't even clear what is getting tested in Phase-III.
Private investors need to exercise patience, but they also need to know when to throw in the towel.
No Wonder VC Firms Love California
| | |
| --- | --- |
| 10% | Probability a given startup will survive past its fifth year, according to the Startup Genome Report. |
| 30% | Probability of startup success if the founder had a previously successful business, according to a National Bureau of Economic Research study. |
| 60% | Probability of startup success for California-based serial entrepreneurs, per the NBER. The figure falls to 12% for Massachusetts-based ones. |
| $84.2 billion | Amount of money invested into California-based startups by venture capital firms, according to the NBER. New York trails at #2 with $18.1 billion. |
Crypto and 5G
Bitcoin's (CCC:BTC-USD) breakout paved the path for smaller altcoins to succeed, writes Luke Lango. He writes how the Crypto Investor Network has identified some of the most promising altcoins on the planet.
On the other hand, some older altcoins are showing their age, writes Josh Enomoto. He identifies seven cryptocurrencies where institutional money is signaling a major slowdown.
The latest short squeeze Support.com (NASDAQ:SPRT) got some Reddit love last week on its proposed merger with energy and cryptocurrency mining company Greenidge Energy. Here's what you need to know, according to William White.
Finally, Joanna Makris sits down with Cambium Networks (NASDAQ:CMBM) CEO Atul Bhatnager to explore why 5G is no longer just a hot trend — it's a technology that's making some companies billions.
Haven't We Seen This Movie Before?
Last weekend, I was watching the market commentary on StockTwits about AMC Entertainment (NYSE:AMC).
"Almost a textbook triple bottom on the day chart," one user wrote. "Honestly think we will be in 30's again tomorrow," wrote another.
In other words, people are just guessing where AMC will go next.
If you're betting $10 in fractional shares, I won't stop you. There's nothing wrong with putting some money on the roulette table every once in a while (personally, I always bet on black).
But if you're managing a $500,000, $1 million, or $10+ million portfolio, you'll need a better strategy.
It's the reason why so many wealthy investors put money into limited partnerships. And it's also why you should consider investing in finance's "final frontier" too.
P.S. Do you want to hear more about cryptocurrencies? Penny stocks? Options? Leave me a note at moonshots@investorplace.com or connect with me on LinkedIn and let me know what you'd like to see.
FREE REPORT: 17 Reddit Penny Stocks to Buy Now
Thomas Yeung is an expert when it comes to finding fast-paced growth opportunities on Reddit. He recommended Dogecoin before it skyrocketed over 8,000%, Ripple before it flew up more than 480% and Cardano before it soared 460%. Now, in a new report, he's naming 17 of his favorite Reddit penny stocks. Claim your FREE COPY here!
On the date of publication, Tom Yeung did not have (either directly or indirectly) any positions in the securities mentioned in this article.
Tom Yeung, CFA, is a registered investment advisor on a mission to bring simplicity to the world of investing.