Respectfully, bears aren't in the market's most shorted stocks so they can save the manatees or make the lives of apes any easier. They're in it to win it.
But those doubters have been wrong before. Sometimes, they've even been massively wrong. With that in mind, there are three stocks in particular that give us reason to question if history will repeat itself.
We've seen this happen with once heavily shorted stocks like Amazon (NASDAQ:AMZN), Netflix (NASDAQ:NFLX) and Tesla (NASDAQ:TSLA). They've gone from mid-cap valuations into large-cap territory. Then each finally morphed into mega-cap status. So can't that happen to two or more holdings within our portfolios?
With some of most shorted stocks on the market today, I say "absolutely.
The key is focusing on the right companies. For the greatest chance of success, I suggest mid-cap companies that have demonstrated sales growth. But, importantly, that growth should also be in markets that offer long runways for big-time upside potential.
Let's explore three of the market's most shorted stocks that have those qualities. We'll examine the price charts of each to help ensure we make wise tactical decisions moving forward.
Most Shorted Stocks: iRobot (IRBT)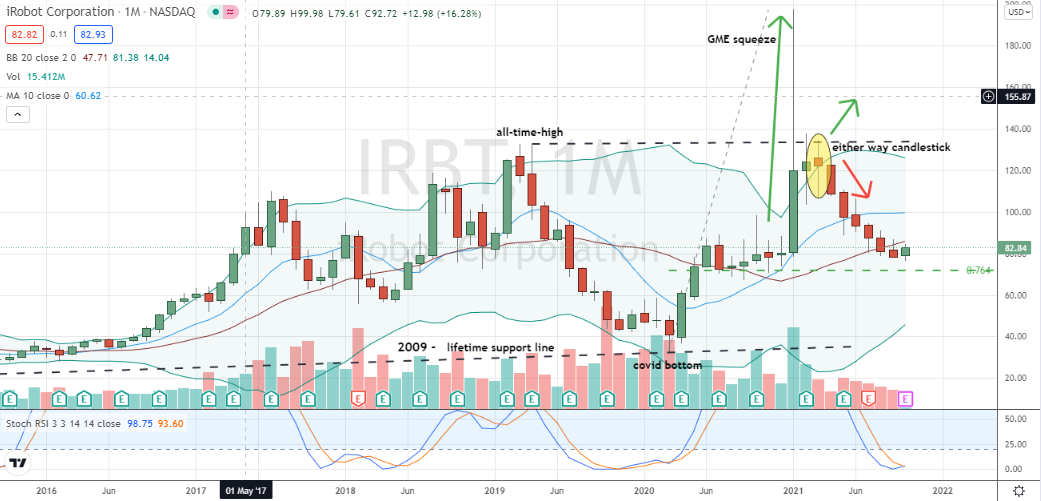 Source: Charts by TradingView
The first of the most shorted stocks to buy today is iRobot. The company is known for its popular robotic Roomba vacuum cleaner product line.
The company has been "cleaning up" lately, as seen in its solid 30.60% year-over-year sales growth.
But that's not the only reason to get hyped about IRBT stock. The market stands to grow at a 23% compound annual growth rate over the next several years. In fact, sales could reach upwards of $15 billion annually according to Meticulous Research.
Given IRBT's well-discounted shares, it might be wise for the bears, which total nearly 27% of this stock's float, to throw in the towel.
Today, IRBT stock is finding support just above the 76% retracement level. This level is tied to its March 2020 Covid-19-induced bottom and its January high — thanks GameStop (NYSE:GME) — all in conjunction with it hitting six straight months of lower highs.
Couple that with an oversold monthly stochastics indicator that now signals a bullish crossover, and it's clear that IRBT offers an opportunity to pick up growth at a well-supported discount today.
Sunrun (RUN)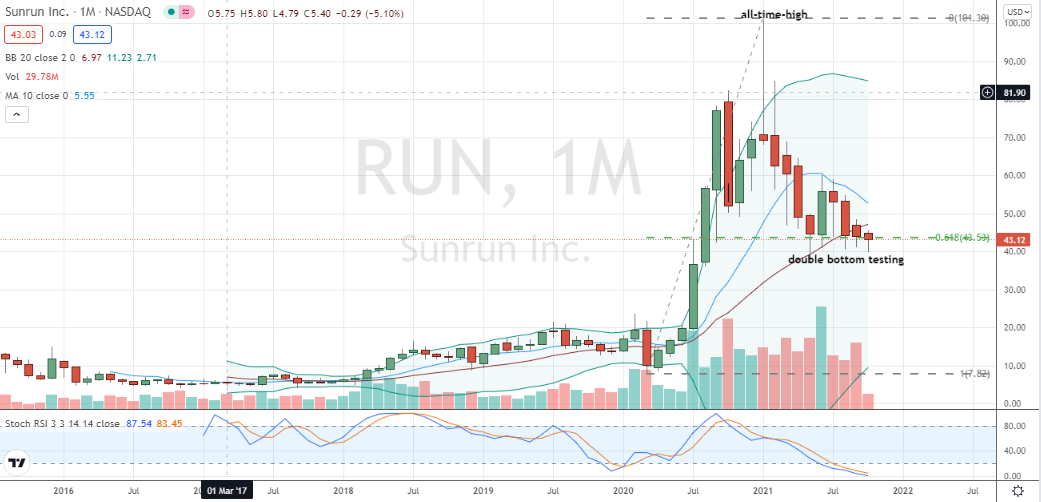 Source: Charts by TradingView
Sunrun, a $8.5 billion residential diversified solar play, made a brief splash with investors back in January. But it has been all downhill ever since that month.
After RUN stock surged more than 40% (the stock fetched nearly $20 billion at its peak), its shares have decompressed roughly 60%. That has come much to the delight of bearish short interest, which currently stands at nearly 25%.
You can chalk that rollercoaster ride up to Sunrun's correction to a broader rotation out of higher multiple growth stories. Another factor that played a role were back-to-back quarterly reports that failed to meet Street expectations.
It's also true that Sunrun's sales have grown impressively by more than 120% year-over-year. It experienced that growth all while generating more than $1.25 billion in revenue in the trailing twelve-month period.
Ultimately, it doesn't take a climatologist to appreciate that with global warning trends sprinting forward, RUN stands to profit on the back of related secular growth for renewables.
Furthermore, the price chart offers bulls the opportunity to buy RUN stock into a significant correction that has now worked its way into an oversold and well-supported double-bottom pattern.
Most Shorted Stocks: Marathon Digital Holdings (MARA)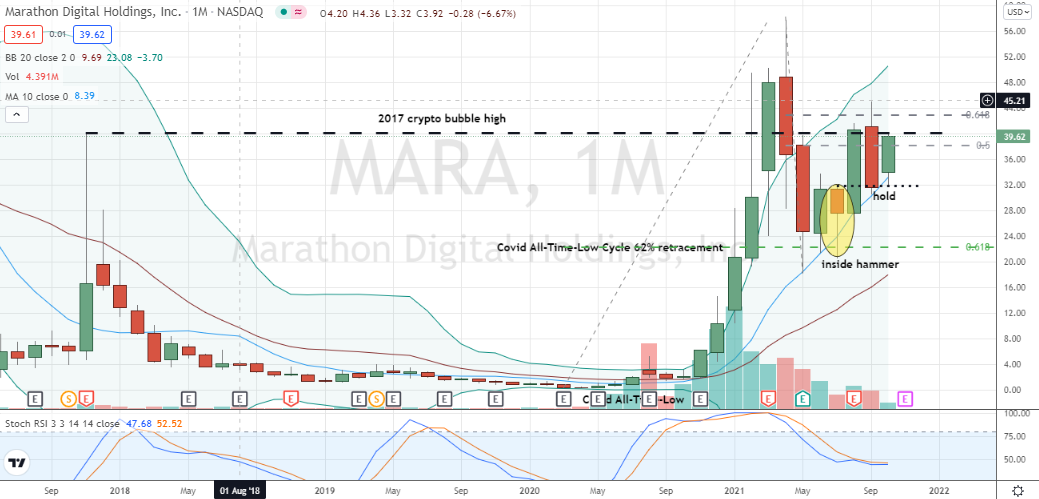 Source: Charts by TradingView
Marathon Digital Holdings' 10,000% plus revenue growth is quite the eye candy to drool over.
Maybe less impressive are its actual sales over the trailing twelve months: They're around $42 million. Now compare that to its valuation of $4 billion. There's no doubt the large spread is part of the bears' thesis for shorting roughly 17% of MARA stock's float.
Still, there's no denying that where there's risk there's reward.
And MARA stock certainly checks those boxes. In fact, MARA has a notorious commitment to amassing a world class computing arsenal and hoarding its hashed tokens for larger investment gains down the road.
Technically, this summer's corrective reboot is now well-positioned to give this stock's bears the boot.
Today, MARA stock is set up in a bullish monthly chart where there's an inside candle supported by this summer's hammer bottoming pattern. A neutralized and flattened stochastics setup makes Marathon a more tempting long play, but there's even more to be upbeat about.
With shares flirting for the past two-plus months with a breakout past two key retracement levels and a prior 2017 bubble high, it's easy to see it making a third attempt at turning into a decisive charm for bulls in October. This all comes after it spent 7 months forming a corrective base.
On the date of publication, Chris Tyler holds (either directly or indirectly) long positions in Marathon Digital Holdings (MARA) and its derivatives. The opinions expressed in this article are those of the writer, subject to the InvestorPlace.com Publishing Guidelines.
Chris Tyler is a former floor-based, derivatives market maker on the American and Pacific exchanges. For additional market insights and related musings, follow Chris on Twitter @Options_CAT and StockTwits.