Shiba Inu (SHIB-USD) has enjoyed some bullish developments the past month.
But SHIB bulls are fighting an especially ugly tape for riskier investments and bearish chart.
SHIB-USD can be monitored for bottoming, but don't touch Shiba Inu.
The battle against Covid-19 and war in Ukraine continued to take their consequential toll on financial markets in April. And crypto Shiba Inu (SHIB-USD) tumbled an outsized 22% for the month. But given the challenging environment, should that come as a surprise?
With global economies hamstrung by spiking inflation, supply chain disruptions, vulnerable consumers and hawkish monetary policy, fear is a four lettered word making its presence felt on Wall Street. From Apple (NASDAQ:AAPL), the world's largest corporation losing nearly 10%, or cryptocurrency's 800 lbs. gorilla Bitcoin (BTC-USD) tumbling 17%, the de-risking and technical damage in April was pervasive.
Even gold with its storied safe haven status lost more than 2% for the period. But if SHIB investors count Shiba Inu among the collateral damage, are they barking at the wrong tree? Today let's review developments of the past month, off and on the SHIB-USD price chart, then offer a determination of whether the dog-faced crypto is a digital asset to buy or better to avoid.
Good Boy Shiba Inu
Despite April's monthly price pressure on SHIB, the token's valuation of around $11.50 billion and 15th largest market capitalization among digital assets remains impressive. And given its associated meme birthright with Dogecoin (DOGE-USD) and the crypto market's original gag coin, Shiba Inu's wherewithal could be viewed as even more amazing.
Yet SHIB-USD is trying to distance itself from its meme coin fandom and where the biggest utility for Shiba Inu's existence is as a highly speculative trading vehicle which regularly exceeds more than $600 million in dollar trading volume.
Last month Shiba Inu joined the ranks of a handful of other top cryptos including Bitcoin, Ethereum (ETH-USD) and Litecoin (LTC-USD) to be accepted by cinema giant AMC Entertainment (NYSE:AMC) for payment at its theaters. Nice, right?
What's more, Shiba Inu is now also accepted at roughly 1,100 merchants spanning tourism, shops and markets, gambling and gaming and various digital services.
There's more too. Brokerage upstart Robinhood Markets (NASDAQ:HOOD) also listed SHIB token on its trading platform in April. That promises to strengthen Shiba Inu's reach and credibility.
Also, Shiba Inu's Web 3.0 ecosystem offering is now open and allowing users to buy plots of virtual property in its aptly named "SHIB: The Metaverse."
Lastly, the Shiba Inu team has launched its ShibaSwap burn portal. Given a massive circulation of approximately 550 trillion tokens, the portal looks to reduce supply by enticing owners with passive income from a new token in exchange for burning SHIB-USD. In theory, this should act as support for Shiba Inu as it becomes more scarce.
Shiba Inu's Bear Case
Once a meme always a meme? SHIB's newfound connections with Robinhood's own over-caffeinated Reddit traders and AMC's Reddit-friendly CEO begs the question if Shiba Inu is really working its way past its meme stock association or just strengthening it's likely doomed roots.
Further, the 1,100 other business agreements noted above which allow Shiba Inu payment isn't exactly worldwide acceptance.
To be fair, Whole Foods, Lowe's (NYSE:LOW), Ulta Beauty (NASDAQ:ULTA) and a few other large companies have greenlit the token. But while those are potentially big wins, the vast majority of SHIB's merchant pacts are with no-name entities such as Crashino for gambling or Greitai for airline travel and not building the token's utility.
Then there's the SHIB burn events. It sounds good, but the reality is the billions being burned is nowhere close to the trillions required in order to make a difference in that ballooning grocery bill at Whole Foods. The bottom line is, and if at all, it would take years at this rate for burning to be truly impactful and Shiba Inu may not have that luxury.
Don't Let a Shiba Inu Purchase Bite Back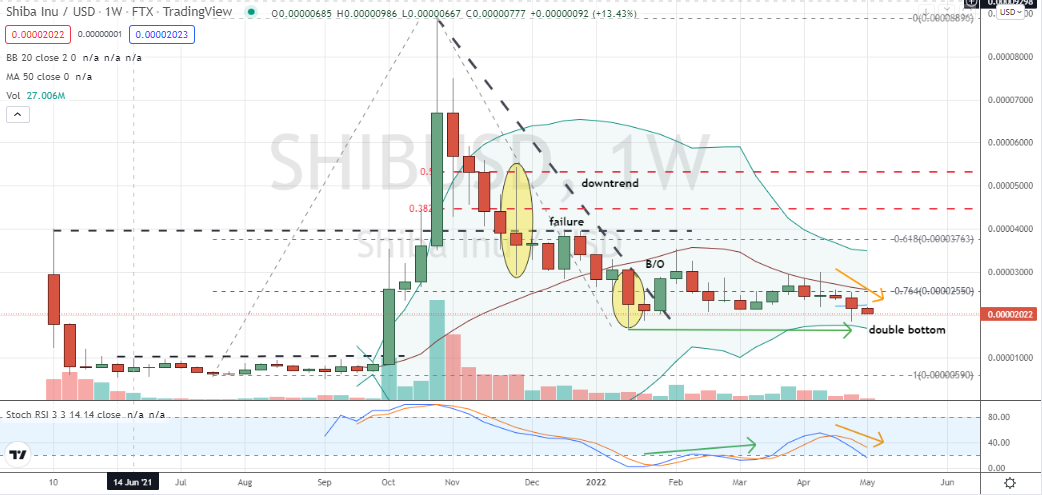 Source:
Charts by TradingView
There's obviously pros and cons for buying Shiba Inu. But even in the best of times, owning SHIB is a riskier investment within a less-than-secure crypto market. Right now though and with risk assets in general being avoided, it makes even less sense to purchase the token.
Shiba Inu's weekly price chart is also warning would be buyers to stay on the sidelines.
A year-to-date (YTD) double bottom pattern could form if SHIB-USD token successfully tests January's low and then confirms the challenge with a bullish candlestick reversal. But that's still about 15% below Shiba's market price.
It should be noted a higher low variation and buy decision could happen first. At the moment, if last week's hammer high of .00002535 is cleared, a higher low, double bottom would be confirmed. But I don't see the bullish price action as likely.
With Shiba Inu trending lower, lower Bollinger band support just beneath January's low and stochastics bearishly crossed and pointed down, the chance that SHIB trends lower before attempting to bottom is a reasonable observation not worth blindly ignoring.
On the date of publication Chris Tyler holds long positions (directly or indirectly) in Grayscale Bitcoin and Ethereum Trusts (GBTC, ETHE), but no other securities mentioned in this article. The opinions expressed in this article are those of the writer, subject to InvestorPlace.com Publishing Guidelines.