The financial technology bubble burst almost as soon as it blew up. That's been the nature of an economy that is being buffeted by high inflation and rising interest rates. So, it may seem like an odd time to be writing about cheap fintech stocks.
The November CPI showed that inflation has (slightly) slowed its rate of growth. But that's not the same as having inflation going down. Year-over-year growth of around 6% is still at nearly 40-year highs. That means the Federal Reserve is going to continue to raise rates in an effort to mute demand.
Nevertheless, the reality is that the market isn't going to announce the exact moment it will turn around. And when it does, fintech stocks are a good bet to lead the way. That's because many of these stocks were hard hit in the past twelve months, and many are flashing oversold signals.
However, not all fintech stocks look like attractive buys. Like every sector right now, investors need to look for quality first. At this point, cheap may be in the eye of the beholder, but here are my picks for 7 cheap fintech stocks that are poised to outperform in 2023.
| | | |
| --- | --- | --- |
| V | Visa | $213.32 |
| SPOT | Shopify | $38.24 |
| UPST | Upstart Holdings | $16.82 |
| PYPL | PayPal | $72.63 |
| TOST | Toast | $19.77 |
| AFRM | Affirm | $11.30 |
| FISV | Fiserv | $101.91 |
Visa (V)
The first stock on this list of cheap fintech stocks is Visa (NYSE:V). Based on metrics such as the price-to-earnings (P/E) ratio, Visa wouldn't seem to be cheap. However, the company's valuation while a little elevated is one that it should be able to grow into.
One reason for that optimism is that the company is seeing growth in cross-border (international) transactions, which had been an area that was slow to come back. That's expected to be a continued source of strength for the payment processor in 2023.
In the bad news is good news category, Visa is also expected to benefit as credit debt among consumers is on the rise. This could turn into a headwind for the company if the economy becomes significantly worse in the new year.
In mid-October, V stock was down 23% in 2022 but has come back and sits now just 4% down year to date.
Shopify (SHOP)
One of the biggest questions that growth-minded investors have been asking is if the bottom is in for Shopify (NYSE:SHOP) stock. The stock is down more than 72% for the year and is now below its pre-pandemic level.
But is SPOT stock oversold? My 50,000-foot view answer is to put it on my list of cheap fintech stocks. Revenue is now more than double its pre-pandemic highs.
That's not the problem. The concern is about earnings. For the last two quarters, Shopify has posted negative earnings, and investors are not in a forgiving mood. At a time when the economic outlook changes on seemingly a daily basis, investors are looking for companies that are profitable.
And that's reflected in the recent pop that SHOP stock got after reports that Black Friday and Cyber Monday were very good for retailers and by extension a company like Shopify. But those gains are mostly gone as it appears investors are looking closely at their portfolios and flocking to risk-off assets. However, that could present investors with a compelling opportunity to buy the stock at an ultra-low level.
Upstart Holdings (UPST)
Upstart Holdings (NASDAQ:UPST) is another company that investors may not fit on a list of cheap fintech stocks. With a forward P/E ratio of over 12X, it seems to be valued correctly, but the story here is about the future. Upstart is expected to grow both revenue and earnings at a double-digit rate over the next five years.
Upstart Holdings is a lending platform that uses artificial intelligence in its modeling to determine applicants' creditworthiness for a loan. The idea is simple enough. By using more detailed data, the company will get a more nuanced view of applicants. This would, in theory, mean that there will be fewer consumers and businesses defaulting on loans.
The problem is that as interest rates rise, it could mean that the company is rejecting more and more applicants. It's too early to say. But, at some point, interest rates will level off and possibly even begin to come down. Even if that day is in the distant future, investors can get in on UPST stock at a low price now.
PayPal (PYPL)
PayPal (NASDAQ:PYPL) is one of the first names people think about when it comes to fintech stocks.
A common theme among these fintech companies is growth. PayPal was delivering that growth during the pandemic and rewarding investors in the process.
But since late 2021, PayPal has become a symbol of everything that's risky about fintech. Part of that is because the company does provide exposure to cryptocurrency, and there are other concerns cropping up about privacy.
But, PYPL stock is looking oversold. In its most recent earnings report, it raised its earnings outlook. That should be enough to move the needle on the largest automatic payment companies in the world.
More than 300 million consumers use the company's platform. And PayPal is increasingly becoming an accepted method of payment, particularly in the e-commerce space.
Toast (TOST)
Toast (NYSE:TOST) is a relative newcomer to fintech stocks. The company went public in 2021 and TOST stock immediately soared to more than $55 a share. The belief was that the company would benefit as the economy began to reopen after the Covid-19 pandemic.
This is because Toast provides hardware and software solutions that are targeted to the restaurant industry. Of course, the reopening of the economy took longer than expected. That delay is being reflected in TOST stock which is down 41% in the last 12 months.
To be fair, Toast is not profitable yet. In this market, that means that it's likely a no-go for many investors. But, at least one analyst believes Toast may become profitable on an adjusted EBITDA basis sometime in 2023.
Otherwise, analysts give the stock a potential gain of about 24% from its current level. So if you bought Toast when it first entered the market, you may have to sell and buy back the stock at a lower price. But if you haven't already taken a position, this may be an attractive time.
Affirm (AFRM)
Affirm (NASDAQ:AFRM) makes this list due to its partnership with Amazon (NASDAQ:AMZN).
Of course, some investors could argue that you could just buy AMZN stock, but if you're looking for cheap fintech stocks, then Affirm may be a better choice.
AFRM stock shot up in 2021 when the partnership was announced because it gave Amazon a toe-hold in the "buy now, pay later" market. To that end, Affirm also has a relationship with Walmart (NYSE:WMT). However, with the economy slowing and consumers running short on savings and increasing spending on their credit cards, the BNPL model is drawing scrutiny.
AFRM stock is down 24% since the company's most recent earnings report. The company beat on the top line but had a bigger loss than expected. It didn't help that Amazon also reported that it expected a softer holiday season. Analysts were quick to downgrade and/or lower their price target for the stock.
If you're thinking of investing in AFRM stock, be advised that the company is not expected to be profitable in the next five years. But for all the turbulence from analysts, the consensus opinion of analysts calls for a stock price of $27.26 which would be a gain of over 130%.
Finserv (FISV)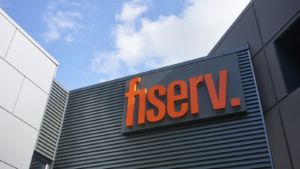 At its core, Fiserv (NASDAQ:FISV) provides the infrastructure for other companies to facilitate digital payments and account processing in a variety of forms.
The company has over 1.4 billion global accounts that include over 10,000 financial institutions.
FISV stock has held up well. It is down less than 2% in the last 12 months, and analysts give the stock a mean price target of $123.78 which is 21% above its current price.
With a forward P/E rating of 13x earnings, the company investors may not say this belongs among the cheap fintech stocks. However, the company is projected to deliver an average of mid-teens earnings growth in the next five years.
Since the company's last earnings report in October, FISV stock has crossed above many key moving averages. With volatility in the market likely to continue, it's not hard to see the stock falling below $100 which may create a better opportunity for investors to jump in.
On the date of publication, Chris Markoch did not have (either directly or indirectly) any positions in the securities mentioned in this article. The opinions expressed in this article are those of the writer, subject to the InvestorPlace.com Publishing Guidelines.