Wow! Did you see that?
Tech stocks just underwent one of the biggest reversals I've ever seen in my investing career.
Amazon (NASDAQ:AMZN) stock dropped 8% yesterday, only to rebound 15% after the bell. Unity Software (NYSE:U) dropped 9% before rebounding 14% after-hours. Pinterest (NYSE:PINS) dropped 10% — then soared 20% after-hours.
And if you thought those moves were crazy, Snap (NYSE:SNAP) crashed almost 25% yesterday, before rocketing higher by 60% after the market closed. That's a nearly 90-percentage-point swing in a $40 billion company — on the same day!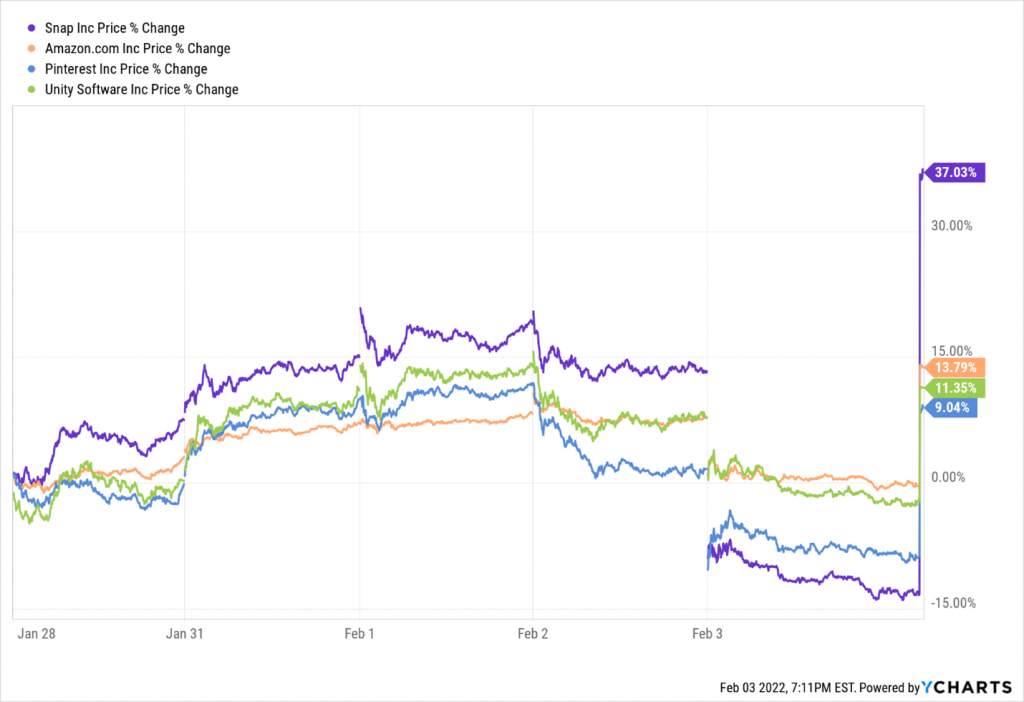 Click to Enlarge
What in the world is going on?
Well, in short, the tech selloff reached capitulation. And now it's time to buy the dip.
More specifically, tech stocks are caught in this tug-of-war between valuation compression and strong earnings growth — and earnings are finally winning.
Indeed, tech stocks crashed at the start of the year on fears that the Federal Reserve is going to tighten monetary policy quickly and aggressively in 2022 — an action that will weigh heavily on the rich valuations supporting tech stocks.
However, tech stocks started to rebound in late January after Microsoft (NASDAQ:MSFT), Apple (NASDAQ:AAPL), Alphabet (NASDAQ:GOOG), ServiceNow (NYSE:NOW), Atlassian (NASDAQ:TEAM) and more reported excellent earnings. This reinforced the idea that tech stocks deserve their premium valuations because the companies are growing so quickly.
But that rebound was short-circuited by disappointing numbers from Meta (NASDAQ:FB) on Wednesday afternoon. The social-media-turned-metaverse giant reported weak user growth and bad earnings and delivered horrendous guidance. And that called for dramatically slowing revenue growth.
The market got spooked. After all, Meta is (was) an $800 billion technology giant. If that company is struggling to grow, then most other tech companies must be struggling, too, right?
Wrong.
As it turns out, Meta's struggles are endemic to Meta.
Tech Stocks' Staying Power
Twenty-four hours after Meta reported disastrous user growth, weak ad revenue numbers and ugly profit margins, the company's biggest social media competitors — Snap and Pinterest — both reported earnings that included strong user growth, revenue growth and profit margins.
Also after the bell yesterday, Amazon reported excellent quarterly numbers paced by very robust growth in its Amazon Web Services division. Unity Software smashed estimates, too; so did Fortinet (NASDAQ:FTNT), Synaptics (NASDAQ:SYNA), Enova (NYSE:ENVA), Mimecast (NASDAQ:MIME), Bill.com (NYSE:BILL) — and pretty much every other tech company that reported earnings last night.
In other words, the verdict is in: Tech companies are still on fire!
Now investors are looking at these super-strong earnings reports, comparing them to the super-low stock prices across the tech sector and seeing a huge buying opportunity.
We agree with this thinking. Tech stocks deserve their premium valuations because they are the best companies in the world. This earnings season proved that. Now, with tech stocks down big, the coast is clear to buy the dip.
Here's the thing. When stocks rebound from a steep selloff, they tend to do so ferociously.
Just look at yesterday's after-hours moves in some of these tech stocks — Unity up 14%, Pinterest up 20%, Snap up 60%.
And that means that tech stocks won't remain this dirt-cheap for long. They're soaring right now. Your window to buy is closing!
That's why, yesterday, we issued five new Buy Alerts in our flagship investment research product, Innovation Investor. We believe now is the time to start bottom-fishing for truly great opportunities in the tech sector. And these five we bought yesterday could be among the market's best tech stocks to buy today.
To find out which ones we're buying on this dip, click here.
On the date of publication, Luke Lango did not have (either directly or indirectly) any positions in the securities mentioned in this article.