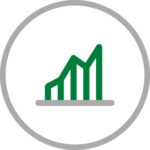 Undervalued Stocks
Warren Buffett would be proud you're here. The Oracle of Omaha is known for his strategy of investing in value stocks -- stocks that trade at a lower price than their fundamentals suggest they're worth. You won't find many flashy, popular names or crazy growth stories here (you'll want to check out growth stocks for that). But what you will find are mature stocks with high dividend yields, low price-earnings (P/E) ratios and steady long-term gains. Read on to learn how you can profit from investing in undervalued stocks.
Recent Undervalued Stocks Articles
SoFi stock has been absolutely crushed over the past year. But with 24X upside potential, it remains among the best stocks to buy today.
Even amid the hype surrounding artificial intelligence in 2023, there are still some AI stocks on sale that could deliver big gains.
These three cheap stocks with high potential returns have a combined price of approximately $500 if you purchase one share apiece.
Economic data and a short-covering rally suggest that the outlook for undervalued growth stocks is improving. 
The semiconductor industry is at a crossroads. These three undervalued semiconductor stocks have what it takes to deliver.
If you still want to gamble even during this market environment, these are the stocks with 100% upside potential.
With the Nasdaq up 17% YTD, finding cheap Nasdaq stocks to buy now is a bit trickier than it was a few months ago. But they are out there.
Here are the top three undervalued dividend stocks to buy to benefit from consistent dividends and long-term business growth.
These three companies are selling at a bargain making them some of the best undervalued stocks to buy before they rally.
Although these enterprises might be underweight, the best small-cap stocks to buy offer significant bang for the buck.
With inflation crimping everyone's wallet, these best bargain stocks to buy can make your dollars stretch significantly.
While the hydrocarbon space is volatile based on economic pressures, this presents opportunities for undervalued energy stocks to buy.
Although the tech sector has run up in 2023, there are still several cheap tech stocks for investors to buy. 
While quality matters in the market, these best stocks under $10 to buy gives you some potential diamonds in the rough.
We enlisted the support of the generative AI chatbot that powers Bing chat to find under-the-radar stocks to buy
If you are a value investor, you may want to focus on undervalued stocks with strong buyback programs. These seven stocks below all trade at relatively-low valuation, and have in the past year launched or expanded share repurchases.
Here are three chip stocks with outsized growth potential that could challenge Nvidia in terms of price growth over the next 5 years.
Infrastructure stocks provide investors with a strong outlook, despite various economic concerns around a recession.