U.S. equities sold off again on Thursday for the eighth consecutive decline on selling pressure not seen since Lehman Brothers collapsed back in 2008. Investors continue to brace for a possible upset by republican presidential hopeful Donald Trump over Democratic Party rival Hillary Clinton, as new revelations about investigations into the Clinton Foundation and Clinton's private email server tighten the polls.
All eyes are now on Friday's non-farm payroll report for confirmation of recent job market strength, which will set the stage for a December interest rate hike from the Federal Reserve.
In the end, the Dow Jones Industrial Average lost 0.2%, the S&P 500 Index declined 0.4%, the Nasdaq Composite lost 0.9% and the Russell 2000 gave back 0.5%. Treasury bonds were mixed, the dollar weakened — especially against the sterling — gold lost 0.4% and crude oil suffered its fifth consecutive decline, down 1.5%. That boosted the ProShares UltraShort Crude Oil (NYSEARCA:SCO) recommended to Edge subscribers to a gain of 23% since added on Oct. 26.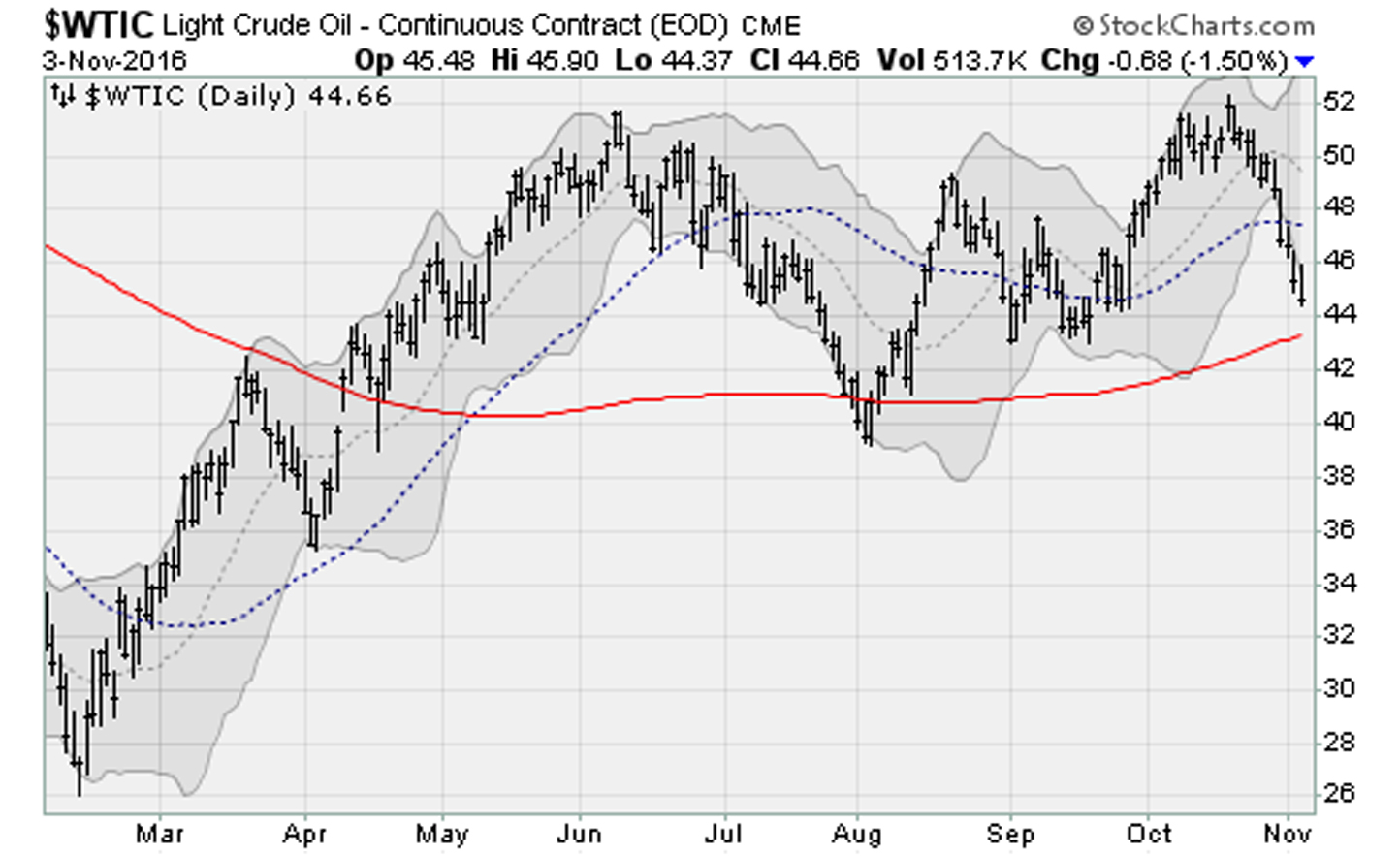 Energy and utility stocks led the way with gains of 0.4% and 0.3%, respectively. Healthcare stocks were slammed for a loss of 1% on reports that government officials are looking into possible generic drug price fixing, the latest in the political pushback against higher drug prices.
Fitbit Inc (NYSE:FIT) fell 33.6% after reporting tepid quarterly earnings and lower forward guidance (25% below estimates). Facebook Inc (NASDAQ:FB) fell 5.7% after management warned of revenue growth deceleration and heavy investment in 2017.
Starbucks Corporation (NASDAQ:SBUX) climbed 2% after the close after reporting a top- and bottom-line beat and a 25% dividend hike. GoPro Inc (NASDAQ:GPRO) plunged 22% after reporting a larger-than-expected loss of 60 cents per share (vs. 36 cents estimated) on weaker-than-expected revenues of $240 million (vs. $303 million expected). Forward guidance was weak as well. The company remains on the verge of a number of new product launches — the Karma drone and Hero 5 camera — but investors are losing patience.

The selling pressure is a big deal: Today was only the third time in history stocks have fallen for eight days in a row. And it was enough to push stocks into the red versus last year. Breadth continues to narrow, as a growing list of stocks succumb to the weakness.
Lately, it's been the one-time big-tech high-flyers that pushed the Nasdaq 100 to new record highs a few weeks ago. Stocks like Apple Inc. (NASDAQ:AAPL), Amazon.com, Inc. (NASDAQ:AMZN), Alphabet Inc (NASDAQ:GOOG, NASDAQ:GOOGL) and the like.
That's a big deal since these are the "glory stocks" that are owned by so many. When the Russell 2000 fell to four-month lows last week, most Main Street Americans didn't notice. But when FB and AAPL are plunging, folks are going to start paying attention.
Much is going wrong for the bulls. Crude oil has erased its post-Algiers OPEC meeting gains. Safe havens like the CBOE Volatility Index and gold are surging. And major technical support levels are under siege, with the Dow falling away from the 18,000 level.

And that's exactly what's happening now. I continue to recommend a defensive posture to clients, including a new position in the Nov $124 SPDR Gold Trust (ETF) (NYSEARCA:GLD) calls that are up 39% in their first day for Edge Pro subscribers as well as the Nov $11.50 U.S. Oil Fund LP (ETF) (NYSEARCA:USO) puts that are up 252%.
Anthony Mirhaydari is founder of the Edge and Edge Pro investment advisory newsletters. A two-week and four-week free trial offer has been extended to InvestorPlace readers.
More From InvestorPlace