Many have been running out of gas. And some saw the proverbial plug came undone Thursday. I'm referring to alt energy stocks. It raises the question, is now a good opportunity for buyers? Let's look at three names making the case for stocks to buy within this broad and emerging market, coupled with hedged strategies designed to put some green into your portfolio more safely.
Tesla (NASDAQ:TSLA). CIIG Merger Corp (NASDAQ:CIIC). Blink Charging (NASDAQ:BLNK). SunPower (NASDAQ:SPWR). Plug Power (NASDAQ:PLUG). From exciting EV's to green-powered commercial vehicles, new battery technology, charging stations, solar, hydrogen fuel cells and more, the alternative energy universe is both diverse and here to stay. What will it actually look like five, 10 or 25 years from now? That's anybody's guess.
But in 2020 this eclectic space took off like wildfire on Wall Street. There were new stocks to buy everywhere. A wave of blank-check deals to deal with investors' animal spirits certainly helped with that.
But the huge increase in alt energy-related stocks is also supported by technological innovation, increasing cost competitiveness and knowledge that we're past the point of arguing about climate change. Well, kinda sorta.
To be sure, nothing is easy. And this critical movement is at odds with fossil fuel producers like Chevron (NYSE:CVX) and Exxon Mobil (NYSE:XOM). This week's wrongful finger pointing at renewables amid Texas' energy grid problem is a testament to that friction. My advice for investors? Don't sweat the political theater. Instead, use opportunities like today's saber rattling to your advantage with the following three alt energy names now better positioned as stocks to buy:
Alt Energy Stocks to Buy: QuantumScape (QS)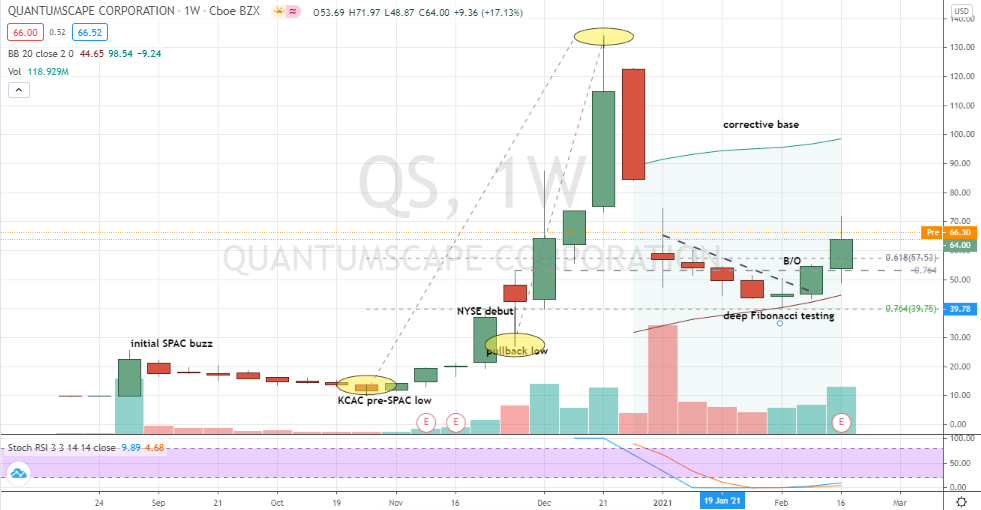 Source:
Charts by TradingView
The first of our alt energy stocks to buy are shares of QuantumScape. QS is a Silicon Valley-based startup which maintains backers such as auto giant Volkswagen (OTCMKTS:VWAGY) and Microsoft's (NASDAQ:MSFT) Bill Gates. Enough, said? Not quite.
QuantumScape's solid-state quantum lithium-metal battery technology has many seeing a so-called Jesus battery. It remains to be seen if QS is the real deal. But this past December the company did provide a successful glimpse of its end game. If QS delivers, incredibly improved storage capacity, charging performance, reliability and safety, as well as cost efficiency could topple the EV market's combustion engine competition.
Technically, QS has turned the corner into the right side of a very deep corrective base after successfully testing the 76% retracement level tied to its October low. The observation is QuantumScape has a real shot at regaining favor with investors. Don't expect a straight line higher in this ultra-volatile stock to buy. But don't panic when conditions look less rosy. Rather, use those bouts of adverse price behavior to your advantage with a fully-hedged and flexible stock collar.
Favored Strategy: "Adaptive" March $55/$85 Collar
Workhorse Group (WKHS)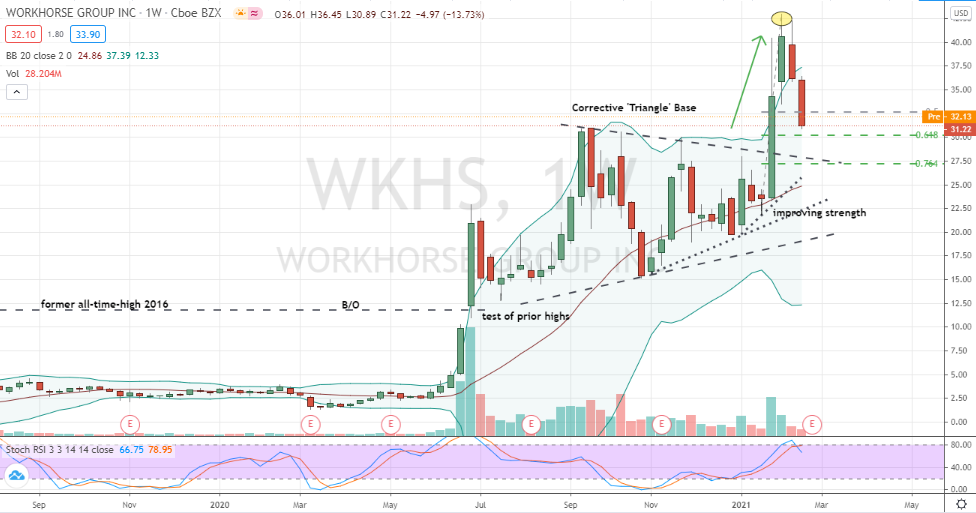 Source:
Charts by TradingView
Workhorse Group is the next of our alt energy stocks to buy. The EV commercial van upstart is one of three finalists waiting on a U.S. Postal Service contract order worth an estimated $6 billion. Unlike the competition and as InvestorPlace's Louis Navellier notes, WKHS is the only candidate looking to fill the government order of 180,000 delivery vans with electric vehicles. It's a huge edge given the Biden administration's aggressive push into renewables.
Bears of this heavily-shorted outfit see a different and much uglier outcome for this stock to buy. And truthfully, the importance of the postal deal for Workhorse can't be dismissed. If successful, brand name awareness, other deals and profitability will surely follow. If not? Sticking around in this alt energy stock looks like a bad idea.
Technically, this stock to buy has retreated about 28% from its early February all-time-high after soaring out of a larger triangular base. The corrective pullback has put shares into a testing position of Fibonacci support, as well as its former pattern high from September. Without calling a bottom, the observation is this stock to buy is close enough to being in position for buying leveraged and well-positioned upside, while avoiding more significant and always possible downside risk.
Favored Strategy: April $35/$50 Bull Call Spread
NextEra Energy (NEE)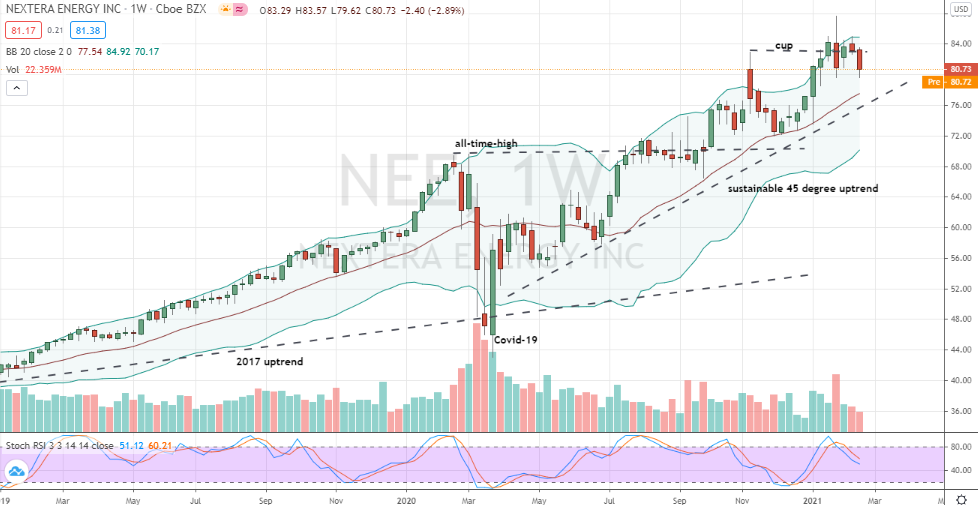 Source:
Charts by TradingView
Nextera Energy is the last of our alt energy stocks to buy. Of the three, it's the least contested, well outside of the political theater going on in Texas. NEE is a Florida-based utility company at the forefront of renewables-driven electricity generation using solar and wind. It's the world's largest. And bottom-line, it's a business model that's working and even pays investors an annual dividend approaching 2%.
Technically, this stock to buy has pulled back within a sustainable-looking uptrend after hitting all-time-highs out of a cup-shaped breakout. The past few weeks have been spent consolidating around the pattern's high. Today and with stochastics in a neutral position, but not yet signaling a low is in place, a tighter collar and getting a head start on NEE's next quarterly payment of 38.50 cents looks about right.
Favored Strategy: March $75/$85 Collar
On the date of publication, Chris Tyler holds, directly or indirectly, positions in PLUG and their derivatives but no other securities mentioned in this article.
Chris Tyler is a former floor-based, derivatives market maker on the American and Pacific exchanges. The information offered is based on his professional experience but strictly intended for educational purposes only. Any use of this information is 100% the responsibility of the individual. For additional market insights and related musings, follow Chris on Twitter @Options_CAT and StockTwits.