It's been a tale of two cities on Wall Street revealing the haves and have-nots. Yet the triumph and despair has also reinforced the narrative of many diverse blue-chip, tech stocks seemingly caught in the middle. Let's explore three of these stocks whose struggles on the price chart now position them for big-time gains for bullish investors.
There's been a fair amount of discussion indicating a second Roaring '20s for stocks not unlike what Wall Street experienced in the 1920's following a global Spanish Flu. Guilty as charged. But to be fair, it's also happening. Well, kinda sorta.
For index investors tracking the major benchmarks, 2021 is proving a crowd favorite. The venerable Dow Jones Industrials, S&P 500 and Nasdaq Composite are up strongly by about 14% to 17% and near record highs.
Following last year's pandemic-driven bear market and strong gains to finish the 2020, this year's outsized performance is looking very agreeable with a new extended era of prosperity.
Those investors can thank Moderna (NASDAQ:MRNA) twice over as the top overachiever in the S&P 500 and Nasdaq. And in the Dow Jones, that honor is bequeathed to American Express (NYSE:AXP).
Yet underneath the surface, 2021 has witnessed pandemic-like bearish behavior in many distinct higher multiple, tech stocks. A quick peek at growth-centric Ark Innovations ETF (NYSEARCA:ARKK) is clear indication of challenges which fail to make the smiley face, split-second market wrap on the nightly news.
ARKK is a who's who of tech stocks with huge growth prospects led by Tesla (NASDAQ:TSLA), Roku (NASDAQ:ROKU) and Teladoc (NYSE:TDOC) as the fund's top holdings. Yet despite the bellwether averages acting as giddy as schoolgirls, ARKK is off nearly 5% in 2021 and wrestling a bear market correction that's 38% in depth over the last five months.
The concentrated tech stock-focused ARKK isn't alone either.
Investor Business Daily's IBD Innovation ETF (NYSEARCA:FFTY) is up on the year but badly trailing the majors. And similar to ARKK, FFTY continues to be challenged inside a messy corrective base of about 20% since February.
So, should investors run for the hills? Actually, rather than a warning let's appreciate that even the best stocks correct in price. It's normal stock behavior, even in healthy markets. That being said, here are three diverse forever-style tech stocks whose charts offer growth at a reasonable price – and maybe tomorrow's leadership within a new Roaring '20s era:
Forever Large-Cap Tech Stocks to Buy: Amazon (AMZN)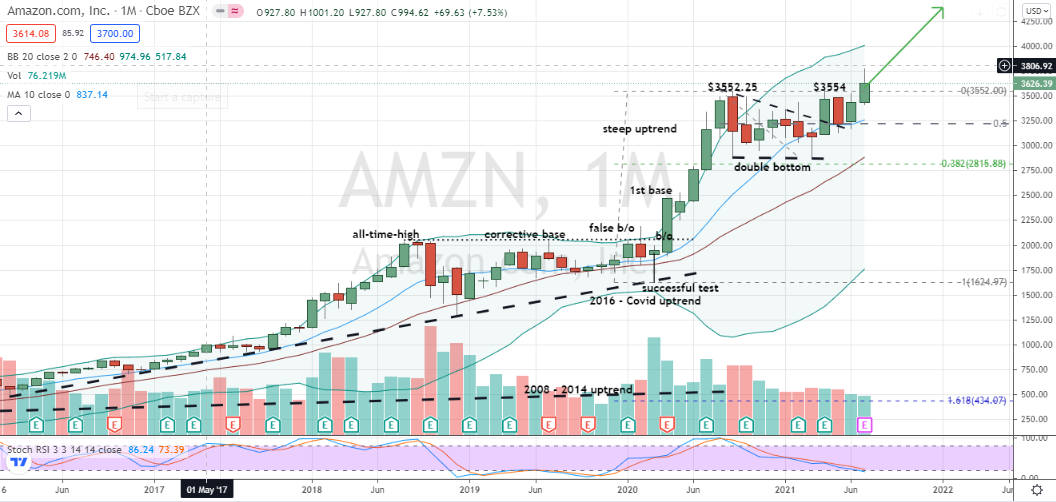 Source: Charts by TradingView
The first of our forever tech stocks to buy are shares of Amazon. AMZN's founder Jeff Bezos recently blasted into space and described it as the "best day ever." But today, a July mission to uncharted territories in AMZN stock has seen a modest grounding. And that's even better news for investors.
Technically, the backtracking in Amazon shares sets up a big opportunity to purchase the diversified tech giant near this month's breakout from a 11-month corrective double-bottom base. With stochastics having just entered oversold territory, the upside reward far outweighs the pattern risk.
For this trillion-dollar plus tech stock and earnings set for Thursday evening, a September $3700/$4000 bull call spread or November $3800/$4100 call vertical are two favored ways to remain emotionally grounded, while also reaching smartly for higher ground.
NextEra Energy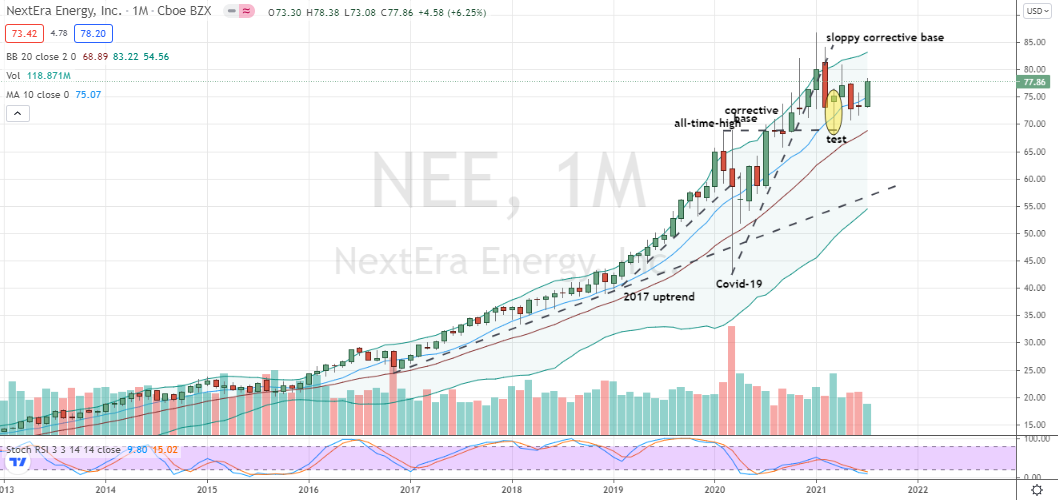 Source: Charts by TradingView
The next of our forever tech stocks to buy is Next Era Energy. NEE may not be the first name investors would associate with tech and growth. But as the world's largest utility and one capitalizing on secular tech-heavy trends in renewables like solar and wind and energy storage, it should be.
Bottom line, this $150 billion giant is embracing new technologies committed to a greener future. And today NEE is offering income of about 2%, growth as evidenced by its recent earnings report and a tech stock closer to value on its price chart than not.
Technically, NextEra Energy is trading in a seven-month corrective base and removed from a classic pattern buy signal. However, with stochastics reaching oversold levels, shares near the pattern's confirmed monthly hammer low from March and no immediate earnings risk, buying this tech stock with a modified collar looks like a great value proposition.
One favored combination is purchasing the December $72.5/$62.50 put spread for limited protection and selling the December $90 call for partial out-of-the-money financing.
Forever Large-Cap Tech Stocks to Buy: Biogen (BIIB)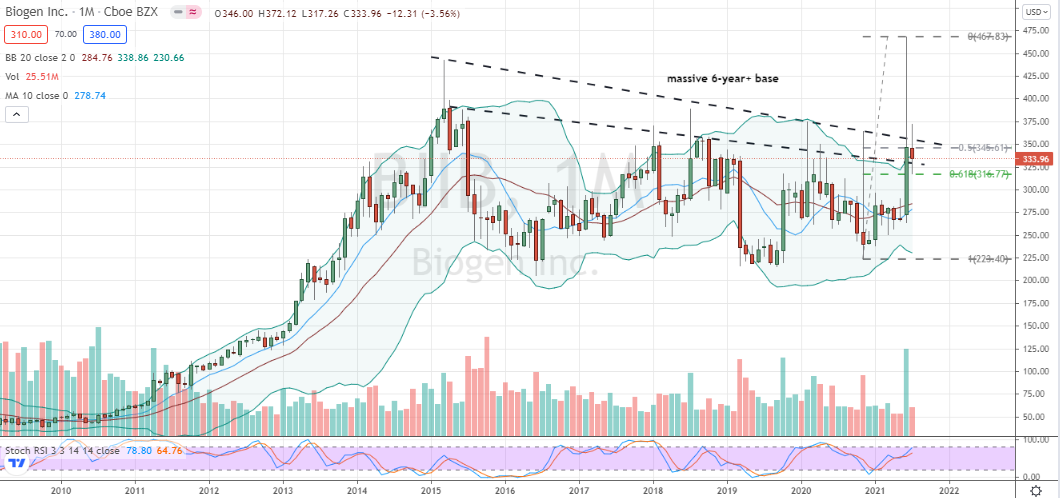 Source: Charts by TradingView
The last of our forever tech stocks to buy are shares of biopharma giant Biogen. Shares surged higher in early June after news U.S. regulators were approving a first-ever Alzheimer's drug. It didn't last.
Gnawing after-the-fact concerns of a rush-to-judgment by the FDA and growing Medicare payment headwinds have sent BIIB stock aggressively lower. In fact, over the last several weeks, shares have retraced more than 82% of an explosive 38% single session jump to record highs.
Today and technically, Wall Street's worried behavior has collided into a massive support area more than six years in the making.
Defined by angular price support lines and 50% to 62% retracement levels and monthly stochastics bullishly opening up in neutral territory – this forever tech stock is meant for buying today.
Similar to NEE and earnings out of the way, I'd go with a modified collar on BIIB. One combination that has our attention is the long September $315/$295 put spread and short September $375 call to better protect and effectively serve bullish investors in this tech stock.
On the date of publication, Chris Tyler holds (either directly or indirectly) positions in Ark Innovations ETF (ARKK). The opinions expressed in this article are those of the writer, subject to the InvestorPlace.com Publishing Guidelines.
Chris Tyler is a former floor-based, derivatives market maker on the American and Pacific exchanges. For additional market insights and related musings, follow Chris on Twitter @Options_CAT and StockTwits.