The curtain has continued to be drawn on many of the market's top billing high-short interest stocks. Behind the scenes though, the price charts of three smaller most-shorted stocks with big prospects are hinting they're ready for the market's main stage.
It's been a turbulent week for the broader averages. But following early Covid-driven hysterics, many blue-chips and their index handlers are once more proving the show must go on with fierce determination from investors.
From Alphabet (NASDAQ:GOOGL) to Costco (NASDAQ:COST) and Nike (NYSE:NKE) or a bellwether such as the Nasdaq Composite, many bullish portfolios continue to feel their oats. But Reddit's ape trading investment accounts haven't proven nearly as satisfying in their favorite most-shorted stocks.
GameStop (NYSE:GME). AMC (NYSE:AMC). Virgin Galactic (NYSE:SPCE). Newegg (NASDAQ:NEGG). From this year's most acclaimed short-squeezes to more recent most-shorted stocks taking centerstage, it's been curtains for Redditors expecting more profitable entertainment to emerge on their price charts this week.
Bottom line, the show may have already ended in the apes' more celebrated trading schemes. However, the big picture still looks bright for select smaller companies with strong business chances brought to our attention by the Reddit crowd. And with healthy-looking price charts designed for big-time gains now forming, these most-shorted stocks should be on other investors' radars for buying.
Smaller Most-Shorted Stocks to Buy: FuboTV (FUBO)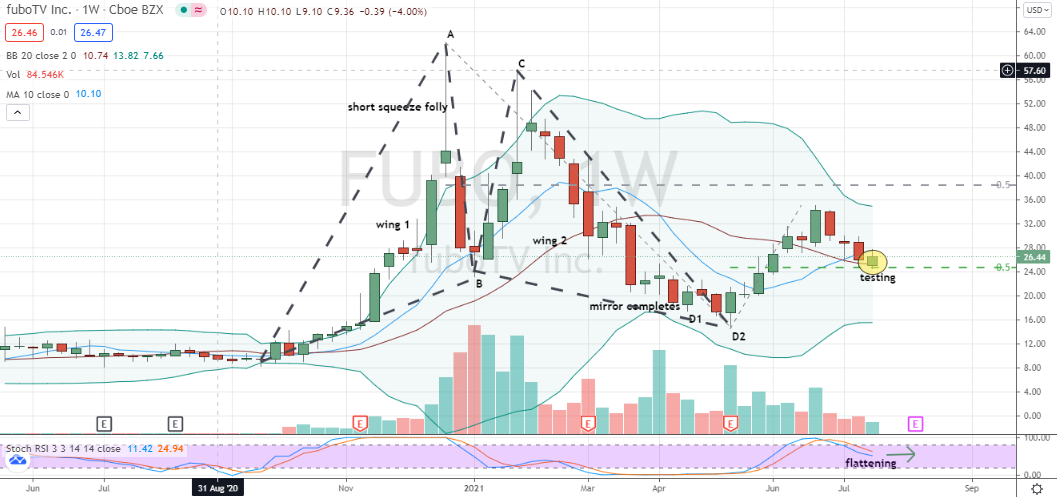 Source: Charts by TradingView
The first of our smaller, most-shorted stocks to buy is FuboTV. The streaming sports upstart has been growing likely crazy this past year.
FUBO's most recent earnings release featured triple-digit subscriber and revenue growth. And the runway for continued growth looks good on the back of building advertising sales and a big lateral business move into an explosive sports betting market.
This smaller $3.7 billion mid-cap maintains a bear population of around 20% wagering against it. Over the past 12 months, the group has been sacked with FUBO stock gaining more than 160%.
Technically, the weekly chart reveals a pullback of four weeks is testing the 50% retracement level from this most-shorted stock's early May bottoming pattern.
Today, investors should wait for evidence of an emerging bullish uptrend before buying FUBO. Weekly candlestick trade thru above $27.74 and a flattening or ideally, a stochastics crossover backing the stock signal, should do the trick.
If those conditions are met, a September $28/$36 collar is a favored bet to place on the bulls defeating 'da bears.
Tattooed Chef (TTCF)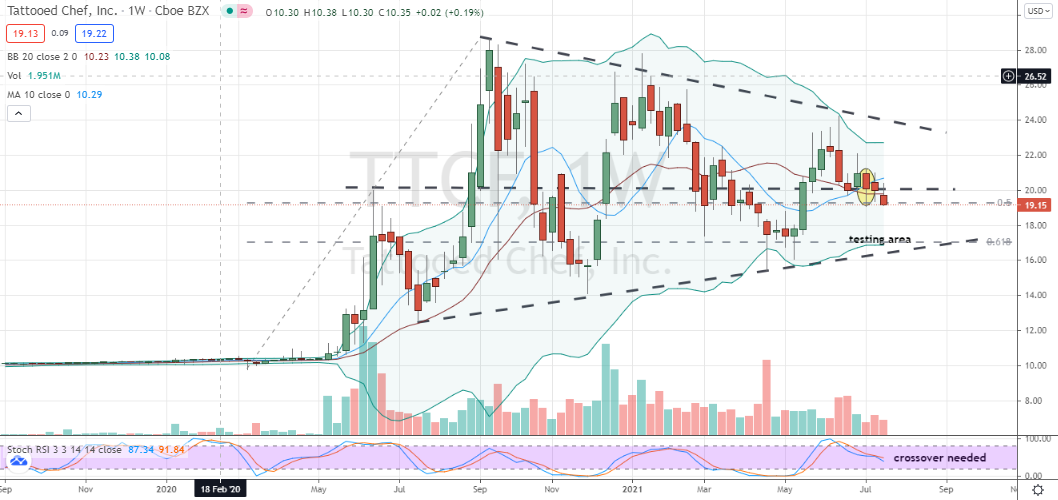 Source: Charts by TradingView
Tattooed Chef is the next of our smaller most-shorted stocks to buy. TTCF is tiny with a valuation of just $1.50 billion, but it's riding a mega-trend by apes and regular investors alike into healthier plant-based diets.
There's more on the menu for TTCF stock bulls as well.
The outfit has shown solid mid double-digit sales growth this year. Management has also demonstrated its business savvy in other ways. Tattoo Chef has invested in its future through a non-organic acquisition strategy aimed to build out its manufacturing and demographic base.
It sounds like the makings of a healthy recipe, right? But bears aren't buying it. They've made the choice to short TTCF's float to the tune of 25%.
Still, those doubters have been on the wrong side of other mega-trends before. Think EVs and Tesla (NASDAQ:TSLA), streaming and Netflix (NASDAQ:NFLX) or the internet and Amazon (NASDAQ:AMZN).
Could TTCF be the next most-shorted stock to crush its bearish critics? A massive triangle pattern over the last year hints at that possibility.
The observation is TTCF's corrective base can be bought on weakness if testing of support near $17 to $17.50 is confirmed by an improving stochastics setup, as well as a weekly bottoming candlestick.
Alternatively, a recrossing of TTCF shares above the triangle's apex backed by a bullish stochastics crossover looks like a spot to nibble on this most-shorted stock before gorging on a full-blown pattern breakout.
Smaller Most-Shorted Stocks to Buy: Fulgent Genetics (FLGT)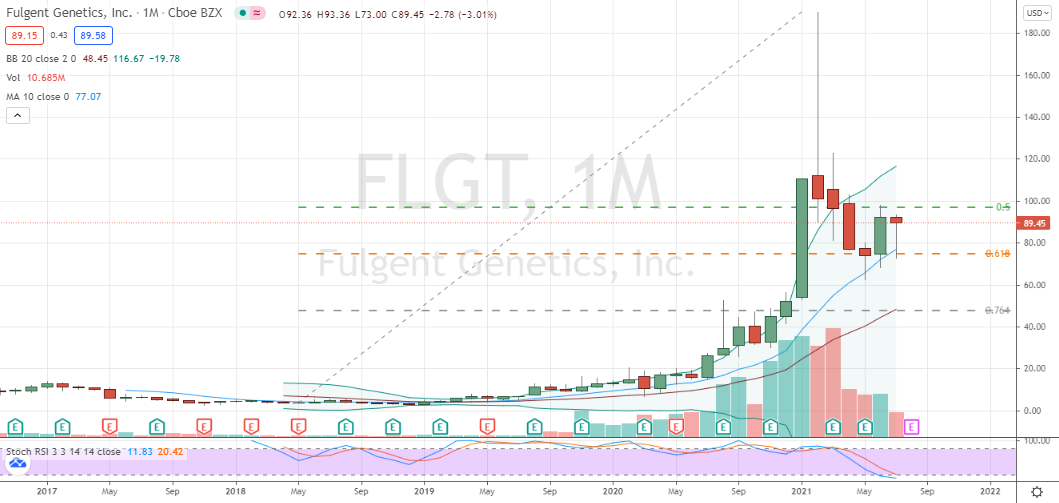 Source: Charts by TradingView
The last of our smaller most-shorted stocks is Fulgent Genetics. FLGT stock blasted onto the scene during Covid as demand for the company's testing services exploded. Don't expect this past year's stunning quadruple-digit sales to have staying power. It won't. But the need for testing is also far from dead.
The fact remains the rest of the world isn't doing nearly as well with Covid as the U.S. And bottom line, those challenges are going to continue benefiting FLGT. But this most-shorted stock isn't just about Covid.
Along with a recent $2 billion government contract, a chromosome and gene-sequencing business poised for longer-term growth and a confirmed corrective low in FLGT, this most-shorted stock's 30% bear population is at grave risk of becoming their own worst enemy and bulls' best friend.
For investors wanting to position in FLGT stock, an October $105/$125 collar should work to protect and serve both off and on the price chart.
On the date of publication, Chris Tyler does not hold (either directly or indirectly) positions in any securities mentioned in this article. The opinions expressed in this article are those of the writer, subject to the InvestorPlace.com Publishing Guidelines.
Chris Tyler is a former floor-based, derivatives market maker on the American and Pacific exchanges. For additional market insights and related musings, follow Chris on Twitter @Options_CAT and StockTwits.