The United States has started implementing the provisions of a new law, the Holding Foreign Companies Accountable Act (HFCAA) which causes the delisting of Chinese companies from American stock exchanges if their audit records remain unavailable for inspection three years in a row.
The U.S. Securities and Exchange Commission (SEC) has published a provisional list of the first Chinese stocks that may be the first to get delisted from American exchanges, but the list is updated regularly.
For instance, on Tuesday, March 22, Chinese regulators reportedly asked some U.S.-listed firms to prepare for more audit disclosures. The move shows the Asian country's recent willingness to support its stock markets and improve on transparency and appease U.S. regulators.
Reuters's latest report mentions top Chinese internet companies including JD.com Inc. (NASDAQ:JD) as potentially among the big tech firms Chinese regulators asked to prepare audit documents for 2021 financial year compliant with U.S. regulatory requests for more disclosure.
The publication also sought comment from companies including Pinduoduo (NASDAQ:PDD), and NetEase (NASDAQ:NTES).
Let's have a closer look at eight companies that may be good contrarian investments to make if the Sino-U.S. audit-related impasse gets resolved this year.
Chinese Stocks to Be Delisted: BeiGene Ltd. (BGNE)
BeiGene is a global biotech firm that develops and markets cancer treatment medicines. The company has three approved medicines including BRUNKINSA, a blood cancer treatment drug; Tislelizumab, an antibody immunotherapy for the treatment of solid tumors; and Pamiparib, another cancer drug that is under clinical trials but received conditional approvals in China last year.
BGNE stock price declined 25% between March 9 and March 14 after the SEC identified it as one of the Chinese stocks facing potential delisting from the NASDAQ. Shares have since recovered a bit although BeiGene stock retains a nearly 29% year-to-date loss.
The company has licensed the right to distribute 13 approved medicines from partners including Amgen (NASDAQ:AMGN), Novartis (NYSE:NVS) and Bristol Myers Squibb (NYSE:BMY) in China and revenue soared 288% from $308.9 million in 2020 to $1.2 billion in 2021.
Despite the company's current losses, investors could buy BGNE stock for the business's huge growth potential associated with its internally developed medicines.
BeiGene reported that the global market opportunity for its BRUKINSA drug could grow from $8 billion in 2021 to $26 billion by 2026. Its Tislelizumab drug could compete in a market that generated $30.5 billion for competitors in 2021 and is expected to grow to $50 billion by 2025.
On March 11, the company announced that the China National Medical Products Administration (CMPA) granted conditional approval for Tislelizumab. BeiGene estimates a $2.4 billion market opportunity for this new product in China this year.
The business is growing so fast and BGNE is expanding its manufacturing capabilities in China with plans to build a manufacturing and R&D center in New Jersey.
Yum China Holdings (YUMC)
Yum China Holdings operates the KFC, Pizza Hut, and other restaurant concepts in China and is the largest restaurant operator in the country in annual revenue terms.
The company operated over 11,700 restaurants in 2021 and reported $9.9 billion revenue and $1.3 billion in adjusted EBITDA and generated $1.1 billion in cash from operations.
Yum China Holdings completed a secondary listing of its stock on the HKEX in September 2020 to mitigate the risk of being delisted from American exchanges.
The company paid $203 million worth of cash dividends in 2021 after resuming its quarterly dividend after a brief suspension during the COVID-19 pandemic.
YUMC stock price is down 30% over the past twelve months.
Chinese Stocks to Be Delisted: Zai Lab Limited (ZLAB)
Zai Lab Limited is a global biopharmaceutical company that develops and commercializes therapeutic drugs. Its commercial products include cancer drugs sold in partnership with pharma giant GlaxoSmithKline (NYSE:GSK) and Deciphera Pharmaceuticals (NASDAQ:DCPH).
ZLAB clearly outlines that it's not exactly a Chinese operating company, but a holding company incorporated in the Cayman Islands that conducts business through subsidiaries in China.
A fluid and changing regulatory environment in China could complicate this holding structure, but the immediate concern for investors is its identification by the SEC as one of the Chinese stocks that may be delisted from American exchanges.
Zai Lab stock has lost 34% of its value so far this year and remains 22% down for the month.
An 80% sales growth outlook for 2022 and another 87% revenue growth outlook for the next year could help attract new money into the Chinese stock although it remains operationally unprofitable and cash flow negative as it ramps up operations in China.
A trailing price-to-sales multiple of 28 could seem pricey compared to an industry multiple of 8.3 but seems justified given the high growth numbers noted above and considering industry sales could shrink by 15% post-COVID-19 in 2023.
ACM Research (ACMR)
ACM Research is a United States-based company that was included among Chinese stocks that may be delisted from American markets in March.
Headquartered in Fremont, Calif., the company develops and manufactures single-wafer wet cleaning equipment. This is used in semiconductor manufacturing processes to remove particles, contaminants, and random defects.
The company also sells packaging tools. Production and sales are conducted in China and its major clients are Chinese semiconductor manufacturing giants.
Investors could buy the dip on ACM Research stock with some confidence as the company is expected to build on its strong 65% year-over-year revenue growth in 2021 to print another 41% sales increase for 2022.
The business is doing well, operations remain very profitable and net income doubled from $21.7 million in 2020 to $42.9 million in 2021.
That said, inventories catapulted over the last two years, and operating cash flows turned negative between 2020 and 2021 even though adjusted EBITDA almost doubled between the two annual periods.
Cash is king and the quality of ACM Research's profits might have been impaired lately. Investors may wish to see a return to high-quality growth as operations grow in 2022.
HUTCHMED (China) Limited (HCM)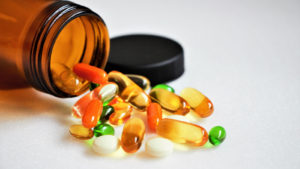 Formerly known as Hutchison China MediTech until a name change in April 2021, HUTCHMED (China) Ltd is a Cayman Islands holding company headquartered in Hong Kong and with subsidiaries in China.
It is a promising cancer drug development giant targeting the Chinese market.
The company raised about $600 million when it was listed on the Hong Kong Exchange in 2021. Investors will continue to trade in HCM stock in Hong Kong should a delisting from the NASDAQ happen,
As a result of research and development expenses ($299 million in 2021) and negative margins, HUTCHMED (China) lost $328 million from operating activities after growing annual revenue by 56% year-over-year to $356.1 million for 2021.
Losses will persist unless medical breakthroughs in ongoing cancer research unlock a significant upside. Until then, shareholder dilution may remain a usual occurrence as the pharma company raises new equity to finance clinical trials.
That said, a $1 billion balance in cash, cash equivalents and short-term investments on Dec. 31, 2021, could however push through another year or so of operations.
Chinese Stocks: Weibo Corporation (WB)
Weibo Corporation owns the largest social media platform in China with 573 million monthly active users and 249 million average daily active users by December 31, 2021.
The company filed its 2021 Annual Report with the SEC on March 10 and less than two weeks later the company became the sixth Chinese stock identified to be potentially delisted from U.S. exchanges on March 23 this year.
Weibo saw annual net revenues grow 34% year-over-year to $2.26 billion in 2021 and it reported a good operating margin of 31% for the year. Profitability performance remains fine and the balance sheet carried $3.13 billion in cash, cash equivalents, and short-term investments (or 42% of the company's assets).
WB stock investors love the profitable and growing business that continues to generate huge amounts of free cash flow from its operations.
However, worries about the Chinese stock's potential delisting from the NASDAQ drag valuation growth and Wall Street analysts project a slower 5.5% sales growth for the business this year while maintaining a consensus Buy rating on Weibo stock.
Alibaba Group (BABA)
Alibaba Group is undoubtedly the world's largest online and mobile commerce giant by annual merchandise volume (CNY 7.5 trillion in the Fiscal Year 2021). Regulatory uncertainties in China and the threat of potential delisting of Chinese stocks from U.S. exchanges had dealt BABA stock a significant valuation blow.
Alibaba had lost 68% of its value in 12 months to trade as low as $73.28 per share on March 15, before Chinese authorities softened up and reassured support for the markets this month. BABA shares once exchanged hands at prices above $300 a share in 2020. It trades today at around $113.
Alibaba's upscaled $25 billion share buy-back program on Tuesday has kickstarted a potentially strong bullish trend on BABA stock as it reclaims better valuation as the company buy-the-dip on its own shares and creates value for long term shareholders.
Chinese Stocks to Be Delisted: Baidu Inc. (BIDU)
Chinese search engine giant Bidu Inc. reportedly considered leaving the NASDAQ in 2020 as the HFCAA became law in the United States while U.S.-Sino tensions remained strained.
The idea was to unlock a favorable valuation of BIDU stock if shares traded closer to home in Hong Kong.
Baidu stock trades in Hong Kong now, but its shares still had a 59% year-to-date loss before the recent rebound unlocked by a more accommodative Beijing. It trades today at just about the same $146 as it started the year. Perhaps being delisted from U.S. exchanges was still a significant valuation factor to consider, on top of the Chinese clampdowns of big tech companies witnessed in 2021.
Investors in BIDU stock have seen the company transform from an internet play into an artificial intelligence (AI) giant with a growing ride-hailing side business over the past few quarters and total annual revenue grew 16% year-over-year to RMB 124,5 billion ($19.5 billion) in 2021.
Management's commitment to share repurchases could help support a strong come-back in BIDU stock price as fears of Chinese stocks getting delisted from American Exchanges begin to subside.
On the date of publication, Brian Paradza did not hold (either directly or indirectly) any positions in the securities mentioned in this article. The opinions expressed in this article are those of the writer, subject to the InvestorPlace.com Publishing Guidelines.