As we march forward toward a hyperconnected future, the importance of 5G stocks is becoming increasingly evident. 5G, the fifth generation of cellular network technology, will likely revolutionize communication, offering stronger speeds, more reliable connections, and a myriad of opportunities for innovation. Moreover, with over 250 global commercial 5G network deployments already and robust momentum in mid-band and high-band spectrum auctions, the 5G future is full of promise.
For those interested in 5G investing, now is an ideal time to wager on this technological renaissance. According to Statista, global 5G subscriptions are set to skyrocket, breaking the four billion mark. Furthermore, the Ericsson Mobility Report forecasts a mind-boggling 5 billion 5G mobile subscriptions by 2028. Therefore, it's an ideal time to buckle up and go on the electrifying journey of exploring the world of 5G stocks.
| | | |
| --- | --- | --- |
| TMUS | T-Mobile | $145.86 |
| QCOM | Qualcomm | $117.35 |
| GLW | Corning | $33.66 |
| AMZN | Amazon | $106.21 |
| CSCO | Cisco | $47.39 |
| ERIC | Ericsson | $5.31 |
| NOK | Nokia | $4.20 |
5G Stocks: T-Mobile (TMUS)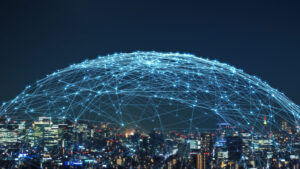 In the high-stakes 5G race, T-Mobile (NASDAQ:TMUS) stands at the top of the heap. Its unique approach to 5G deployment, which effectively leverages low-band and mid-band spectrum, has positioned it at the forefront of the race. This innovative technology allows T-Mobile to bring 5G access to a whopping 96% of rural Americans, offering unparalleled connectivity.
Since launching mobile 5G in the U.S. back in June 2019, the firm has been on a relentless expansion spree, covering thousands of cities across the U.S. Moreover, it is also redefining home internet with its 5G Home Internet service, delivering blazing-fast speeds to its growing customer base. Moreover, T-Mobile achieved its year-end goal of covering 260 million people with Ultra Capacity 5G.
As we look ahead, the company will continue investing heavily in 5G expansion. It expects to spend a whopping $9.4 billion and $9.7 billion during 2023, which is massive despite a significant deceleration from 2022.
Qualcomm (QCOM)
San Diego-based Qualcomm (NASDAQ:QCOM) is a top semiconductor and software powerhouse critical in shaping America's wireless infrastructure. Its chip technology is the backbone of the 5G sphere, positioning Qualcomm for long-term success ahead in the sector.
Its business had been on a roll until its most recent quarter, generating double-digit revenue growth. The lackluster results in the first quarter were due to a cyclical slowdown in mobile-phone sales and supply-chain challenges. Consequently, it reported a 12% drop in sales year-over-year to $9.46 billion and a 27% decline in net income to $2.68 billion. Nevertheless, its long-term prospects remain as bright as ever, with the stock likely to bounce back with aplomb in the upcoming quarters. Forward estimates point to an 8% increase in revenue and EBITDA growth.
Despite a recent surge in QCOM stock, its trades at just 3.5 times forward sales estimates, a rarity for a tech giant of its caliber. Coupled with its enticing 2.5% quarterly dividend yield, QCOM is an excellent investment at this time.
Corning (GLW)
Adding a little diversity to the mix, Corning (NYSE:GLW) is a top picks-and-shovels 5G player specializing in producing fiber optic cables. These cables are critical in catering to the speed and capacity demands of 5G networks.
Corning showcased its robust TXF fiber last year, achieving an impressive 800 gigabits per second over 800km. The transmission rate is a game-changing solution for long-haul transmissions expected to have a massive impact on lucrative industries such as data centers, robotics, and others. On top of that, it offers a suite of solutions designed to make chips smaller and more intricate.
Operating results in the past couple of quarters have slowed down due to weaknesses in the Chinese market. However, its position is expected to improve as macro headwinds fade away this year. Moreover, its dividend profile is impressive, with 12 consecutive years of growth and a 3.3% yield.
Amazon (AMZN)
Amazon (NASDAQ:AMZN) emerges as a top contender in the 5G realm with its trailblazing Amazon Web Services (AWS) division. The division is home to the company's innovative Private 5G platform. As 5G flourishes, the popularity of private 5G networks at the network's edge will grow exponentially, positioning it for long-term gains.
Amazon envisions a bright future for the private 5G sector, and it's tough to doubt the potential impact. AWS remains a profitability powerhouse for Amazon and has grown by a whopping 2,477% from 2013, reaching over $80 billion in 2022. Moreover, it remains a shining star in the cloud services realm, as AWS highlights Amazon's role in the rapidly expanding private 5G network market. According to Grandview Research, the market could potentially grow at a breathtaking 51.2% from 2023 to 2030, hitting $36.08 billion by 2030.
Cisco (CSCO)
Cisco (NASDAQ:CSCO) shines as one of the top 5G stocks to watch, building an array of networking essentials covering everything from routers and switches to cutting-edge software solutions fortifying 5G infrastructure. Hence, as a networking titan, Cisco is primed to reap the benefits of the global 5G surge.
Furthermore, its connections with telecom operators and enterprises give it a competitive edge, ensuring its critical role in constructing and up-keeping 5G networks. Moreover, its unwavering commitment to innovation, security, and software-defined networking solutions amplifies its allure as a top-tier 5G stock. It has also partnered with DISH Network (NASDAQ:DISH) to sell 5G-related business services to large enterprises. With a rock-solid profitability profile, expect the firm to continue investing a ton of money into expanding its 5G market share.
Ericsson (ERIC)
Telecommunications powerhouse Ericsson (NASDAQ:ERIC) is a trailblazer in the 5G landscape, despite a recent $206.7 million fine from the U.S. Department of Justice. It continues to shine in the 5G sphere through its involvement in 137 of 228 live global networks commanding roughly 50% of worldwide 5G traffic. Moreover, with a 39% RAN revenue share, Ericsson's position as a 5G leader is indisputable.
Embracing a transformative mindset, it's effectively refining its culture and bolstering efficiency to solidify its status as a 5G leader. Ericsson is committed to a leaner and more agile operation with plans to reduce its workforce by 8,500. This development aligns with its December 2022 objective to trim $880 million in costs by year's end. These developments will significantly expand its operating margins beyond its historical averages and then some.
Nokia (NOK)
Nokia (NYSE:NOK) was once a prominent smartphone creator but has effectively redefined itself as an undervalued gem in the telecommunications space. Sporting a new logo that symbolizes its departure from the smartphone arena, the company continues to make giant strides in the 5G realm. This telecom titan has experienced a healthy uptick in its operating performance, attributable to stellar execution, explosive 5G growth, and prudent capital allocation policies. Moreover, it has consistently secured lucrative deals each quarter, driving robust sales across its core divisions.
It has delivered an earnings and revenue beat in 8 out of the past 10 quarters. Additionally, in its most recent quarter, it saw a 62% increase in enterprise sales, on a constant currency basis, with its operating margins at 7.3%. It ended the quarter with a rock solid €4.3 billion in its cash till, which it will use to boost its long-term positioning in the 5G sphere.
On the date of publication, Muslim Farooque did not have (either directly or indirectly) any positions in the securities mentioned in this article. The opinions expressed in this article are those of the writer, subject to the InvestorPlace.com Publishing Guidelines.