The thing about Wall Street is, it always focuses on the here and now. The market's memory is incredibly short-termed, especially when it comes to energy stocks.
As we've fracked, fracked and fracked some more, prices for oil and natural gas have plunged down to now 11-year lows. Adding fuel to that fire has been new energy-efficiency measures, slower demand caused by slowing economies and OPEC's continued decision to keep on drilling at current rates, losses be damned.
And as this lower oil price scenario has continued to take hold, energy stocks have been taken to the woodshed. The uber-popular and broad sector benchmark — the Energy Select Sector SPDR (XLE) — is now sitting near new 52-week lows.
But here's the thing — oil isn't going away anytime soon. Longer-term (say ten years or so) demand for fossil fuels is still beyond rosy and higher prices will return. Even OPEC will be forced to stop drilling, as many fields are just plain unprofitable at these prices. Eventually, energy stocks will stop pumping and prices will rise.
For value-seeking investors looking at the big picture, the energy sector represents one of the best bargains in the market today.
Here are 10 that will power your portfolio through the longer-term picture.
The Best Energy Stocks to Own #1: National-Oilwell Varco (NOV)


"No Other Vendor" is National-Oilwell Varco's (NOV) motto, and for good reason. It's estimated that 90% of all the drilling rigs operating in the world have at least one part designed and built by NOV. So it's easy to see why investors have fled the energy stock in the recent downturn. After all, less drilling equals less dollars flowing into NOV's coffers.
However, the drop may be unjustified over the long term.
NOV's wide moat will continue to pay benefits down the line. National-Oilwell has its hands in variety of energy products and sources — from onshore shale to offshore deepwater. That means no matter the price of oil or natural gas, some segment of Varco is making money. Secondly, the firm has a huge replacement parts division. Any rigs still in operation will need to dial NOV's number when they are broken.
All of this has made NOV a cash-flow machine. So much so, that it has the luxury of having a fortress-like balance sheet and low debt. Just thing investors need to get them through the current oil price malaise.
And once higher oil prices return, so will NOV's normally outsized profits.
The Best Energy Stocks to Own #2: Enterprise Products Partners L.P. (EPD)


The beauty of owning energy stocks that hold logistics assets is that it doesn't matter what the price of oil or natural gas is trading for, producers will still use your pipelines and process facilities to get their product to market.
This is why Enterprise Products Partners L.P.'s (EPD) drop is a tad bit confusing. In fact, it probably has more to do with the recent increase in interest rates and investors dumping high-yielding securities.
EPD has a large, diverse asset base across multiple energy commodities. This includes 49,000 miles worth of pipelines, salt cavern storage, 24 natural gas processing plants, export/import terminals, barges and other midstream holdings. All of which are located in the areas of the country that continue to see strong production profiles and reserves.
That means EPD will continue to see rising volumes through its vast system.
As for growth, EPD continues to capitalize on other opportunities, such as LNG and condensate exports.
In the meantime, investors in the master limited partnership are treated to continuously rising distribution built on the back on its huge asset base.
The Best Energy Stocks to Own #3: EOG Resources (EOG)


The best energy stocks to hold over the next five years or so are the ones with the best reserves and production profiles. On top of that list has to be EOG Resources (EOG).
EOG has some of the largest acreage positions in the Eagle Ford, Bakken and Marcellus shales. These areas continue to be the main divers of production growth across crude oil and natural gas. More importantly, they offer some of the lowest cost drilling locations in the United States.
Margins for EOG continue to remain some of the juiciest in the E&P industry. That helps the energy stock push through the current low-price environment.
Also helping is the firm's recent strategy of drilling, but not completing, wells. This allows EOG to take advantage of low oil services costs today and essentially be able to "turn-on" the spigot when oil prices resume.
The combination of great reserves in all the right places and fat margins makes EOG one of the best energy stocks to hold over the long term.
The Best Energy Stocks to Own #4: Core Laboratories NV (CLB)

The key for producers of oil and natural gas over the next few years, is making sure they squeeze every last drop out in a super-efficient, low-cost way. Which is why Core Laboratories NV (CLB) could be one of the best energy stocks to own over the longer haul.
CLB likes to call itself a "reservoir optimization company." That's a fancy way of saying it provides research, technology and specialized equipment designed to optimize oil and natural gas extraction. That includes everything from scientists analyzing core samples for hydrocarbon levels to patented well-enhancement technologies.
Longer term, its offerings do make a difference in the amount of crude oil you can pull from the ground — sometimes as much of 40% more. In the shorter term, when every drop counts, its products can reduce overall costs and allow E&P firms to target just the most optimized plays.
While the current low price environment has taken some of the wind out of CLB's sails, the truth is that most energy firms need CLB's expertise going forward. The recent share price drop could be the best time to snag-up CLB for the longer haul.
The Best Energy Stocks to Own #5: Phillips 66 (PSX)


After being spun off from ConocoPhillips (COP) a few years back, refiner Phillips 66 (PSX) hit the ground running and hasn't looked back.
PSX has quickly transformed itself into a refining and chemicals powerhouse that's one of the best energy stocks to own for the long haul.
For starters, PSX has been able to feast on low crude oil prices at its refining operations. Margins and crack spreads continue to remain robust.
The beauty is that PSX has been using those cash flows to not only reward shareholders through rising dividends, but to plow head first into a variety of other logistics and chemicals manufacturing operations. This includes expanding ethylene and commodity chemicals operations in the Gulf Coast and plowing around $9 billion into new midstream pipeline projects into its MLP Phillips 66 Partners (PSXP).
At the end of the day, PSX is positioning itself as the ultimate chemicals and refining play. The firm has the assets and has identified plenty of future growth opportunities. For investors looking to play the downstream side of the energy sector, Phillips is the energy stock to own over the long term.
The Best Energy Stocks to Own #6: Halliburton Company (BHI)


Halliburton (HAL) is basically another word for fracking. It's really as simple as that. HAL pioneered the technology for the drilling technique and is still the king when it comes to pressure pumping. And as the main driver for all new energy production across the globe, fracking is going to be with us for a long time — even with the current lower oil and natural gas prices.
Speaking of that long term, HAL's recent tie-up with rival Baker Hughes (BHI) is only going to help the firm. The merger/buyout will strengthen HAL's position as the dominate force in fracking, well completions and other necessary oil services.
As for the short term, HAL's size and scope allow it negotiate on better pricing, which helps it stay afloat in the current mess. More importantly, HAL's products offer greater efficiencies and help reduce costs of drilling. That is much needed in today's environment.
And when oil prices do eventually rise, or when we need to pull more energy out of the ground, Halliburton is going to get the nod.
For investors, HAL is the quintessential oil service energy stock to buy.
The Best Energy Stocks to Own #7: Exxon Mobil (XOM)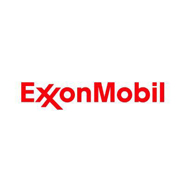 Some energy stocks are just in another league. And if you are only going to buy one, it has to be Exxon Mobil (XOM).
As one of the largest energy producers on the planet, XOM features assets and economies of scale that are the envy of the entire sector. This includes everything from bread-n-butter conventional wells to LNG projects in Papua New Guinea.
This breathe of holdings allows it produce cash flows that larger than some nations' GDPs. It also allows Exxon to profit in every sort of energy environment. Low oil prices? Then its major refining assets carry the slack. High natural gas price? Then its E&P arm takes over.
That's the long-term story.
In the short term, XOM has taken steps to cut capex, reduce costs and has readjusted the remaining spending toward more profitable areas. And while profits have slipped thanks to lower oil prices, XOM is still churning out an enviable amount of cash. That, coupled with its great balance sheet, rising dividends and ability to navigate the current price environment, makes XOM a great energy stock to hold for the long term.
The Best Energy Stocks to Own #8: Occidental Petroleum (OXY)


With its heavy regulated Californian assets now trading as a separate company, Occidental Petroleum Corporation (OXY) is now one of the best long-term energy stocks to buy.
The firm is an integrated giant with assets spanning the globe. These include long-lived legacy assets in Qatar, Oman and the United Arab Emirates as domestic fields in the Permian basin. The beauty for OXY's bottom line is that the majority of its holdings have very low costs and feature steady production profiles.
Exactly what you need to get you through periods of oil price volatility.
What's more, OXY is a refining and chemicals powerhouse. OxyChem is one of the largest manufacturers of chlor-alkali products and vinyl. These downstream assets have been able to feast on lower oil prices, as well as cheap natural gas feedstocks.
Stable prices for these chemicals and lower input costs have helped OXY fight back the tide of lower oil prices when it comes earnings. None of this includes OXY's vast midstream network, which includes a stake in MLP Plains All-American (PAA), either.
At the end of the day, OXY could be one of the best energy stocks to own both now and later.
The Best Energy Stocks to Own #9: Valero (VLO)


When it comes to pure-refiners, you can't do any better than Valero (VLO). VLO has one of the largest refining networks in the nation, currently boasting 15 refineries with a total capacity of 2.9 million barrels of oil per day.
That huge network of refining infrastructure across the country has allowed Valero to take advantage of local crude oil pricing and sourcing, ensuring even cheaper access to crude.
Providing that access is the firm's relatively new MLP, Valero Energy Partners (VLP). VLO has begun to tuck various midstream assets — rail cars, pipelines and terminals — into VLP to gain from the tax-advantaged cash flows it throws off.
As if that wasn't enough, Valero was smart enough to see the writing on the wall early on, investing heavily in various ethanol plants. Unlike many refiners who need to buy ethanol to blend into their gasoline or face penalties, VLO is able to make its own. Again, that saves on costs and regulation headaches.
What investors get in Valero is the traditional refining top dog in the nation. One that has plenty of long-term growth ahead of it, and the goods to navigate today's low oil price market.
The Best Energy Stocks to Own #10: Range Resources (RRC)


Natural gas, and its various derivatives, is going to be a major piece of America's energy pie over the next decade or so. From generating electricity to creating plastics, natural gas is driving so much change in the energy and manufacturing sectors.
So it stands to reason that investors looking for long-term energy stocks would want to buy one of the biggest players in the sector.
And you can't get much better than Range Resources (RRC).
RRC owns the vast bulk of the acreage in the prolific Marcellus shale. Currently, that position is north of a million acres and that doesn't include anything it holds in the neighboring Utica. These prime Marcellus acres sit across the shale field's vast liquid-rich window.
That means Range Resources is able to pull out higher-valued/priced shale oil and natural gas liquids than other operators focusing strictly on dry gas.
Even better is that RRC has some areas where it can triple-stack the Utica, Devonian and Marcellus with one drilling pad. That's helped it realize huge cost savings and one of the lowest drilling cost profiles shale industry.
With natural gas being such an important piece of the energy sector's future, RRC is the best energy stock to take advantage of its production.
As of this writing, Aaron Levitt did not hold a position in any of the aforementioned securities.
More From InvestorPlace