When a stock has been on a big run, it's easy to cast it aside and think one of two things. Either that the stock will run out of gas because it's rallied so far, or that since we missed the initial rally, it's too late to buy even if there is more upside. Look no further than Amazon (NASDAQ:AMZN), as some investors surely feel this way with Amazon stock up 49% already in 2018.
The question is, are they right?
Yes and no. Investors would be right to say that they've already missed a bulk of the move in Amazon. The company now sports an $845 billion market cap, meaning it's added almost $300 billion to its market cap in less than seven months.
That's pretty incredible when you think about it. While Amazon has been dominate and is easily outperforming Facebook (NASDAQ:FB) and Alphabet (NASDAQ:GOOGL, NASDAQ:GOOG), look no farther than Netflix (NASDAQ:NFLX), which is up an insane 118% so far this year.
While Netflix sports a smaller market cap than Amazon stock, it just goes to show that maybe the run in Amazon isn't done yet.
Amazon Growth
Like Costco (NASDAQ:COST), Amazon relies on membership sales to generate high-margin cash flow. The company now has 100 million paying Prime members globally, and just recently increased U.S. Prime prices by 20% to $119.
Overall, analysts expect sales to grow more than 33% this year. At one point, revenue growth in excess of 20% was the threshold investors watched for Amazon. But because the company found ways to accelerate that rate, investors have been gobbling up Amazon stock. A big part of that acceleration is Amazon Web Services (AWS).
All one has to do is look at Adobe (NASDAQ:ADBE), Salesforce.com (NASDAQ:CRM) or Microsoft (NASDAQ:MSFT) to know that the cloud business is doing well.
Last quarter, Amazon grew total sales a whopping 43% year-over-year, while AWS grew just shy of 50%. The segment's $5.44 billion in quarterly revenue is clearly giving a huge boost to Amazon's growth profile and because of its profitability, is allowing Amazon to fund other projects and growth opportunities.
Valuing Amazon Stock
Valuing Amazon stock has always been the Achilles' heel to those who turn down an investment in Amazon. Because the company operates with thin margins and has barely showed a profit, if any, in the past, too many investors avoided the name despite its growing control of market share.
Simply put, Amazon has become an empire. Critics will still point out that shares trade at roughly 130 times this year's earnings and 87 times next year's estimates. There's no getting around this: Amazon stock isn't cheap on an earnings basis.
The argument for Amazon is that it could show a big profit if it wanted to. But because it continues to reinvest that money, the company continually comes up with more growth businesses. It feeds on its own momentum, for the most part.
Consider that Amazon trades at just 3.5 times this year's revenue. That's in-line with Apple Inc. (NASDAQ:AAPL) and way below GOOGL's 5.9 times. While these companies turn out more of a profit and have better margins, they have slower growth too.
Again, AMZN stock isn't cheap, but it's not valued like a dot-com bubble stock either.
Trading Amazon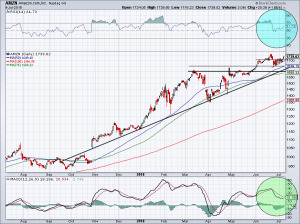 Click to Enlarge
Amazon has a really bullish chart. Its trend is powerful and a rally over its $1,760 highs could trigger an even larger breakout. Its MACD (green circle) shows momentum could soon shift into bulls' favor, while the RSI (blue circle) shows that Amazon is not presently overbought.
Between past support levels, trend-line support and the 50-day and 75-day moving averages, there should be plenty of support between $1,600 and $1,650. For now, I'd look to see how Amazon handles its prior highs and if it can breakout over $1,760.
If so, there could be a lot of room to the upside. Just in the last few weeks, analysts have showered Amazon stock with big price targets. Ranging from $1,840, about 6% upside, to several targets over $2,000. The highest sits at $2,200, implying more than 26% upside from current levels.
Bret Kenwell is the manager and author of Future Blue Chips and is on Twitter @BretKenwell. As of this writing, Bret Kenwell was long AAPL, ADBE and CRM.