"They're back!!" Well kinda, sorta. I'm referring to this week's rematch pitting David versus Goliath in some of the market's most heavily shorted stocks. But for investors interested in the next big thing and short-squeeze stocks sporting more sustainable staying power, the following three names are offering attractive opportunities off and on the price chart.
A short-squeeze stock media circus has cooled. And the nightly news is back dutifully covering how Main Street is faring beyond Wall Street as we pass the one-year milestone of living with the novel coronavirus. But "Gamestonk!!" or rather GameStop (NYSE:GME), AMC (NYSE:AMC), Koss (NASDAQ:KOSS) and a few others have had their short-squeeze playbooks dusted off this week by that rogue band of merry retail traders from Robinhood and Reddit's WallStreetBets for a second round of over-the-top crusading.
How the price action will turn out on any given day is anyone's guess. But there's little doubt bears in short-squeeze stocks will make hay, if they get out alive, in many of those names they have in their crosshairs. The fact is more than a few of those heavily shorted companies' prospects are grim at best. Still, those market pros are far from perfect.
It's also true those typically larger and sophisticated bearish operatives have been wrong before and forced to permanently concede their position. And in some instances, once heavily shorted, short-squeeze stocks have turned into long-term and even phenomenal winners for bullish investors. Amazon (NASDAQ:AMZN) and Netflix (NASDAQ:NFLX) are prime examples. More recently, last year's incredible 700% rally in Tesla (NASDAQ:TSLA) cost those traders more than $39 billion in 2020. Silly bears.
The trio of short-squeeze opportunities for investors:
Given history can repeat and with an eye on the next big market disrupting business, let's dive into three of today's short-squeeze stocks the so-called smart money may also have completely wrong in the weeks, months, and years ahead.
Short-Squeeze Stocks to Buy: iRobot (IRBT)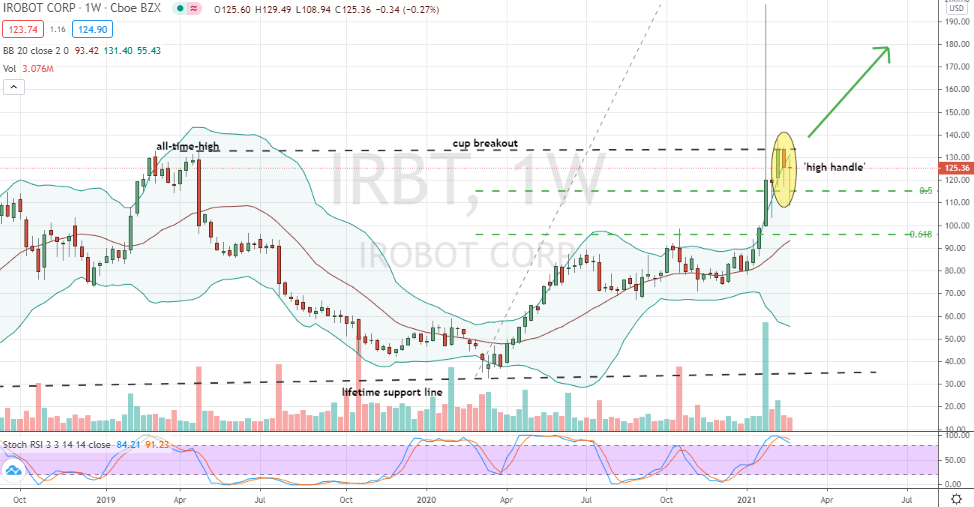 Source:
Charts by TradingView
The first of our short-squeeze stocks to buy is iRobot. Earlier this month, the maker of the Roomba and Braava robot cleaning devices easily topped Street views and delivered double-digit profit and sales growth for the company's fourth quarter. The outfit also hiked its full-year 2021 guidance well-above consensus forecasts.
iRobot currently maintains short interest of 23%. And this short-squeeze stock did see an explosion in its share price during late January's brief coup by investors riding the coattails of GME stock. Today, conditions have quieted and that's looking increasingly good for IRBT stock investors.
On the weekly price chart, January's cup-shaped breakout has since found IRBT shares retreating into Fibonacci zone support modestly beneath the pattern high. Axing out January's over-the-top short squeeze stock reaction and combined with solid fundamentals, what we're left with is a bullish 'high handle' that looks good for cleaning up tomorrow.
Favored Strategy: April $135/$155 Bull Call Spread
FuboTV (FUBO)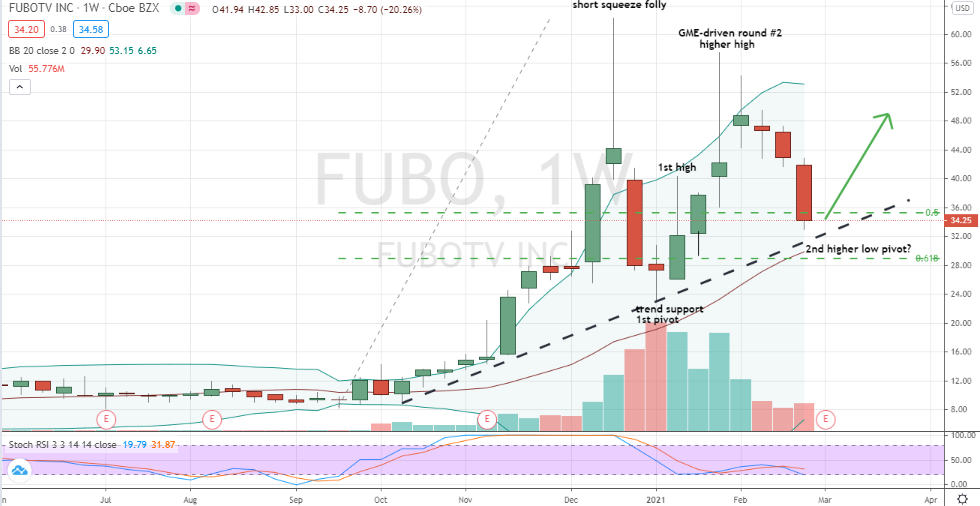 Source:
Charts by TradingView
The next of our short-squeeze stocks to buy is FuboTV. Amid Covid-19's various restrictions the company's streaming live sports platform has become an essential service for many individuals. Bullish preliminary guidance issued in late January looks to back up FuboTV's popularity. Next week, investors will have the chance to see what that actually looks like when FUBO reports earnings on Tuesday.
Earnings reactions can be crapshoot. At the end of the day, it's not just about a couple numbers. As well, for better or worse, sentiment can prove a much more meaningful motivator in the short term. Longer term, though, and with FuboTV also moving to integrate sports betting into its platform later this year, a slam dunk for shareholders that stay the course makes this short-squeeze stock an even better wager.
Technically, FUBO stock is in a testing position of an uptrend line backed by two layers of Fibonacci support. In our estimation, it's a nice enough spot for investors to pick up this short-squeeze stock at an attractive discount and in front of a third potential and maybe much longer-lasting knockout to bears.
Favored Strategy: April $30/$55 Collar
Beyond Meat (BYND)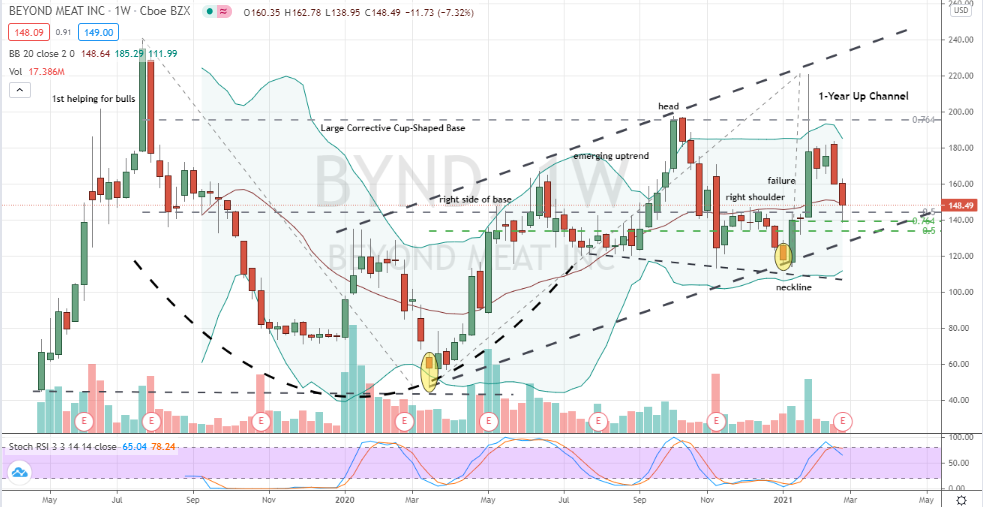 Source:
Charts by TradingView
The last of our short-squeeze stocks to buy is Beyond Meat. Since coming public in 2019, the faux meat upstart has maintained its share of skeptical shorts. Today the count stands at 23% of BYND's float. Last night, those bears were looking to take a bite out of the stock after the company reported a wider-than-forecast quarterly loss. Instead, the meal turned into a quick and smaller snack.
Deals also announced after Thursday's closing bell which have Beyond Meat working with fast-food giants McDonald's (NYSE:MCD) and Yum Brands! (NYSE:YUM) rightfully stole the show, as well as the bears' ammo. And in Friday's session shares have firmly reversed the after-hours weakness and added about 3.50% in finger-licking-good activity.
Technically, shares are in a testing position of key Fibonacci levels tied to key lows from March 2020 and January. The decline from this short-squeeze stock's January price spike has also challenged BYND's lifetime 50% level, while maintaining the integrity of a bullish up-channel that's formed over the past year. It's bullish, but I'll concede this one still needs to be cooked a bit longer before buying shares.
Favored Strategy: TBD April Collar upon weekly pivot low confirmation
On the date of publication, Chris Tyler does not hold, directly or indirectly, any positions in securities mentioned in this article.
Chris Tyler is a former floor-based, derivatives market maker on the American and Pacific exchanges. The information offered is based on his professional experience but strictly intended for educational purposes only. Any use of this information is 100% the responsibility of the individual. For additional market insights and related musings, follow Chris on Twitter @Options_CAT and StockTwits.