C3.ai (NYSE:AI) is, in some ways, one of the next big things to have already arrived. But right now, and in a less-than-impressed market, investors can purchase a disconnected AI stock at a much more reasonable price than otherwise.
Let's take a look at what's happening off and on the price chart, as well as a risk-adjusted determination aligned with those findings.
It's been a durable bull in 2021 for the broader market and one led by more cyclically driven blue-chips. For Alcoa (NYSE:AA) to Caterpillar (NYSE:CAT), FedEx (NYSE:FDX) and others, life has been good for many companies and their shareholders. But the record-setting rally has come at the expense of an equally large pool of diverse, higher multiple growth stories amid a vicious bear market.
Advanced Micro Devices (NASDAQ:AMD). Snowflake (NYSE:SNOW). Teladoc (NYSE:TDOC). Churchill Capital (NYSE:CCIV). The list of casualties in 2021 goes on and on with no shortage of reasons for the selling pressure. From interest rate and inflation fears, chip shortages or what lays ahead for companies on the other side of the novel coronavirus, Wall Street is convinced it has a handle on things. And that includes AI stock.
But Wall Street has, on occasion, been known to be wildly wrong.
About AI Stock
C3.ai is the market's only pure play on artificial intelligence. Helmed by former Oracle (NASDAQ:ORCL) brass and Siebel founder Tom Siebel, AI's technology offers companies the ability to use AI models at scale and enable more powerful enterprise outcomes without the hefty capital investment outlay.
For its service, C3.ai enjoys what's proven a stable and growing revenue stream. And if you're up for a bit more table pounding of AI's business wherewithal, InvestorPlace's Luke Lango has gone so far as to call AI one the "most compelling growth companies in the world today." And that was back in late March with shares nearly 30% higher!
The Roller Coaster
It's been a wild ride in just over five months as a public company. AI stock's early December IPO priced at $42 and well-above initial range estimates of $30 to $34. To say the least, the road show was successful. C3.ai also managed to attract Microsoft (NASDAQ:MSFT) and Koch Industries among its institutional investors in $50 million and $100 million private placements. And AI proved an even greater hit in the secondary market.
With the reverberation of the NYSE's opening bell in the background, on Dec. 9 AI stock opened to much fanfare at $100. And in less than three weeks shares soared by another 84% to a high of $183.90 immediately in front of Christmas holiday. But AI's roughly $20 billion valuation and dearly held status wasn't a gift that would keep on giving.
Following a swift correction into early January, a month-long rally peaked in February at $176.94. And today, Wall Street's broader rotation out of higher multiple growth stocks is offering a baby with the bathwater opportunity in AI shares. Tuesday's most recent all-time-low of $50 puts the stock just $8 or 16% above its initial public offering price of $43 and nearly 73% off December's all-time-high.
A Frightening Stock Chart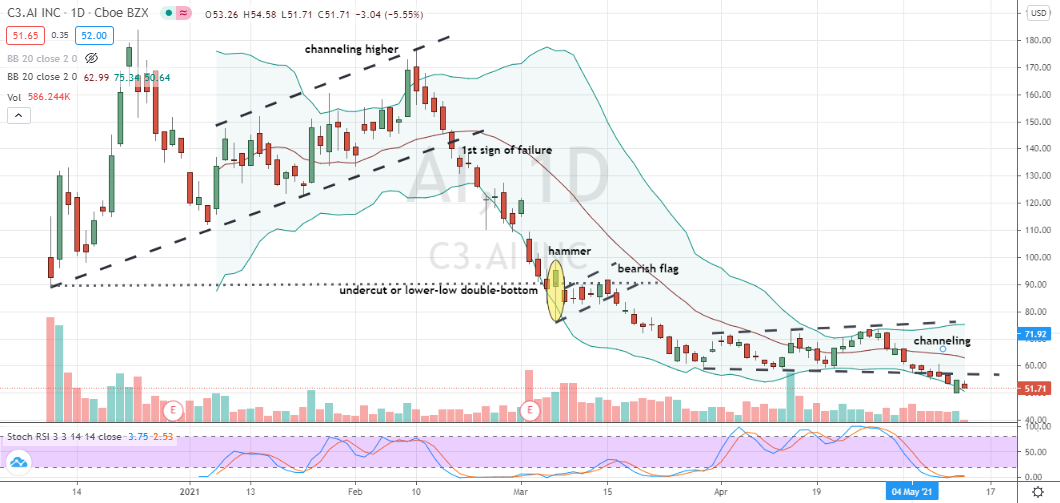 Source:
Charts by TradingView
Cheaper of course, isn't the same as being offered something that's become more valuable. But if we allow ourselves to take a bullish cue from successful first movers Amazon (NASDAQ:AMZN), Netflix (NASDAQ:NFLX) or Tesla (NASDAQ:TSLA), and where buying on weakness against the consensus has provided windfalls for investors over the years, today's buyers should be well-positioned for an improved and different reality in the future for AI stock.
Technically speaking, AI's price chart is as frightening as they come. Tuesday's new low follow's last week's latest technical failure as shares broke beneath channel support. Again though, Wall Street is far from perfect. And given where AI is today, I'm confident we're closer to the end being near in a good sort of way, than not in C3.ai.
Bottom line though, and always, a fully-hedged July $55/$70 collar is one well-priced strategy for what needs to happen on the price chart to begin turning a profit, while largely avoiding more disastrous possibilities.
On the date of publication, Chris Tyler holds, directly or indirectly, positions in C3.ai (AI) and its derivates, but no other securities mentioned in this article.
Chris Tyler is a former floor-based, derivatives market maker on the American and Pacific exchanges. The information offered is based on his professional experience but strictly intended for educational purposes only. Any use of this information is 100% the responsibility of the individual. For additional market insights and related musings, follow Chris on Twitter @Options_CAT and StockTwits.