This article is excerpted from Tom Yeung's Moonshot Investor newsletter. To make sure you don't miss any of Tom's potential 100x picks, subscribe to his mailing list here.
When Airbnb (NASDAQ:ABNB) released earnings last week, one thing was clear:
Americans are learning to live with endemic Covid-19.
Revenues at the home-sharing firm surged 59% year-over-year, beating estimates by 5%. Shares would jump 4% after hours.
Airbnb shareholders aren't the only ones celebrating the end of a pandemic. Hilton's (NYSE:HLT) stock has now outperformed Zoom Video Communications (NASDAQ:ZM) since the start of the pandemic. And Lyft (NASDAQ:LYFT) — a firm without a food delivery business — has trounced rival Uber (NYSE:UBER).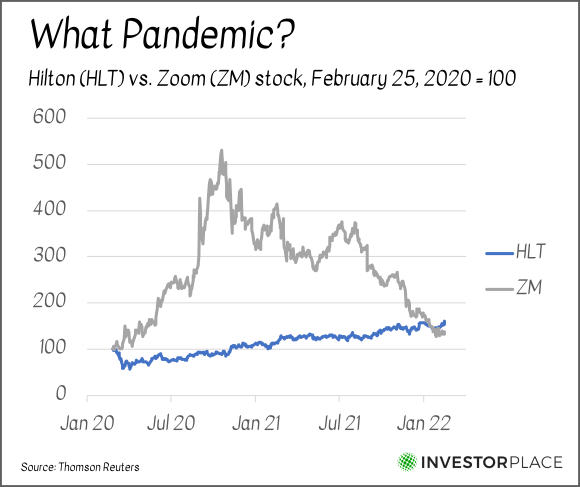 The shift has implications for Moonshot investors too. Penny stocks in metals, mining and manufacturing are making strong comebacks. And bulls and doges alike are once again barking up crypto and NFT trees.
At long last, people are once again learning to live with risk.
What to Expect This Week: 1. Lowes and Home Depot Report Earnings
Wall Street is also waking up to the new "back-to-normal." Analysts now expect profits at Lowes (NYSE:LOW) to jump 19% when the firm reports on Wednesday. Home Depot's (NYSE:HD) is pegged at 16%.
The actual results will move homebuilder stocks, a sector with plenty of underperforming deep-value stocks.
If Lowes and Home Depot's figures come in stronger than expected, investors will consider that a sign of solid housing demand. Operationally leveraged firms like Beazer Homes (NYSE:BZH) and Toll Brothers (NYSE:TOL) stand to gain the most. But any mention of uncontrolled rising costs could send homebuilders plummeting faster than you can say, "Honey, I'm home."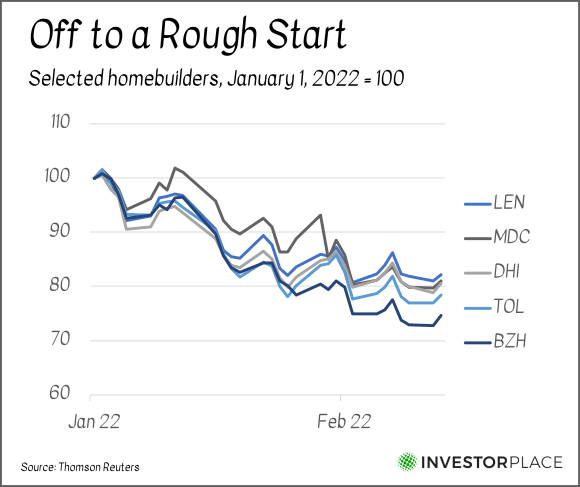 2. FuboTV, Plug Power and Zomedica Report Earnings
Several meme stocks will also tell investors how they're adapting to a post-pandemic world. And many Reddit favorites — including FuboTV (NYSE:FUBO), Plug Power (NASDAQ:PLUG) and Zomedica (NYSEAMERICAN:ZOM) — have some catching up to do. The three stocks are down anywhere from 30% to 70% since November.
There's a chance that none will get much of a respite. FuboTV may fall in line with Netflix (NASDAQ:NFLX) due to increased competition and reduced demand. And Plug Power and Zomedica could decline on multiples compression.
But those looking to buy the dip have a point. With the Fed's rate rise plans becoming clear, these "long-duration" growth stocks could finally become bets to scoop up.
3. Truth Social (Possibly) Launches Something
Meanwhile, those looking for meme stocks without a pandemic twist will surely enjoy trading Digital World Acquisition (NASDAQ:DWAC).
Donald Trump's SPAC has seen its share of delays. TRUTH Social — the app planned by Mr. Trump's team — has already pushed its official launch date from Feb. 21 to sometime in late March.
But the former president is a master at keeping investors on their toes. Last week, Donald Trump Jr. shared a screenshot of his father's alleged first post on Truth Social.
"Get ready! Your favorite president will see you soon."
It didn't matter that the image looked like a screenshot of Twitter. With DWAC already up 950% from its initial merger, volatility-seeking investors will love every moment of news.

4. BTFS Mainnet Launch
On the subject of launches, BitTorrent's (BTT-USD) team now expects to launch a new BitTorrent File System (BTFS 2.0) this week.
In theory, the new BTFS will look much like Cloudflare's (NYSE:NET) InterPlanetary File System (IPFS), a peer-to-peer networking system that replaces centralized servers. Users would be able to link to any network computer to download data. Web3 Metaverses like Decentraland (MANA-USD) already use a similar system to serve up files.
In practice however, the jury is still out. Current BitTorrent rewards generate less than 1c per terabyte every month, and "version 1" hasn't seen mainstream adoption quite yet. Hopefully second time's the charm.
5. 99th Anniversary of the Federal Income Tax
And finally, this Friday marks 99 years since the Sixteenth Amendment laid the groundwork for a Federal income tax.
Tax accountants across the country will be celebrating. According to analyst estimates, the tax preparation industry generated $10.8 billion in revenues last year. (I wonder how they will divide the cake…)
And this year could see an even greater windfall.
That's because the rise of cryptocurrencies and NFTs have created an entirely new headache for investors. Are non-fungible tokens "ordinary income" or "collectibles?" And how would the IRS even know you're trading NFTs if you're using a DeFi platform?
But regardless of the questions, one thing is clear: The IRS will want their share of the profits. It's just a matter of how they're getting paid.
Finding Post-Pandemic Winners
Not every re-opening stock is partying like it's 1999.
Starbucks (NASDAQ:SBUX) and Krispy Kreme (NASDAQ:DNUT) have fallen 20% and 23% this year, respectively — once again proving the superiority of the coffee-flavored sludge served by my local Dunkin' Donuts.
And some stay-at-home plays are succeeding, even as companies like Netflix struggle. Nintendo (OTCMKTS:NTDOY) increased both its sales and earnings guidance in its latest call, while Take-Two Interactive (NASDAQ:TTWO) reported relatively healthy performances across its many franchises.
Moonshot stocks are similarly on multi-track recoveries. My two top staffing picks — Team Inc (NYSE:TISI) and Volt Information Sciences (NYSEAMERICAN:VOLT) — are up 16% and 10%. Rivals Heidrick & Struggles (NASDAQ:HSII) and Barrett Business Services (NASDAQ:BBSI) are at 0% and -13% over the same period.
So while it's true that many re-opening stocks are succeeding again, it will take careful quantitative analysis to choose the best companies to ride.
P.S. Do you want to hear more about cryptocurrencies? Penny stocks? Options? Leave me a note at moonshots@investorplace.com or connect with me on LinkedIn and let me know what you'd like to see.
FREE REPORT: 17 Reddit Penny Stocks to Buy Now
Thomas Yeung is an expert when it comes to finding fast-paced growth opportunities on Reddit. He recommended Dogecoin before it skyrocketed over 8,000%, Ripple before it flew up more than 480% and Cardano before it soared 460%. Now, in a new report, he's naming 17 of his favorite Reddit penny stocks. Claim your FREE COPY here!
On the date of publication, Tom Yeung did not have (either directly or indirectly) any positions in the securities mentioned in this article.
Tom Yeung, CFA, is a registered investment advisor on a mission to bring simplicity to the world of investing.