The launch of ChatGPT by OpenAI last year ushered in renewed investor enthusiasm for artificial intelligence (AI) stocks. Where other trends came and went, AI stocks endured. This led to us coming up with this list of AI stocks to buy.
AI stocks to buy are certainly not new. But the market embracing them with such fervor is and there is no let up in sight. The AI arms race offers investors some fantastic ways to profit from it.
Nvidia (NASDAQ:NVDA), of course, proved itself to be a leader worth buying because its processing-intensive computer chips were almost purpose-built for the task. However, NVDA stock is not cheap. At 100 times earnings, Nvidia is priced for perfection. The market is pricing in all of the good news for many years to come. On a valuation basis alone, caution is warranted.
Having said that, that's okay because there are even better investment opportunities in artificial intelligence. Companies are throwing billions of dollars at AI businesses to keep pace with the competition. Amazon (NASDAQ:AMZN) just said it would invest $4 billion in ChatGPT rival Anthropic. Microsoft (NASDAQ:MSFT), of course, reportedly invested $13 billion in OpenAI. New winners will emerge.
The AI boom is more than just Nvidia stock, and the following three companies could leave the current leader far behind.
Baidu (BIDU)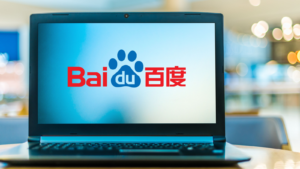 When it comes to artificial intelligence, investors tend to focus on stocks based in the United States. However, they're missing out on a world of opportunity. Baidu (NASDAQ:BIDU) may be the biggest winner in China, which is the second largest economic powerhouse globally.
Originally built as China's answer to the Google search engine, Baidu transformed throughout the years into a multi-pronged technological marvel similar to Alphabet (NASDAQ:GOOG)(NASDAQ:GOOGL) or Amazon. Now AI is its new playground and it is leading the way.
Baidu just released Ernie Bot, a generative AI chatbot similar to ChatGPT. In the first 19 hours after the government granted Baidu permission to release the AI tool, Ernie Bot surpassed 1 million users. Baidu told The Verge it also plans to launch "a suite of new AI-native apps that allow users to fully experience the four core abilities of generative AI: understanding, generation, reasoning, and memory."
However, AI was already in prominent use in Baidu's cloud-based services. It also used it in its driverless robotaxi service, Apollo Go, that launched in August 2022. In fact, Baidu now sees itself as primarily an AI company.
With an overwhelming dominance in internet search, an ability to deploy AI capabilities into numerous ancillary markets, and operating in one of the world's biggest economies, Baidu will generate outsized returns for investors in the years to come.
Symbotic (SYM)
Until the AI storm was unleashed, few investors probably ever heard of Symbotic (NASDAQ:SYM). But its AI-powered robotic technology is changing how warehouses operate. It's not a fly–by-night operation either. Symbotic's systems are deployed in the warehouses of a number of the world's largest retailers including Walmart (NYSE:WMT), Albertsons (NYSE:ACI), and Target (NYSE:TGT).
In fact, Walmart is not only Symbotic's biggest customer, representing 94% of its total $1 billion in annual revenue, but it is also an investor in the company. Obviously there is risk in such concentration. It would be devastating if Walmart ended its relationship or shrank its orders. Of course, Walmart could just as easily buy the company outright and have it operate as a subsidiary of the retailer.
My colleague Muslim Farooque also shot some well-aimed arrows at Symbotic, noting it carried lofty valuations and was generating losses. Yet as a leading supply chain solutions provider, Symbotic can grow into its valuation and will turn profitable as its business expands. At the end of its last fiscal year it had more than $11 billion in backlog. Some $6 billion of it came from Walmart for Symbotic to deploy even more of its technology.
The pandemic exposed the world to the limitations of the global supply chain with its reliance upon manual labor. Symbotics AI-driven robotics eliminates that variable from the equation. Its advanced technology also improves the efficiency of a business' operations, making it a cost-effective solution.
Symbotic is certainly a higher risk investment, but the greater return generated should be substantial.
Taiwan Semiconductor Manufacturing (TSM)
There's one very good reason Taiwan Semiconductor Manufacturing (NYSE:TSM) should be one of your top AI stocks to buy: it makes all of the advanced AI chips used by Nvidia and other AI chipmakers.
Taiwan Semiconductor is not a chip designer. It leaves that to Nvidia, Advanced Micro Devices (NASDAQ:AMD), and Intel (NASDAQ:INTC). Rather, it takes their designs (including what they need to produce AI chips) and produces them for them. It is the world's largest pure-play semiconductor foundry.
It might be surprising then that TSM's stock is not doing as well as its rivals. Where Nvidia is up 190% year to date and AMD is 50% higher, Taiwan Semi is only 14% higher in 2023. It was ignominiously dumped by Warren Buffett who sold all of his holdings only a year after buying them.
However, TSM had to confront slowing demand in other end markets, delays in planned foundry construction, and capital expenditures at the low end of prior forecasts. Let's not forget the geopolitical tensions between China and Taiwan weighing on its business.
Yet at 14 times earnings and estimates, the chipmaker may be the cheapest AI stock around. It still has phenomenal long-term growth prospects and is the company others turn to when they need premiere AI chips. Look for Taiwan Semiconductor Manufacturing to lead the way forward when others fade.
On the date of publication, Rich Duprey did not hold (either directly or indirectly) any positions in the securities mentioned in this article. The opinions expressed in this article are those of the writer, subject to the InvestorPlace.com Publishing Guidelines.