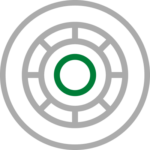 Blue-Chip Stocks
There are plenty of investing strategies and trends to choose from. But at the end of the day, nothing beats investing in a large company with a stellar reputation. Enter the blue-chip stocks. These stocks represent the market leaders and biggest household names in their respective industries. With rock-solid financials, well-established brands and often high-yielding dividends, the blue chips offer a relatively low-risk investment option. Read on to find out how you can profit from investing in blue-chip stocks.
Recent Blue-Chip Stocks Articles
Nvidia just reported impressive Q1 earnings. Here's why this type of growth could take NVDA stock to the trillion-dollar club.
These stress-free ETFs won't fluctuate a great deal and can be relied upon to deliver profits in the medium-term and the long-term.
Keep your eyes on these momentum stocks to own if you aim to become a millionaire with your long-term investments.
The housing market is rapidly cooling off. That will be a particular burden for these three housing stocks over the medium-term.
These energy stocks certainly stand a chancel of failing over the long-term, as the clear energy transition continues to take off.
Investors should consider taking a position in these retail stocks, as their stocks bottom and begin to trend higher once again.
Although in the near-term they may continue to trade sideways, or even move slightly lower, between the strength of their underlying businesses, plus a track record of dividends and dividend growth, each of these Dow stocks to buy could produce steady long-term returns for your portfolio.
These two sectors to buy and one to sell are moving on Fed rate decisions and expectations for the rest of the fiscal year.
GOOG stock is trending today after news broke that Alphabet co-founder Sergey Brin gifted $600 million of company stock to an unknown party.
These top Warren Buffett stocks are among his biggest holdings for good reasons, and investors should take notice.
Housing stocks could come under pressure. After all, high mortgage rates and home prices, have kept potential homebuyers on the fence.
Markets are facing multiple headwinds. These three super safe stocks to protect your portfolio are solid defensive picks.
These transportation stocks fuel an essential part of the U.S. economy, contributing more than 5% of the country's GDP annually.
While not the most exciting sector available, rising fears in the market incentivizes the best blue-chip stocks to buy.
Uranium stocks are making a comeback. Here are three of the cheapest and most undervalued options to add to your portfolio.
While the top enterprises command significant attention, these hidden gem blue-chip stocks to buy now offer serious potential.
These undervalued blue-chip stocks can weather any storm that may be coming. Consider buying these three picks.