Top Micro-Cap Stocks to Buy for 2017: Kindred Biosciences (KIN)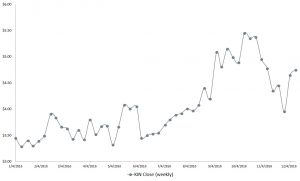 Click to Enlarge If you asked a random sampling of people what makes America great (again), I'm reasonably sure that our economy, our military and our entertainment machine will rank among the top answers.
But I think what really stands out is our love for our pets.
Think of all the movies, shows, and commercials that feature animals. If you didn't know any better, you'd think that animals were more important than humans.
Kindred Biosciences Inc. (NASDAQ:KIN) is one of a very small handful of companies that play in the animal healthcare industry. The company's hopes rest on Mirataz (a feline weight loss management drug) and Zimeta (for alleviating fever in horses), which will undergo trials in 2017. The company expects both to be approved within the year.
Time will tell.
Investors are hopeful, though. KIN is up nearly 40% in 2016 — this while absorbing a 19% loss in November, no less.
I believe KIN is one of the best micro-cap stocks to buy for 2017, but buyer beware: This is a "pre-revenue" company, and trial failures for both drugs would likely send this $5 stock to the floor.
As of this writing, Josh Enomoto was long SNE.