Top Micro-Cap Stocks to Buy for 2017: Heat Biologics (HTBX)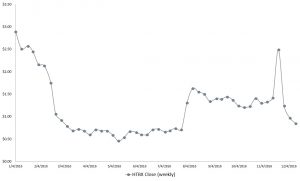 Click to Enlarge Heat Biologics Inc. (NASDAQ:HTBX) is a development-stage biopharmaceutical company with an incredibly innovative approach to the field of oncology.
Rather than reinventing the wheel in terms of cancer treatment, why not enhance what is already available? This led to the creation of the Immune Pan-Antigen Cytotoxic Therapy, or "ImPACT" for short. Essentially, this biotechnology transforms cancer cells into a naturally occurring protein called "gp96."
According to HTBX, "gp96 is a "molecular warning system" that has evolved important properties as a natural defense against necrotic cell death, in order to serve as a sentinel to alert our immune systems to the presence and identity of dangerous pathogens." By inducing this protein's production, the HTBX therapy allows for a multi-pronged attack against malignant cells.
Unlike other exotic pharmaceutical solutions, this is using nature to protect nature.
One of the main caveats (and this will be the case with most of the rest of these picks) is the inherent riskiness of micro-cap stocks. For HTBX, the risks are especially profound. Its initial public offering price was $10 a share back in summer 2013. Today, they sit near 75 cents.
But the stock is a quick mover. Just recently, shares jumped above the $3 level for a couple of days. You could hope to lock in profits on a quick spike, though if HTBX is able to actually produce something meaningful and sustainable, there's less pressure on perfectly timing an exit.
I'm certainly not suggesting HTBX will be the next Pfizer, Inc. (NYSE:PFE). But there's enough movement here to justify this pick as one of the best micro-cap stocks to buy.