Top Micro-Cap Stocks to Buy for 2017: Genius Brands International (GNUS)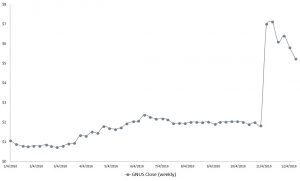 Click to Enlarge If the latest drama in popular culture has taught us anything, it's that America is steadily losing its moral compass. So much of what we find through the TMZ-generated media blitz is sensationalism for its own sake, typically revolving around the central question: who's sleeping with whom?
Is there anything today worth watching or listening?
Genius Brands International Inc. (NASDAQ:GNUS) steps into this moral malaise with a resounding "yes." GNUS is a content and brand management company that focuses on creating meaningful and enriching media entertainment for toddlers to teens. GNUS has partnered with a number of industry professionals from Walt Disney Co. (NYSE:DIS) to Sony Corp. (ADR) (NYSE:SNE) to offer premium quality products. Unlike the "edutainment" media from yesteryear, GNUS is … well, relatively relevant and cool.
And recently, the company released a letter to shareholders stating that early sales of their "SpacePOP" collection — distributed at nearly 300 Toys"R"Us locations nationally — were selling strong after their Dec. 1 launch.
As with virtually all micro-cap stocks, GNUS has its fair share of pros and cons.
Next-generation edutainment should be a hot commodity. However, GNUS has had trouble keeping revenues buoyant, and it still is suffering considerable losses, including a $3.48 per share loss last year.
But the business proposition is at least promising. So long as you practice extremely tight money management, GNUSis at least worth a flyer.