Top Micro-Cap Stocks to Buy for 2017: MagneGas Corporation (MNGA)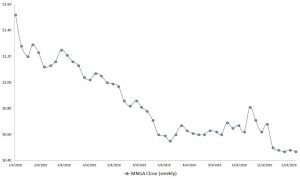 Click to Enlarge Most micro-cap stocks that generate attention do so because they're doing something like hawking the next groundbreaking innovation or busy marketing some new protocol that will revolutionize their target industry.
The question usually is whether the company's financials can hold out long enough for the company to figure out profitability.
MagneGas Corporation (NASDAQ:MNGA) is an alternative energy company, MNGA has a proven track record of converting liquid waste products into hydrogen based fuels. The patented technology won the "Best Alternative Fuel Solutions Award" from The New Economy.
The implications of this technology are profound, and they almost have to be to mask MagneGas' conspicuous flaw: its losses.
While MNGA has ramped up its revenues 260% in three years, its red ink is dripping more rapidly, too. MagneGas lost $7.14 per share on are deepening, too. MagneGas lost $7.14 per share on $680,000 in revenues in 2012, and while its top line hit $2.43 million last year, its losses expanded to $9.14 per share.
Recovering gas prices aren't doing this revolutionary energy source any favors. MGNA stock is off more than 70% so far this year as a result.
But if MagneGas can hang around long enough, it might just prove it's the energy stock of the future.