Top Micro-Cap Stocks to Buy for 2017: Marathon Patent Group (MARA)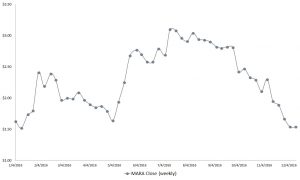 Click to Enlarge Intellectual property is serious business.
In prior eras, inventions were often limited to giant corporations like 3M Co. (NYSE:MMM). But with the advent of the internet and the age of digitalization, innovation is practically a nature byproduct.
It's become easier than ever for smaller firms and individuals to literally create the "next big thing."
What if there was a way to harness the best innovations under one roof, creating a revenue source for inventors and value for shareholders? That's the main purpose behind Marathon Patent Group Inc. (NASDAQ:MARA). MARA actively searches for game-changing patents in any technological field. Covered sectors are diverse, ranging from automotive to biomedical. Through its subsidiaries, Marathon manages a total of more than 10,500 U.S. and foreign patents.
Of course, it's known to many others in the industry as a "patent troll."
As an investment, MARA falls under the extremely speculative category — even compared to other micro-cap stocks. It relies on things such as a $24.9 million ruling against Apple Inc. (NASDAQ:AAPL) over Siri voice technology to make its way, so the financial situation is far from stable.
However, with its far-reaching intellectual asset base, MARA is a unique organization among micro-cap stocks to buy.