It's usually the last place dividend fans look for big yields and surging payout growth—but it should be one of the first.
I'm talking about the technology sector. And before you dismiss me as crazy, check out this chart.
The Home of Payout Growth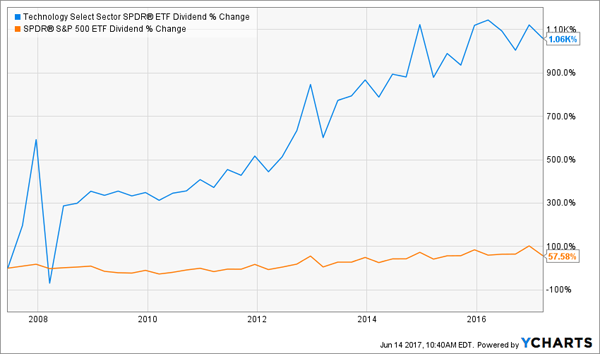 What you're seeing here is the dividend-growth rate of the Technology SPDR (NYSEARCA:XLK) compared to the SPDR S&P 500 ETF
(NYSEARCA:SPY), representing the market as a whole, over the past 10 years.
Sure, the blue line is choppier than the orange one—but that's a small price to pay for a 1,000%+ income boost!
And as I showed you on May 15, there's a direct link between a soaring dividend and a soaring share price. Nowhere is that more obvious than in tech, which has ridden its companies' rising payouts to a blowout 10-year price performance:
Where Dividends Go, Share Prices Follow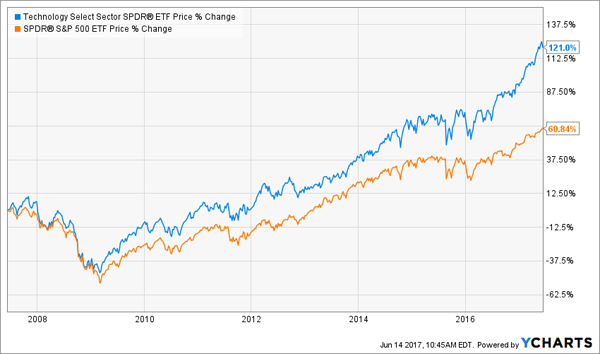 What all this means is that the "tech tantrum" of the last few days has given us a golden opportunity to pick up some top-quality names at terrific prices. I've got 5 of them for you today, and I'll tell you everything you need to know about them in just a moment.
First, I want to share a few other crucial details absolutely no one is talking about.
Tech Profits: Booting Up
Let's start with the sector's earnings, which are skyrocketing.
According to FactSet, S&P 500 tech companies will report year-over-year earnings per share (EPS) growth of 9.3% in the second quarter. That's second highest among the index's 11 sectors!
It gets better.
So far, 17 S&P 500 IT companies have pre-announced positive EPS guidance for Q2. That demolishes the five-year average and is the highest number since FactSet started tracking the data in 2006.
Management Sees Dollar Signs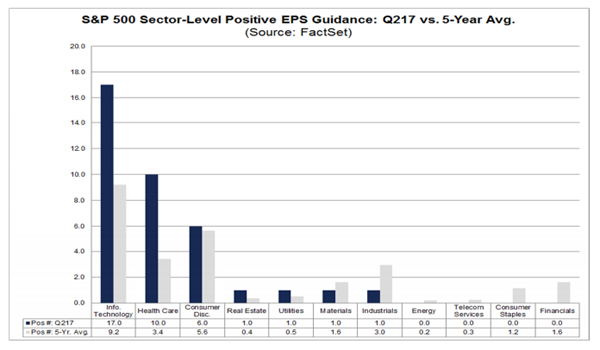 Need another reason to buy tech stocks now?
How about this: they're insulated from interest rate hikes because their huge cash hoard — some $765 billion in all (with about a third of that belonging to my No. 5 pick; see below) — means they can hold off on pricier loans while earning more on their investments.
Throw all these things together — surging profits, strong balance sheets, lightning-quick dividend growth and the selloff — and you get a perfect opportunity to go contrarian and snap up some sparkling dividend growers at great prices.
Here are 5 strong picks, ranked in the order I'd put them on my own personal buy list today.