Apart from tinkering around the edges, Warren Buffett's Berkshire Hathaway Inc. (NYSE:BRK.A, NYSE:BRK.B) hasn't made any big changes to its investment portfolio in a while, but that all changed last quarter. Indeed, it looks like the collapse in oil prices left Warren Buffett and Berkshire Hathaway no choice.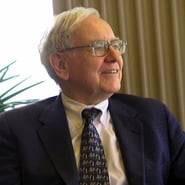 It's not like Berkshire Hathaway just gave up on energy stocks — far from it — but it sure gave the country's biggest oil company a thumbs down. Berkshire Hathaway sold off its entire stake in Exxon Mobil (NYSE:XOM), according to regulatory filings.
Warren Buffett and Berkshire Hathaway — formerly one of Exxon Mobil's largest shareholders — sold its entire position of 41 million shares, worth nearly $4 billion, according to BRK's 13F filing.
Like the rest of the oil and gas industry, Exxon Mobil has been struggling with tumbling oil prices. The price of a barrel of crude has dropped roughly 50% since June, wrecking bottom lines in every corner of the energy sector. Although XOM stock has declined a relatively shallow 12% from its 2014 high, it sure looks like Berkshire Hathaway expects more weakness to come.
Elsewhere in the energy sector, Warren Buffett's Berkshire Hathaway reduced its holdings in National Oilwell Varco (NYSE:NOV) by about 18% to 5.26 million shares from 6.4 million shares. NOV stock lost more than 30% of its value in the last six months.
Drilling and exploration are among the areas of the energy sector getting hit the hardest amid the price collapse. After all, there's no incentive to drill for more oil when there's already too much supply chasing too little demand. As a supplier of equipment to the oil drilling and production, NOV is particularly vulnerable to a prolonged slump in energy prices.
Berkshire Hathaway Ups Some Oil-Sector Bets
But Warren Buffett and Berkshire Hathaway by no means gave up on the energy sector, however. According to the 13F, Berkshire Hathaway increased stakes in Phillips 66 (NYSE:PSX), an oil refining and marketing company, and Canadian oil-sands company Suncor Energy (NYSE:SU). Shares in PSX and SU have been hammered along with the rest of the sector, but clearly Warren Buffett and Berkshire Hathaway believe they've been beaten down into the bargain bin.
Warren Buffett's Berkshire Hathaway added another 9.5 million shares of Deere & Co. (NYSE:DE), which has been range-bound for years. Berkshire more than doubled its position.
Elsewhere in the Berkshire Hathaway 13F, the company bought more General Motors (NYSE:GM), adding 1 million shares to bring the position up to 41 million. Berkshire Hathaway also added to its holdings in International Business Machines (NYSE:IBM), MasterCard (NYSE:MA) and Visa (NYSE:V).
Warren Buffett's holdings in Wells Fargo (NYSE:WFC) — BRK's biggest stake — were unchanged, as were positions in American Express (NYSE:AXP), Coca-Cola (NYSE:KO) and Goldman Sachs (NYSE:GS)
As of this writing, Dan Burrows did not hold a position in any of the aforementioned securities.
More From InvestorPlace