It may appear as though the writing is on the wall for some stocks — or in Apple's (NASDAQ:AAPL) case, maybe the writing is one of its popular devices. But are AAPL stock's days really numbered? Let's look at what's happening off and on the price chart, then offer a risk-adjusted determination aligned with those findings.
Pfizer (NYSE:PFE). Moderna (NASDAQ:MRNA). AstraZeneca (NYSE:AZN). Most of all us in today's socially distanced normal know those drug stocks names by heart and how they're on the verge of disrupting 2020's "business as unusual" signage. And anyone with even a passing interest in the stock market also knows Wall Street has been reacting to the novel coronavirus news.
In a nutshell, with investors turning their attention to a possible return to normal, there's plenty of buying to be had. Delta (NYSE:DAL). Macy's (NYSE:M). Hilton (NYSE:HLT). Wynn Resorts (NASDAQ:WYNN). Carnival (NYSE:CCL). But it's not a level playing field. While many determined "stay away" stocks have jumped higher as part of a broad rotation, some of that enthusiasm has come at the expense of Apple.
As part of Wall Street's shift in favoritism, shares of Apple and other large-cap tech outfits such as Microsoft (NASDAQ:MSFT) and Amazon (NASDAQ:AMZN) benefitting from the pandemic's many layers of do's and do not's, have come under profit-taking. Some of these stocks have even managed larger corrections. Zoom Video (NASDAQ:ZM) and Teladoc (NYSE:TDOC) are two names of this caliber which have come under more meaningful pressure. But that doesn't mean the end is near.
Stocks correct all the time. Even the best stocks and those with obviously very promising futures well after we've put Covid-19 behind us will falter from time to time. And following significant rallies, the odds of a larger correction typically increases despite promises to the contrary from the momentum crowd. As much, ZM and TDOC are only doing what's mostly par for the course with that kind of growth stock.
Regarding Apple shares and its current struggles as the world's largest company, if there's a feeling of increased worry regarding antitrust actions from a Biden Whitehouse, Apple looking historically expensive or whether holiday sales and a recently introduced 5G iPhone 12 will move the needle, the message is relax and take a breath. It'll pass. Moreover, go ahead and set your iWatch, Mac or iPhone to a soothing meditation session to help lift spirits before an eventual booster shot in Apple's share price.
AAPL Stock Weekly Price Chart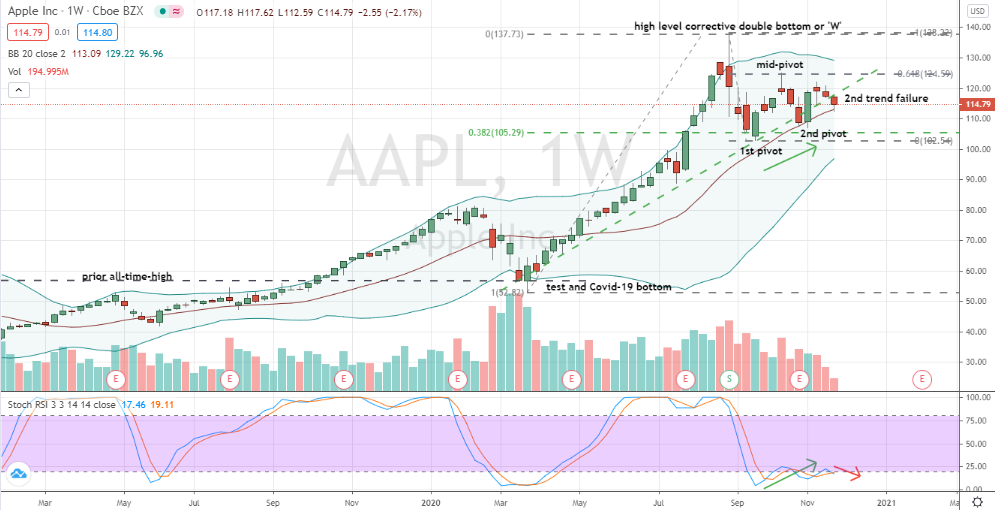 Source: Charts by TradingView
The weekly price chart in AAPL stock could be another cause for concern. A bullish high-level double bottom or "W" pattern is showing signs of being compromised. Shares failed to clear the base's mid-pivot earlier this month and it's only grown worse ever since. This week, AAPL stock has broken marginally beneath uptrend support for a second time since the corrective base first formed. And with stochastics also turning bearish, the odds for a larger correction appear to be increasing.
Oh no, right? Not really.
The good news with a stock of Apple's market stature is weakness can be purchased more confidently than would be the case with the shares of lesser companies. Having said that, now is a fine time to buy shares despite some technical flaws. Still and just in case there is something to today's slightly bearish leaning price chart, a flexible trend-following and accumulation-ready, stock collar strategy is better merchandise to purchase in front of future potential sales you may or may not find on Black Friday, Cyber Monday and beyond.
On the date of publication, Chris Tyler does not hold, directly or indirectly, positions in any securities mentioned in this article.
Chris Tyler is a former floor-based, derivatives market maker on the American and Pacific exchanges. The information offered is based on his professional experience but strictly intended for educational purposes only. Any use of this information is 100% the responsibility of the individual. For additional market insights and related musings, follow Chris on Twitter @Options_CAT and StockTwits.