Time to come clean.
When GameStop (NYSE:GME) hit $480 back in January, I found it funny watching Wall Street analysts trying to make sense of it all on CNBC. How could a money-losing mall retailer be worth as much as profitable firms like Etsy (NASDAQ:ETSY) or Clorox (NYSE:CLX)?
Yet, the saga highlighted a deficiency of Wall Street. Though Wall Streeters can earn millions, they're rarely company owners. Instead, they only represent the interests of ultimate investors — usually folks like you and me who own stock through 401(k)s, pension plans and directed investments.
Then came Reddit's r/WallStreetBets.
BAM! Retail investors are representing themselves again. And from mall retailers to high-tech firms, they're breathing new life into companies that Wall Street had left for dead.
Well done, Reddit, Twitter (NYSE:TWTR) and Discord users. You're proving to Wall Street that visionary companies matter again. And in today's big read, we'll consider 1) how we got here and 2) why some Reddit names aren't as crazy as they seem.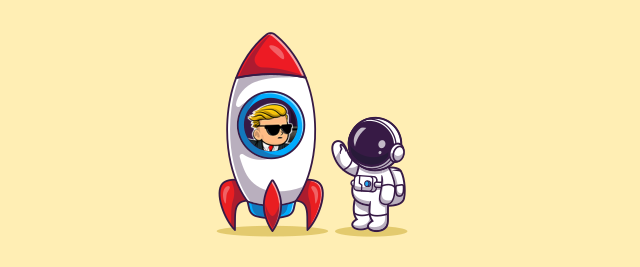 The Weekly Moonshot Wrapup: r/WallStreetBets to the Moon!
Five attention-seeking thoughts from the week:
5) Bank of America (NYSE:BAC) gave up on r/WSB stocks. Not only did America's second-largest bank cease coverage of GameStop. They (along with Goldman and Citi) made it significantly harder for hedge funds to short retail-heavy stocks.
4) Geo Group (NYSE:GEO) surged 80% on short-squeeze speculation. "Security officers … engage in romantic relationships with inmates," one staff member wrote about GEO on a job review board. Management, on the other hand, might soon find themselves busy courting Reddit investors instead.
3) Wish saw shares spike 50% after the discount e-commerce found fans on r/WallStreetBets. For investors without $11 to spend on WISH shares, perhaps $2 to buy a watch with the hands painted on will do the trick.
2) Bitcoin (CCC:BTC-USD) hosted a possible Covid-19 superspreader in Miami. The conference, which attracted at least 12,000 attendees, may have sickened hundreds. "Everyone who I hung out with in Miami got covid" wrote one attendee. Perhaps Bitcoin-themed masks should feature at the next event.
1) Workhorse (NASDAQ:WKHS) is now up 100% since last month after posting stronger-than-expected Q2 results selling six vehicles this year and getting picked up by Reddit. Perhaps they'll consider rehiring ex-founder Steve Burns once his latest venture, Lordstown Motors (NASDAQ:RIDE), goes under.
Sponsor: Millennial Millionaire: The Best Way to Invest $500 Right Now
Got $500? Because that's all it takes to ride the powerful wealth-creation force this 25-year-old stock whiz is calling the most important financial trend in 70 years. He would know. He was named a #1 stock picker in 2020 by TipRanks. To prove it, he's revealing one of his top stock recommendations to BUY now, for free. Click here to see what it is.
Reddit: The Best Thing Since Sarbanes Oxley
Consider this. Imagine you and I owned a movie theater downtown. Come Saturday night, we'd walk in with some friends and enjoy some free popcorn and a show.
"Don't worry about paying, Mr. Moonshot!" the concession stand attendant would smile. "You own the theater, after all."
Doesn't that sound nice? Sixty years ago, I bet we could have done that.
Fast forward to the 2020s, and good luck trying to get anything beyond a GEICO discount as a company shareholder.
But Reddit is changing all that.
When AMC (NYSE:AMC) CEO Adam Aron announced his theaters would give free popcorn to all retail shareholders, it served as a reminder to Wall Street: companies are ultimately run for the benefit of stakeholders. And those that respect retail investors as stakeholders stand to gain handsomely.
Amazon (NASDAQ:AMZN) and Tesla (NASDAQ:TSLA) both realized this early on — raising enough cheap capital in 1999 and 2016, respectively, to fund their expansion and enrich shareholders many times over. Social media has now given firms like GameStop and Lucid Motors the same opportunity to succeed (and embarrass some CNBC talking heads in the process).
Plenty of Moonshots will crash to earth, whether by bad luck, timing or management. But those that thrive will show one thing: many of you Reddit investors are more intelligent than you know.
FIFTY YEARS OF WALL STREET RULE
According to a study by BNY Mellon, c-suite executives spend two-thirds of their investor relations efforts meeting current and prospective institutional investors. Less than 5% of their IR time gets spent with retail investors.
Historians might point to the ERISA Act of 1974 — the Congressional legislation that standardized 401(k) plans. In a single stroke, Congress would crown corporations as the new pension fund kings.
The culture soon followed. With so much investor money bundled into pension funds and mutual funds, even the language would come to reflect Wall Street desires.
"We expect COGS of $11.55 billion to $11.75 billion and operating expense of $11.8 billion to $11.9 billion…we expect our Q4 effective tax rate to be approximately 18%, slightly higher than our full-year tax rate of 17% due to the geographic mix of the revenue."
MSFT Q3 2020 EARNINGS CALL
Such snoozefests aren't particularly good at predicting the next Amazon.com. But it does help analysts fill their discounted cash flow models with estimates stretching decades into the future. And while there's zero chance these forecasts will prove accurate, the precision helps analysts confidently announce targets down to the penny, no matter how wrong they are.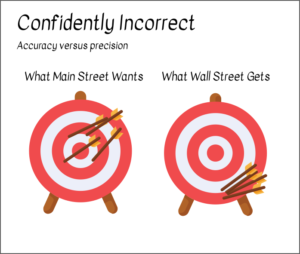 Who can blame corporate managers?
In 2015, I stopped by the annual meeting of First Republic Bank (NYSE:FRC). The famously down-to-earth CEO James H. Herbert II had flown his team to New York City and invited all individual shareholders to join him for coffee and bagels.
Three people showed up. Just me and an elderly couple.
The entire management team was staring at poor Mr. Herbert, who was clearly wondering, "where are all our shareholders?" Perhaps institutional investors were holding out for a steak and lobster party instead.
REDDIT CHANGES THE INVESTOR EQUATION
Then came Reddit.
In a quest for profits, retail investors have sent prices of meme stocks "to the moon." AMC's $50 price tag puts the theater chain at a 2.5x premium to competitors Imax and Cinemark. GameStop at $300+ makes it six times pricier than Best Buy on a revenue-to-revenue basis.
"These individual investors likely own a majority of our shares," AMC CEO Aron said during last Thursday's call. "They own AMC. We work for them. I work for them."
Occasionally, these high share prices can have positive effects beyond enriching early shareholders. Cheap capital allows startups to build scale without having to concentrate on short-term profitability. Turnaround companies can also gain a second life with capital injections, a fact Mr. Aron appreciates.
So, how can you pick these new winners? Think of the firms you would like to own.
Companies with natural-born CEO-salespeople like Tesla will find it easier to connect with people like you and me to raise cheap capital. Meanwhile, laggards like Fiat Chrysler (now Stellanis) will struggle to capture investor imagination and get relegated to tapping bond markets for cash.
Investors looking for the next GameStop need to keep that fact in mind.
Wendys (NASDAQ:WEN). Their social media team has long lived in a parallel universe. Its 3.8 million followers enjoy self-deprecating quips such as "Every time I eat the Bourbon Bacon Cheeseburger I say "Time to get my Bourb-ON!… And then everybody laughs because I'm the only one at the table."
Clover Health (NASDAQ:CLOV). Social Capital CEO Chamath Palihapitiya has used Twitter to promote his investments before, leading the New Yorker Magazine to label him as the "Pied Piper of SPACs." As Clover Health's stock recovers, you can be sure the piper will continue playing his tune.
Dogecoin (CCC:DOGE-USD). The cryptocurrency counts Elon Musk, Mark Cuban and Snoop Dogg as backers. It's hard to resist a community that can create a #DogeDay holiday on a single meme.
THE DARK SIDE OD RETAIL INVESTING
Some CEOs will doubtlessly abuse their newfound power. Nikola (NASDAQ:NKLA) founder Trevor Milton found himself in hot water last year after accusations of gross misrepresentation surfaced. The allegations ranged from the major (faking a video by rolling a truck down a hill) to the cringeworthy (appointing his brother, who only had experience pouring concrete, as a company director).
Retail investors can also incentivize CEOs to create far-fetched targets with little hope of success. Lucid and Fisker (NYSE:FSR), two electric vehicle startups, expect 500,000 annual deliveries within four years, a feat that took Tesla over a decade to achieve.
Reddit investors can also become their own worst enemy. Stocks like GEO Group can spike 70% in a day when driven up by unscrupulous investors. These stocks will quickly fall back to earth.
Yet, the Reddit crowd has shown wisdom beyond Wall Street's imagination. Price discovery might take longer, but they eventually get it right.
Closing Thoughts: The Neverending Hype Cycle
UPENDING WALL STREET, AGAIN
In 1998, Forbes Magazine ran a cover stating, "A bunch of kids are tormenting Wall Street." These younger tech-driven traders had discovered that they could use online chatrooms to share ideas and crowd into trades. At the time, these day traders stayed true to their name — people would buy at the open and sell out by 2 pm the same day.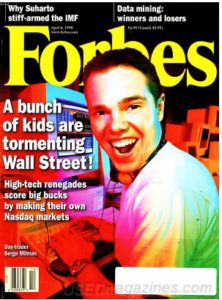 Nothing is new. 1998. Source
Today's generation of Reddit and Twitter investors take a longer view. Why invest for short-term profits alone when community also matters? To them, sending shares of a GameStop to the moon can feel like a mission, especially when short-leaning hedge funds get involved.
The change is badly needed.
"In our experience, quarterly earnings guidance often leads to an unhealthy focus on short-term profits at the expense of long-term strategy, growth and sustainability," investor Warren Buffett and JP Morgan CEO Jamie Dimon wrote in a 2018 Wall Street Journal op-ed. "Short-term-oriented capital markets have discouraged companies with a longer term view from going public at all."
Redditors are now giving Mr. Buffett and Mr. Dimon their wish. As retail investors pile into the stock market, we're seeing a wave of people who care more about corporate plans for the future than next quarter's $2.5335113 earnings per share.
Many of Wall Street's brightest won't like it. To them, these younger investors are foolish speculators looking for trouble.
But those who have seen this story before fully recognize the occasional wisdom of the crowd. When capable managers meet trusting investors, both can often defy the greatest expectations of Wall Street's short-term views.
FREE REPORT: 17 Reddit Penny Stocks to Buy Now
Thomas Yeung is an expert when it comes to finding fast-paced growth opportunities on Reddit. He recommended Dogecoin before it skyrocketed over 8,000%, Ripple before it flew up more than 480% and Cardano before it soared 460%. Now, in a new report, he's naming 17 of his favorite Reddit penny stocks. Claim your FREE COPY here!
On the date of publication, Tom Yeung did not have (either directly or indirectly) any positions in the securities mentioned in this article.
Tom Yeung, CFA, is a registered investment advisor on a mission to bring simplicity to the world of investing.