Top Micro-Cap Stocks to Buy for 2017: Lightbridge (LTBR)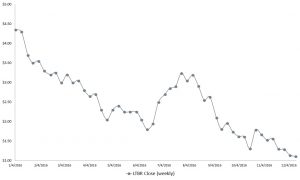 Click to Enlarge Ever since the Fukushima disaster, nuclear energy has been under a dark cloud. Indeed, any discussion of nuclear platforms is likely to generate controversy.
There are simply very few materials out there that are so useful, and yet so permanently destructive if handled incorrectly. Worse yet, all the safety precautions imaginable are useless against a "determined" act of God.
Despite the obvious risks, there's another unavoidable fact — when people flip the switch, they expect the light to turn on. That's the hope for Lightbridge Corp. (NASDAQ:LTBR), a nuclear fuel technology company that specializes in power output improvements for existing reactors and implements safety measures that meet today's strict environmental standards.
The primary issue for investors, though, is that LTBR is highly levered towards the uranium spot price … and prices are miserable.
Bluntly speaking, uranium must improve for Lightbridge to have a fighting chance. The company is sustaining deep losses of between $3.60 and $4.60 per share annually for years. However, given the number of years since the Fukushima incident, the investing public may be willing to engage nuclear energy once again. So let's not make any mistake about it — Lightbridge is all about picking the bottom.
But if uranium does pick up, expect LTBR to snap to attention.