Top Micro-Cap Stocks to Buy for 2017: GSI Technology (GSIT)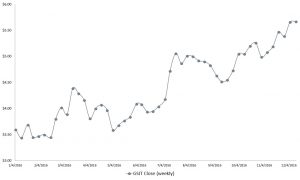 Click to Enlarge Arguably, one of the greatest shifts that will occur in the broader economy is the semiconductor industry. A sector that is currently dominated by big-wigs like Intel Corporation (NASDAQ:INTC) and Qualcomm, Inc. (NASDAQ:QCOM), these giants will have to branch into new and multiple businesses to survive. Just making chips won't cut it, especially when the personal computer market is moribund.
Enter GSI Technology Inc. (NASDAQ:GSIT). GSI's primary focus is on the development of static random access memory (SRAM) and low latency dynamic random access memory (LDRAM).
GSI is actually no penny stock — it currently trades for around $6 a share, which is a good 60% better than where it traded at the beginning of the year. It's also at highs last seen in early 2015. That's because while the company is fighting off sliding revenues, it is cutting into its losses, bleeding $2.17 per share last year versus $6.19 two years ago.
A few highlights from its recent quarter include improved sales to Alcatel-Lucent SA (ADR) (NYSE:ALU), from $3.5 million in 2015 to $5.7 million this year.
GSIT still features many of the hallmarks of a micro-cap stock, including thin trading volume of just more than 40,000 shares per day. Still, GSI Technology is an exciting company that deserves to be on your list of micro-cap stocks to buy.