Top Micro-Cap Stocks to Buy for 2017: Gatekeeper Systems (GKPRF)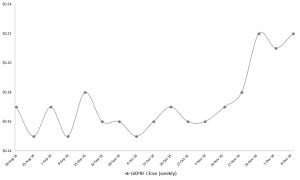 Click to Enlarge No matter what your political affiliations are, one cannot ignore the unfortunate fact that there is a racial divide in this country. Even more worrisome, these issues all too often involve law enforcement. Communities entrust local police with keeping law and order.
However, the potential for that trust to be breached exists, and this underlying implication has been at the forefront of our social discourse.
More than ever, law enforcement agencies need to equip their field officers with monitoring devices to ensure accountability. This is why I believe Canada's Gatekeeper Systems Inc. (OTCMKTS:GKPRF) is one of the best micro-cap stocks to buy.
Gatekeeper's wearable surveillance products for law enforcement and military agencies have gained traction, and should continue to find big demand. The reality is that society is increasingly violent. Wearable surveillance helps reduce speculative lawsuits and protects reputations. These benefits are also highly sought after by the military, which is the reason why one of Gatekeeper's recurring clients is the U.S. Air Force.
Yes, this is stock trades for just over a quarter, so the volume of a few hundred thousand shares every day is a little misleadingly high. But the company has grown revenues from $3.84 million three years ago to $5.94 million in 2015, and it's on pace for another year-over-year sales improvement this year. Meanwhile, net losses have shrunk from $2.63 per share to just 92 cents in the same time frame.
GKPRF is not the safest bet in the weapons space, but it's not a bad one, either.